Chris Chambers is married to Stacey Bernice Saunders. Despite being married for the second time, Chambers relationship with his wife is going really well without any divorce issues.
Stacey Bernice Saunders and Chris Chambers affair
If we go back to how Chambers and Stacey met, she was Chambers' stalker in the beginning. He even filed a complaint against her for stalking and harassing her family.
In the past, Saunders was accused of harassing Chambers' wife, sister, and mother-in-law for many months through emails, explicit text messages, and vulgar phone calls/ voicemail messages. Saunders insisted that in 2008, she gave birth to Chambers' baby who died while it was two months old. However, this information appeared to be false as there were no records of the childbirth.
Image: Chris Chambers and Stacey Bernice Saunders
The San-Diego Union Times had Saunders' records as:
A 27-year-old San Diego woman who had an affair with former Charger Chris Chambers has been charged with 11 misdemeanor counts for allegedly stalking and harassing the wide receiver's family.
"Stacey Bernice Saunders is due in court Jan. 19 for arraignment", said Paul Levikow, a spokesman for the District Attorney's Office.
Image: Stacey Bernice Saunders
Chambers' wife, Christina, told San Diego police in April that Saunders was harassing her with phone calls. Two months later, Chambers requested a temporary restraining order against Saunders, saying she has "launched an incessant attack verbally on me, and now my wife, her mother, and sister."
This is how Saunders and Chambers met and the affair between this pair started.
Chris Chambers and Stacey Bernice Saunders married
Shockingly, Chambers fell in love with Saunders. He got so serious with her that he even divorced his wife to get married to Saunders. Chambers and Saunders tied the knot on 24th July 2010 in Las Vegas, NV. Chambers married Saunders just two days after his divorce from his wife.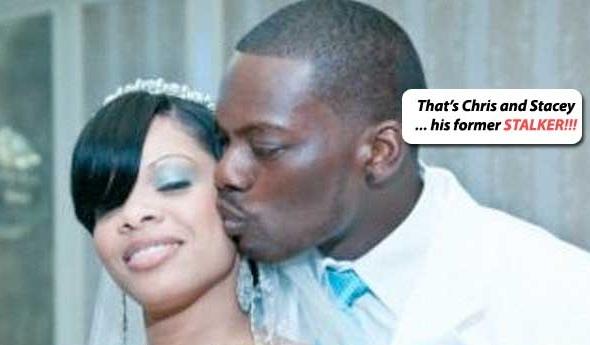 Image: Chris Chambers and Stacey Bernice Saunders
Chris Chambers girlfriend
It has already been six years of their togetherness as a husband and wife. Amazingly, their relationship is going just fine without any controversies. Chambers does not have another girlfriend and has neither been involved in any kind of affair with other women since then. Thus, he has never cheated on his wife ever.
Image: Chris Chambers
Chris Chambers and Stacey Bernice divorce
Despite having shocking and unacceptable past, Chambers and Saunders have been making their present very much beautiful. In fact, it looks like their future is also bright. Till date, there is no rumor of divorce between this couple. It looks like Chambers will not have a second divorce. However, we cannot be sure of the future too.
What do you guys think about this unusual couple? Do you think they will end up being divorced because of their past? Let us know your opinion in the comment section below.