If you are a regular viewer of the TV reality series Jersey Shore, then you definitely know one of its beautiful character, Sammi "Sweetheart" Giancola. With her talent, beauty and hard work, she has successfully established herself as one of the most renowned television personality from America.
Besides being an actress, Sammi is also a model who usually appears on the cover of various renowned magazines including OK! magazine and Signature. The model with stunning beauty and glamorous looks, Sammi Giancola after an unsuccessful long-term relationship with the American actor Ronnie Ortiz-Magro, The Three Stooges actress is currently sparking a romantic love affair with her new boyfriend Christian Biscardi.
Let's learn about her love affair and dating life in detail. Just stay with us.
Sammi "Sweetheart" Giancola Is Sparking A Romance With New Boyfriend Christian Biscardi
Recently, The 30-year-old Jersey Shore star Sammi Giancola officially declared her relationship with a new guy. So, who is her new boyfriend?
He is none other than the hottie Christian Biscardi. He is one lucky man to become the boyfriend of the hot actress. In an interview taken with In Touch weekly earlier this year in April, Sammi announced that she has a new boyfriend. She even wished her ex-boyfriend Ronnie for a good love life.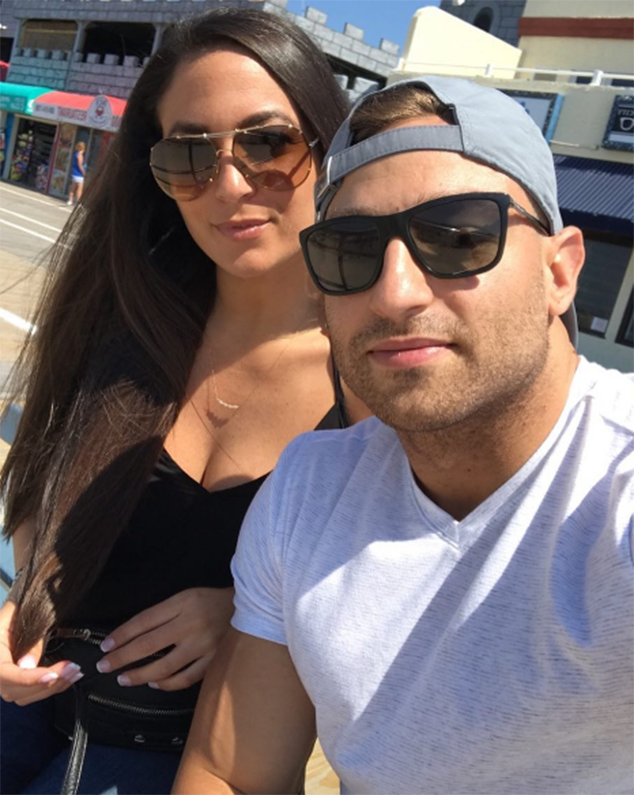 Romantically engaged boyfriend and girlfriend: Sammi Giancola and Christian Biscardi
Source: eonline
Sammi's castmate Jenni "JWoww" Farley also spoke about Sammi's relationship with her new boyfriend. Jenni revealed;
We've met him and he is such a sweet guy. He makes Sammi happy, so he's good in my book.
Quite a nice thing to say about someone else boyfriend. Looks like Biscardi has managed to win his girlfriend's friends heart as well. Sammi first introduced her new love interest through an Instagram post that she shared on 27 April.
Here's the post, check it out.
Ever since then Sammi is expressing her romantic love affair with her new boyfriend through various Instagram posts. Recently, on July 24, 2017, Sammi shared a picture with her beau that addressed their blooming love life.
Check it out, guys!!
Earlier in May, the gorgeous lady shared a throwback photo of her and her new boyfriend with a beautiful caption.
Here's that post.
Undoubtedly, the couple looks amazing together.
Sammi's Relationship with Ex-Boyfriend Ronnie Ortiz-Magro
Prior to Christian, Sammi had an affair with a popular American actor Ronnie Ortiz-Magro. The couple began dating in 2009 but after 7 years long affair, they broke up in 2016.
Former boyfriend and girlfriend: Sammi Giancola and Ronnie Margo-Ortiz
Source: usmagazine
On July 30, Ronnie Magro-Ortiz spoke about his bitter relationship with his then girlfriend Sammi in an episode of Famously Single. He said;
I don't think that she ever fulfilled me inside. I guess that's why I cheated. Maybe she wasn't exactly what I needed.
Whatever was in the past, the ex-couple has left it behind and has now moved on. We hope things get better for both of them and we wish the current pair, Sammie and Christian all the very best for their future. We hope we will soon hear the wedding bells soon.
For more updates, stay tuned with Frostsnow.