This New Year has brought lots of celebrities together on the string of marriage. Another couple who have tied their knot at the beginning of the year is Sam Hunt and his long-time girlfriend Hannah Lee Fowler.
The 32-year-old singer, Sam kicked off the New Year by putting the ring on his dear girlfriend Hannah. Certainly, this New Year turned out to be more memorable for them.
Sam Hunt Is Engaged to Hannah Lee Fowler
Georgia-born, Sam who remained tight-lipped about his affair has now amazed the media with his engagement news. He's been posting the pictures of his Alabama-born fiance, Hannah over the last few months.
The pair certainly has gone through rocky road throughout their relation. Despite their on-again-off-again relationship, their bond turned out to be the successful one as they have decided to be officially together.
Sam Hunt with his fiance Hannah
Source: People country
Though we hear about their breakup story often, they have an immensely strong bond as he frequently shows their love through his songs and work
. He has recently made an album "Montevallo" which was named after his soon to be bride's hometown.
Back in 2014, in the ABC News Radio, Sam mentioned that Hannah is his inspiration for the love songs he makes as lots of songs come up from their conversation that they have.
Hunt in his interview told on Nash Country Daily;
"It was either her or push on as a bachelor. I realized she was meant to be a part of my life, and when I realized that, as fast as I could, I went to try to convince her that was the way it needed to be."
Aww, isn't he too good to be true?
Sam planned up his proposal while they were visiting Israel and while were by the Sea of Galilee.
Like every guy, he felt the same way before proposing her as she note to CCD;
"Once you have the ring in your pocket and the clock is ticking … it becomes a bigger deal than you think."
Their break up has motivated him to produce an album with numbers of heartbreaking songs like "Drinking too much", "Break up in a small town", "Make you miss me", "House party" where all of the songs went platinum.
Why should it not be? As he poured his heart out on these songs.
Sam Hunt's past relationships
Hunt back in days, was rumored to have an affair with two of the actresses; Kaley Cuoco from The Big Bang Theory and Andi Dorfman from The Bachelorettes.
Kaley has clearly denied about the affair with Sam and stated there was not at all romance cooking up between them.
Must Read: The Bachelorette's Andi Dorfman reveals about her ex-fiance Josh Murray in new book 'It's Not Okay'
Sam with Kaley Cuoco
Source: Peopletvwatch
On another affair rumor with Andi, Sam stated that it was completely fabricated and clarified that it was only a rumor.
Well, from this we can say, he has been dating Hannah seriously, even when they go through numerous fights. It is said, "It's not love if there's no fight." Isn't it peep?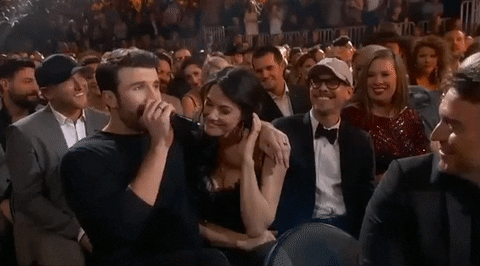 Sam Hunt Totally Embarrass Fiancée Hannah During His ACMs Performance
Source: People country
We heartily congratulate the couple for their engagement and hope they soon announce their wedding as well! Way to go Sam!