The Scottish actor, Sam Heughan, has been rumored to have dated his Outlander co-star Caitriona Balfe, but there have been various progressions to his dating affairs that it has really become hard for us to speculate his love relationship.
In 2016, it was reported that Sam was dating another woman while there were also rumors that an insider confirmed the relationship of Sam Heughan and Caitriona Balfe. So, what is the real truth about his relationship? Keep on reading to find out!
Sam Heughan and Caitriona Balfe Dating
An onscreen couple of the famous Tv series Outlander, Sam Heughan and Caitriona Balfe, were allegedly dating each other. It is normal for the sets of fans to get tickled by the idea of seeing their favorite onscreen couple together.
Notwithstanding the idea of sensationalized reporting here, we can, all but confirm that the sizzling onscreen couple was ACTUALLY seeing each other out.
Also, see: Gal Gadot Kisses Kate McKinnon While Playing Wonder Woman In SNL Spoof
Because the gestures say it all
The duo on several occasions preferred to keep their lips tight on the growing speculations of their apparent togetherness. Sam Heughan And Caitriona Balfe even went steps further to blatantly deny the burgeoning rumors that escalated after the rousing success of their reprisal of couple in Outlander.
The rumors began to make rounds when an insider said that the pair was normally seen together in the sets holding hands, whispering to each other, and resonating the sweet vibes that only a normal couple can emulate.
Also, see: Mila Kunis Welcomed the second Baby with her Husband Ashton Kutcher
The gestures are bound to raise hopes, even if the rumors turn out to be nothing but fallacy and publicity stunts.
The 36-year-old Sam Heughan, who is also the favorite British artist of the year, according to The Anglophile Channel Awards 2016, has not jumped into marriage yet (He doesn't have a wife) and all the rumors circulating around the web leads towards that one conclusion; Sam Heughan has predilections for his Outlander co-star.
Even the 37-year-old Caitriona Balfe, who has also starred in films such as Now You See Me and Escape Plan, cannot deny the onscreen fire they create with their chemistry. The frenzied fans have crossed limits and have stalked their favorite onscreen characters.
It was reported not so long ago that the fans have unsettled the apparent girlfriends of Sam Heughan by constantly abusing and stalking them on Twitter and other social networking sites.
Caitriona Balfe dummies away
Caitriona Balfe, who admits that having to constantly clarify about her alleged affair with her co-star Sam Heughan is bothering her, also does not shy away from calling Sam Heughan her "Best Friend".
Balfe squashed the rumors of their apparent affair and terms it regular acting. She prefers to keep the rumors in the dark with remarks such as "You know, I feel very lucky, Sam and I have an amazing bond, we're really great friends – but, you know, it's acting."
Also, see: Mila Kunis takes a stand against Sexism in Hollywood.
What adds fuel to fire is that both the stars, Sam Heughan, and Caitriona Balfe, have never married, have never divorced before and are really made for each other, according to the fans.
Sam Heughan and Caitriona Balfe cannot hide it forever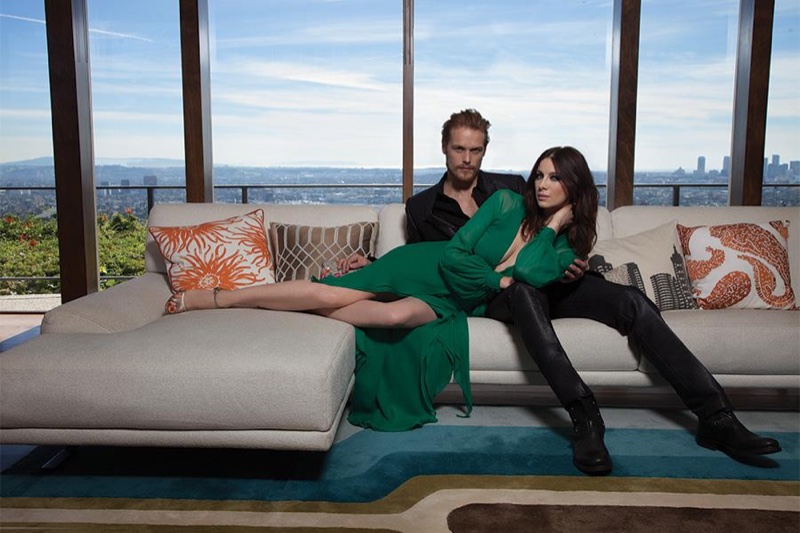 Things seem to be blown out of proportion when it comes to celebrity patch up and break-up rumors, but we definitely feel that there was something cooking on between the ravishing on-screen couple.
Sam Heughan and Caitriona Balfe have tried their best to dodge the bullet, but there is certainly more to it than mere "IT'S ACTING" brevity.
Currently, the rumored pair are not together as Balfe has already been engaged to her boyfriend cum fiance, Tony McGill. But, what about Sam?
Also, see: Outlander star Caitriona Balfe is Engaged: Who's The Lucky Guy? Her Affairs and Relationship
Sam Heughan's relationship is so confusing. He had dating rumors with girlfriend Caitriona Balfe, but it has not been officialized. He also has dating rumors with Amy and MacKenzie but, what is true and what is not, is still in the hands of Sam.
Sam Heughan's Current and Past Relationship
There has been a certain development in the current days that Sam Heughan has again started to date his on-off girlfriend, MacKenzie Mauzy. The former wife of the American Idol contestant, John Arthur Greene, Mauzy has been spotted with Sam Heughan since her 27th birthday party in 2015.
CAPTION: Sam Heughan with rumored girlfriend MacKenzie Mauzie
SOURCE: Hollywood Life
In early 2017, the pair made their first appearance together. Then, they started getting spotted together on several red carpet events and awards shows.
The pair have been seen together recently too, but there have been so many on-off rumors of the couple, so it's really hard to be sure about their relationship.
Also, see: Actress Kate McKinnon's Net Worth Has Not Increased For Years: A Look At Her Professional Life
However, in rumors of Sam getting back together with girlfriend, MacKenzie, he is also currently rumored to date the Twin Peaks star Amy Shields.
The pair had rumors of their relationship back in 2014 and 2016. The rumors circulated after a fan tweeted about their relationship nicknamed being Samy and she liked the post.
Also, see: 'Twin Peaks' Alum Amy Shiels and 'Outlander' Star Sam Heughan Are Dating
CAPTION: Sam Heughan with rumored girlfriend Amy Shields
SOURCE: Pinterest
The relationship has not been confirmed but while supporting her boyfriend, she took full support of her beau for the role of the new James Bond. Recently, on the premiere of Sam's new movie, The Spy Who Dumped Me, alongside Mila Kunis and Kate McKinnon, Amy showed up on the premiere and later that night, the pair were seen hanging out with drinks and also attended the Chateau Marmont in the West Hollywood together.