A successful marriage is what we barely get to see. Most of the relationship as we know does not last for more than a few years. In fact, it is more common when comes to celebrity. We can take many examples like Johnny Depp and Amber Heard whose marriage has ended in a divorce. But in contrast, the gay couple, Sam Champion and Rubem Robierb have left us all wishing for a marriage like theirs.
To know more about Sam Champion and Rubem Robierb's married life, and to know whether or not they have a child, Read the article:
Sam Champion and Rubem Robierb's Marriage
Sam Champion, a weathercaster, and artist Rubem Robierb got married on 21st December 2012. If you think that's all about their wedding, you are wrong; there's a lot more about the duo that will amaze you. The adorable couple re-married again on 31st December 2012. Well, no one exactly knows why, but it seems Sam and Rubem wanted to relive the moment. Adorable!!
Rubem Robierb and Sam Champion
Source: Zimbio
Nobody really had any clue about Sam and Rubem's wedding plan until they announced their engagement on 5th October 2012. They got married soon after that. Although the whole event happened out of the blue, it turned out to be a happy surprise.
Sam Champion and Rubem Robierb's Relationship At Present
Though they are married for quite a while now, this couple has not stopped surprising us. They often go on vacations together and are usually seen dressed up in matching outfits.
Both of them are super successful in their career. In fact, Rubem got a lot of attention after they got married. However, he didn't let the attention affect his relationship with his lover in any way.
Video: Sam Champion happy with Rubem
Sam and Rubem have been an inspiration to gay couples as well as to straight ones. They are active supporters of GLAAD and similar LGBT organizations. In fact, Sam was once honored by the Human Right Campaign (HRC) at 27th Annual Atlanta HRC Gala Dinner and Auction.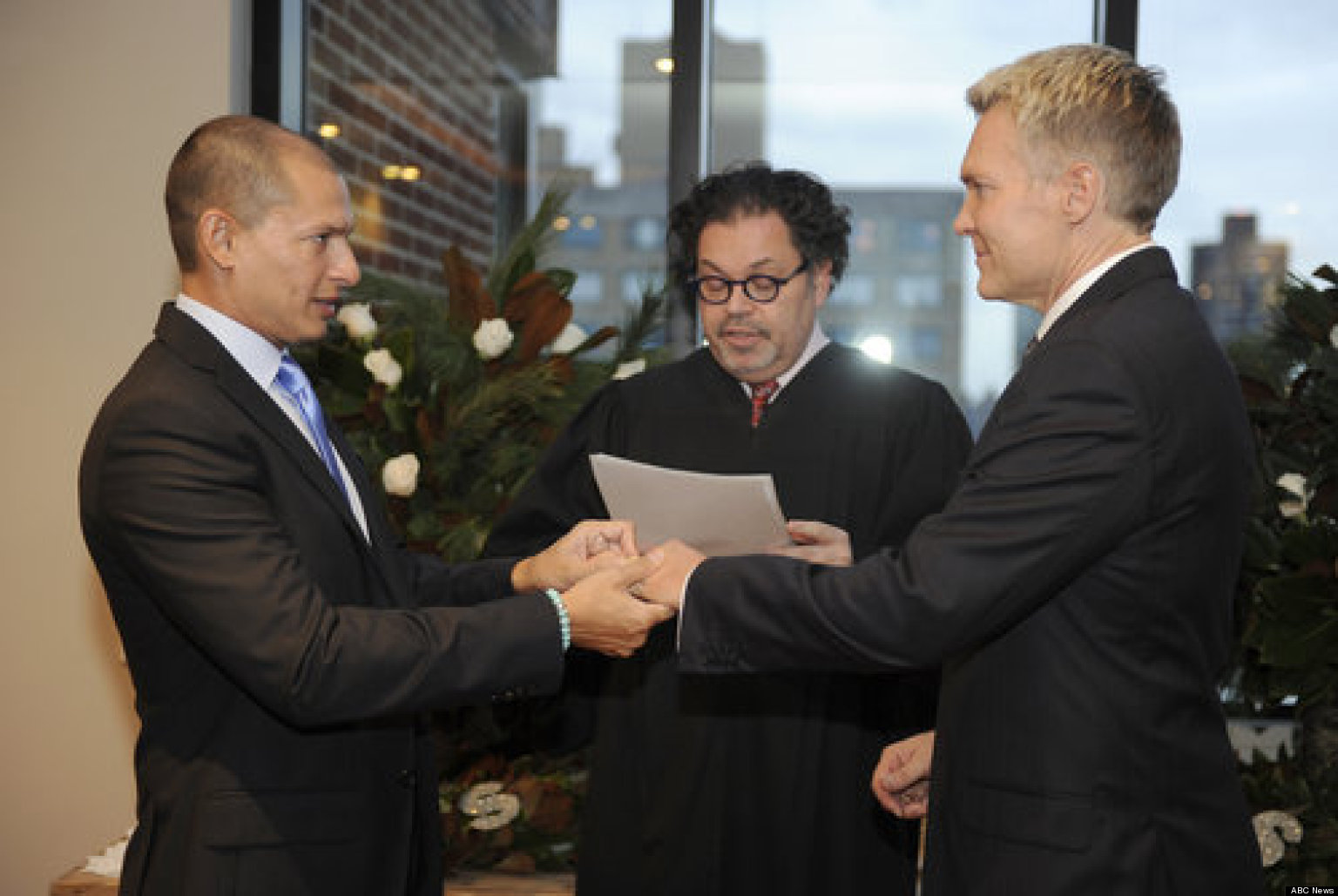 Sam and Rubem getting married
Source: Huff Post
This December the adorable couple will be celebrating their 5th wedding anniversary. It is impressive to reveal that the love between them doesn't seem have declined any less in the past few years. There are no reports of any kind of disputes or fights which is somewhat a kind of indication that their relationship is meant forever. They stand as a strong inspiration to all the couple out there whose marriages are on the rocks.
Sam and Rubem enjoying their vacation
Source: Daily Mail
We hope Sam Champion and Rubem Robierb's relationship stay as it is forever. Best wishes!