Abdul Rashid Salim Salman Khan, professionally known as Salman Khan, is an Indian actor, producer, TV personality, and singer who has been active in Bollywood for the past 30 years. Also known by his nicknames Sallu Bhai and Bhaijaan, he is one of the three great Khans in Bollywood, along with Aamir Khan and Shah Rukh Khan, delivering massive hit films and blockbusters every time.
He is the eldest son of screenwriter Salim Khan. Salman started his career in Bollywood with his debut film, Maine Pyar Kiya, in 1989. Along with his enormous popularity in the film industry, Salman is also famous for hosting TV shows like Big Boss and 10 Ka Dum, among others. He also owns a charity organization and clothing line called Being Human.
With an estimated net worth of $210 million (Rs.1354 crore), he is indeed one of the elite actors in Bollywood. Being such a huge name, it is not unusual for Khan to be surrounded by controversies. From getting arrested numerous times for a hit-and-run case to arms act violations and imprisonment, Khan's litany of misdeeds has made him a bad boy in the industry.
Salman Khan
Source: Bollywood Hungama
However, we are not going to talk about these topics today. Instead, we are going to take a closer look at some facts and rumors surrounding the Bollywood superstar's sexuality. There have been many claims and rumors that Khan is gay. Below we have listed some facts and rumors claiming that Sallu Bhai is gay. Continue reading to find out more.
IMDb puts him first in the list of 'Top 10 Gay People In Bollywood'
The first thing that pops up on the internet when you search about Salman Khan's sexuality is IMDb's Top 10 Gay People In Bollywood. In the top 10 list, you will see Salman in the No.1 place. Along with him, other actors like Kunal Kohli, John Abraham, Atul Agnihotri are also on the list.
The site first gives a short description of Salman and his career. Then, at the bottom, it states, "He Has A Gay Relation Ship With His Bodyguard."
However, many users have answered the question on Quora with statements like "No, he is not a gay." It might be crazy fans who are in denial, but we are not making any claims here.
Salman is rumored to have a gay relationship with his bodyguard
Salman Khan's bodyguard Shera is no less than a celebrity himself. He is a big name in Bollywood and has served some big national and international stars like Justin Bieber, Jackie Chan, Will Smith, Amitabh Bachchan, Michael Jackson and many others.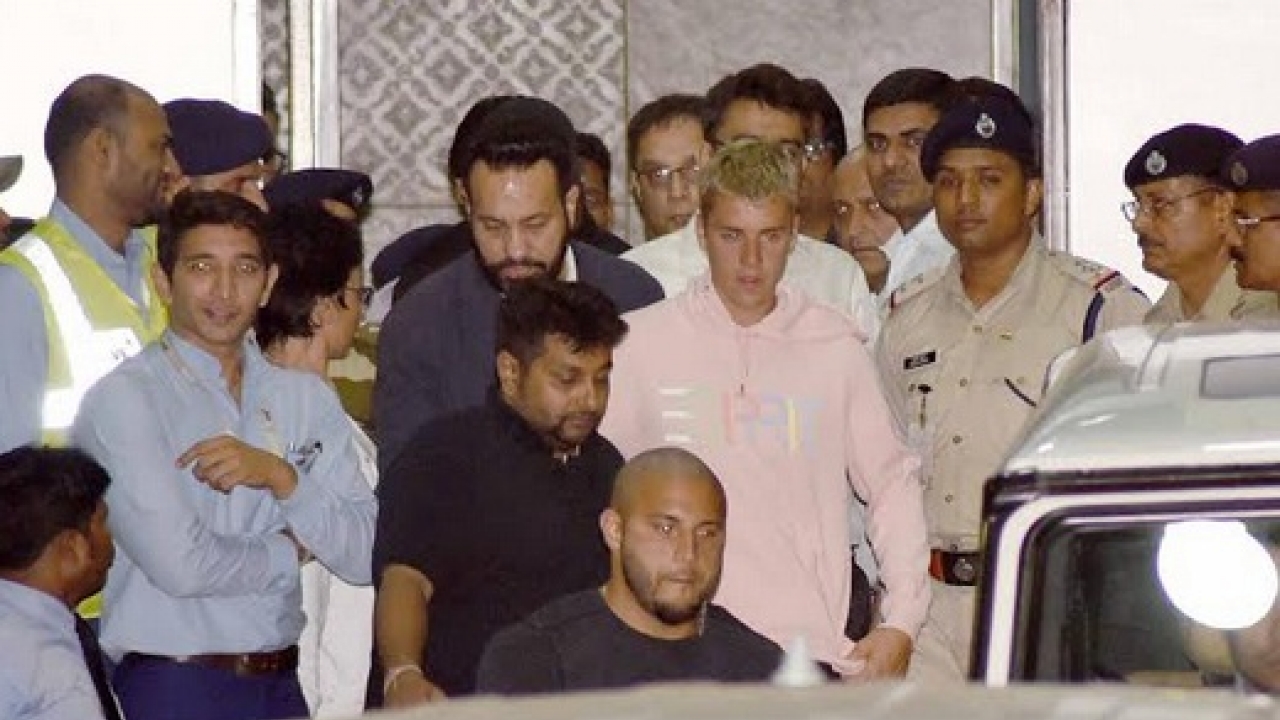 Salman Khan's bodyguard escorting Justin Bieber
Source: DNA India
Salman is known to be very attached to Shera. Shera has an estimated annual salary of Rs. 2 crore, equivalent to US$313,600. Sources claim that he has such high salary because his relationship with the star is more than that of a bodyguard.
However, if we are to take a closer look at the annual salary of other high-profile Bollywood bodyguards, the sum is not very high. Shah Rukh Khan's bodyguard Ravi has an estimated annual salary of 2.5 crore, equivalent to US$392,000, and Aamir Khan's bodyguard Yuvraj also has an estimated annual salary of two crore rupees (US$313,600).
However, it is not just the pay cheque that has raised eyebrows. Rumors started circulating after Sallu claimed that his film Bodyguard was dedicated to his bodyguard Shera. Also, it was said that his character in the film sported the logo of Shera's security company.
Salman Khan with his bodyguard Shera
Source: Asianet Newsable
Moreover, he also gifted Shera a puppy, which some sources claim to be his gesture of romance and love.
There are many sources which claim that they have a gay relationship but have not opened up about it because gay relationships are still illegal in India.
Salman is still unmarried and a virgin
Many people assume that Salman is still unmarried because he is unsure about his sexuality. We believe that getting married or deciding to stay single is an individual choice. So, we are not going to delve into this topic any further.
However, after Salman Khan openly claimed that he was still a virgin and was preserving himself for the right person, things took a fishy turn. During an interview on popular Indian show Koffee With Karan, hosted by Karan Johar, Sallu confessed that he was a virgin.
Watch Salman on Koffee With Karan
Till date, Salman has dated some gorgeous and talented women inside and outside Bollywood. Back in early 2000's Salman was in a relationship with actress and former Miss World Aishwarya Rai. Their relationship became one of the most talked-about issues in the Indian media after they broke up in 2002.
After the breakup, Aish claimed that Salman physically abused her and even had a hard time coming to terms with their break up. The abuse was so bad that she publically announced that she would not work with him in the future.
Salman Khan with actress Katrina Kaif
Source: India Today
The other women Salman has dated are Katrina Kaif and Lulia Vantur.
He was accused of having sexual relation with a contestant on his show
Swami Om, one of the contestants of the popular show Big Boss that Salman hosts, got eliminated after splashing his pee on other contestants. In 2016, after being eliminated from the show, he shared that Salman Khan had a physical relationship with one of the male contestants of the show. According to him, Rohan Mehra (the contestant) is gay and Salman had sexual intercourse with him.
Know more about the incident (English Captions)
There are no solid grounds to support the claim but it is one of the many rumors targetting Salman's sexuality.
Salman Khan supported Mr. Gay India 2014
Sushant Divgikar is Mr. Gay India 2014 who represented India in Mr. Gay World 2014. He did not win the title but later he appeared in the 8th Season of Big Boss. Throughout his journey on the show, Salman was not much of a supporter of Sushant. However, after the end of the show, when footage of Sushant emotionally talking about coming out of the closet and explaining the truth to his parents was shown, Salman got very emotional and not only supported Sushant but also saluted his parents for having an open mind and helping him.
Salman also ended up offering him a film and the news about Mr. Gay India 2014 singing to Salman went viral. This might have been a generous act of Salman to support the LGBT community. But with all the rumors about Salman being gay circulating, for some it was the last nail in the coffin of Salman's sexuality.
This does not mean that Salman has always been supportive of the gay community. Back in 2013, Salman made a homophobic joke by holding two cards, one a king of hearts and the other a king of spades, and mocking contestants Andy and Sangram Singh. Indian gay rights activist found the photo very offensive and went after Khan.
We are not making any claims about the Bollywood superstar's sexuality. He might be gay. Or he might not be. It is purely a matter of his private life. However, we do think that if he is gay, Salman should come out of the closet and tell the world who he is. This will not only change the macho image of lead actors in Bollywood, but will also make a huge difference in the lives of LGBT people forced to hide their sexuality from the world for fear of being harassed, discriminated or stigmatized.