To everyone who has a crush on the Disney heartthrob, Sabrina Carpenter here's sad news: Carpenter might have found her ultimate prince who was her Valentine's day date this year. However, her prince is not someone real, but it is a pink monkey stuffed animal which was gifted to her by a fan.
Carpenter revealed about her date through her Instagram story as she shared a cute selfie along with the soft-toy. Isn't she adorable? Carpenter, who is busy promoting her new album 'EVOLution' and 'Thumb' song, isn't seen dating anyone at present. However, she was in a relationship with Bradley Steven Perry in the past. So why did she break up? Let's find out.
Image: Sabrina Carpenter with her Valentine's Day date Source: Instagram
Disney's actress other than acting and singing has another hobby too, she is pretty fond of writing and admits that she loves writing a lot.
Sabrina Carpenter's Dating Life With Bradley Steven Perry
Sabrina Carpenter and Bradley Steven Perry began dating in 2014 after Perry proposed her with a note inside a bottle. She was really amused as she disclosed that the whole bottle and note thing made her feel like in the pirate movies. She even added that Perry might have known that she would say yes anyway.
Image: Sabrina Carpenter and Bradley Steven Perry Source: M-magazine
Sabrina Carpenter and Bradley Steven Perry split
Sadly, their relationship lasted only for a short period. Neither Carpenter nor Perry revealed the exact reason behind ending their relationship, but it is said that Carpenter's song 'Smoke and Fire' is inspired by her relationship with Perry.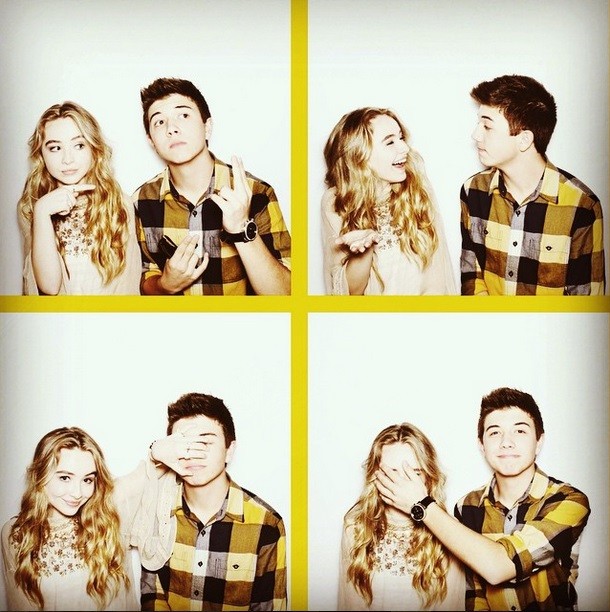 Image: Sabrina Carpenter and Bradley Steven Perry Source: ibtimes
Who is Sabrina Carpenter Dating Currently?
At present, Sabrina Carpenter is busy working on promotional works of her new album and song. She is completely focusing on her professional career rather than building up romantic links.
In numerous interviews, she claimed that she is single and finds it rather funny about the way people show so much interest in her dating life. Carpenter says that the dating part of her life is not interesting and it's easy for her to keep a secret as there is no secret at all. She also says:
"It's just like any teenager going through that stuff, it's as if you telling the whole town you live in who you're dating, you know? It's that kind of that weird thing, like why would they care? But for some reason they do. So you just live your life, and that' just the best advice I give to myself every day."
Even though Carpenter is only 20 years old, we must admit that she thinks and talks like a mature woman. It seems like she has already got over her relationship with Perry and is moving on in her life. And with so many amazing fans around her who doesn't fail to make her feeling loved, we don't believe she will ever feel alone.
Update: Besides being in a relationship with Bradley, Sabrina was also linked with Corey Fogelmanis. They first met while appearing in Girl Meets World and soon began dating. But during interviews, she confirmed of being single.