Frostsnow
https://frostsnow.com/
Ronda Rousey's Marital Relationship with Travis Browne: Career, Net Worth
Updated On

21 Nov, 2017
Published On
21 Nov, 2017
Ronda Rousey, an American mixed martial artist and actress, known for being the first American woman to earn the Olympic medal in judo(bronze) in the 2008 Summer Olympics. Ronda, also a former UFC Bantamweight Champion, got married to her husband Travis Browne, an American mixed martial artist, back in August.
So, everyone is curious to know if their marriage is going well as their career. Today, on Frostsnow, we are going to deal with the private life, affairs and marital relationship of Ronda Rousey and know about her career and net worth.
Married life of Ronda and Travis Browne
Ronda and Travis, who officially became a couple in October 2015, after more than a year of dating, got engaged on April 14, 2017, while on vacation in New Zealand. Browne was reported to have proposed Ronda with a diamond ring beneath a waterfall.
Later, after the 4 months of engagement, the duo got married on August 28, 2017, in Hawaii, the home state of Travis.
Ronda Rousey and Travis Brown in their wedding
Source: X17
It seems the married life of the couple is going well. However, the couple has not given any indication about having a child until now.
But the couple's love story was not easy as it seems. Even though Travis is yet to have any baby with Ronda, he is the father of two sons, Kaleo and Keawe, from his previous relationship.
Prior to Ronda, he was hitched to wife Jenna Renee, whom he married in January 2015. But the relationship didn't work out for him, leading to a divorce on February 21, 2016, a year of his second marriage.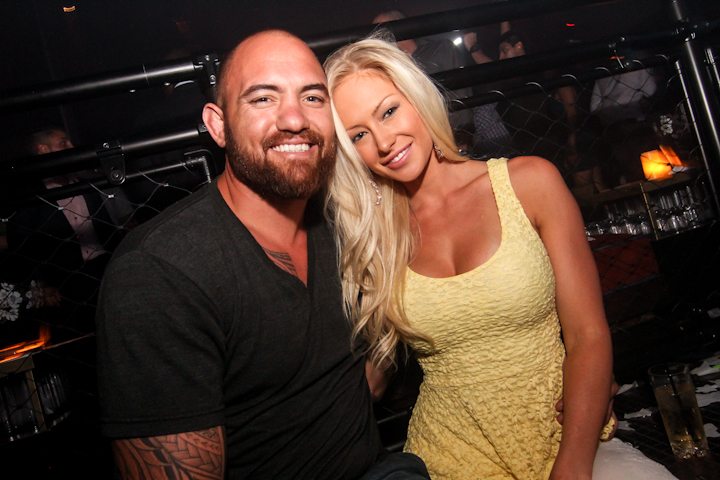 Travis and his ex-wife, Jenna Renee
Source: Fabwags
Ronda was also in a relationship with her boyfriend. However, the details about her ex-boyfriend have not been revealed. In her autobiography My Fight/ Your Fight, she says that she used to have violent altercations with him.
Seems things have become normal now, as Travis and his new wife Ronda are in a happy relationship.
Congratulations and best wishes from us.
Career of Ronda Rousey
Ronda, who began to train judo with her mother, AnnMaria De Mars, since the age of 11, got her debut in the Olympic Games in Athens in 2004 at the of 17. The youngest judoka in Athens, Ronda won a gold medal at the World Junior Judo Championships in Budapest, Hungary, the same year.
The career of Ronda took a giant leap in 2006 when she became the first U.S. athlete to win two Junior World medals after winning the bronze medal in Junior World Championships.