Not all celebrities divorce. We frequently come across stories of public figures living a happily married life with their children and spouse. It might be rather rare in the world we live in, but it's not impossible.
One such couple that is doing great in marriage is Robyn Curnow, anchor of the new CNN Marketplace Africa, and her husband Kim Norgaard, who also works for CNN.
Robyn Curnow, anchor of the new CNN Marketplace Africa
Source: Blogspot
Do you want to know their story?
Kim Norgaard and Robyn Curnow: The Power Couple
Kim Norgaard is the darling husband of the beautiful journalist Robyn Curnow. Born in Australia, Robyn received her education in Australia, England, and South Africa. She started working for the American news channel CNN in 2002, as a reporter and newscaster in London. Since then she has become one of the most recognized faces of the news channel.
On the other hand, Kim Norgaad is CNN's international bureau chief in Johannesburg and a well-known name in the world of journalism.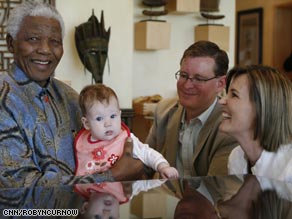 Robyn with her daughter Freya and her husband Kim
Source: CNNFAN.ORG
But despite having high-profile careers, the duo has not allowed their professional life to interfere with their private one.
They have two daughters together, Freya and Hella. Currently, the happy family lives in a leafy suburb in Atlanta. Their youngest daughter Freya is studying in Lovett school, while their eldest daughter studies in an independent school.
Curnow attend the CNN Worldwide All-Star 2014 Winter TCA Party at Langham Hotel
Source: Zimbio
Kim and Robyn are proof that being a celebrity need not cost one's private life. It need not mean a constant stream of divorces and hookups. We wish the couple all the best.