Robin Charles Thicke, a.k.a. Robin Thicke, is an American born singer and record producer best known for his controversial yet super hit song Blurred Lines featuring Pharrell Williams and T.I. Moreover, Robin is also a songwriter and has worked for some super hit singers like Usher, and Lil Wayne. Some of the other artists he has worked with are Nicki Minaj, Christina Aguilera, Kid Cudi, Flo Rida, and many others.
Born on 10th March 1977, the 40-year-old is a father of two and is currently in a relationship with girlfriend April Love Geary. Recently in 2018, the pair gave birth to their first child Mia.
Here, we are going to share some information about his children including their newborn, and if they have decided to take things further in their relationship.
Robin Thicke's child from previous marriage and his newborn
Robin was previously married to an American actress, Paula Patton. According to sources, the couple met his future wife at an under 21 club and asked her to dance. The pair started dating in October of 1993, and Robin popped the question to her after dating for more than a decade. They got married on 11th June 2005.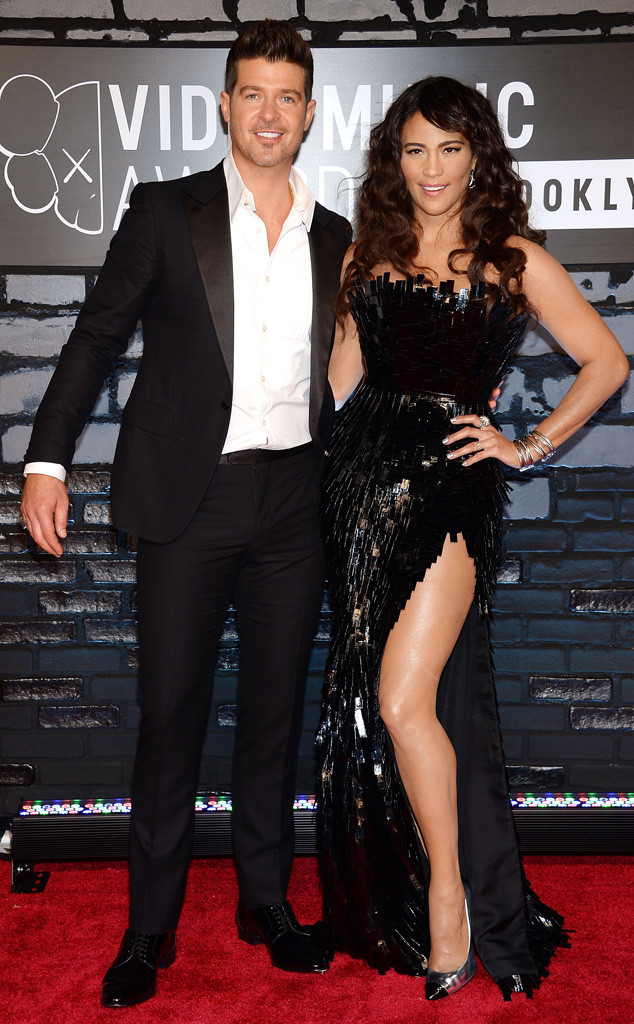 Robin Thicke with his ex-wife Paula Patton
Source: E! Online
5 years after their marriage, the couple gave birth to their first child, a son named Julian Fuego. He is currently 7-years-old.
Robin Thicke with ex-wife Paula Patton and son
Source: BET.com
Moreover, the couple were married for almost 9 years and were together for more than 20 years when they decided to end their relationship in Feb 2014 followed by their divorce on 14th April 2015.
As of 2018, the singer cum producer and his model-girlfriend April Love Geary have given birth to his second child. She was born on 22nd Feb 2018 and her name is Mia Love.
On 24th Feb 2018, the singer shared a short video of himself holding his newborn daughter with a caption, 'On 2/22 at 13:33 Mia Love Thicke was born. Thank you God and April Love !'
The video is indeed very adorable, and he decided to share his daughter with his fans through his Instagram like a proud father and did not sell her first photos to magazines and other sources.
Robin Thicke relationship with girlfriend April Love Geary. Are they engaged?
Robin started dating his model girlfriend April Love Geary back in October of 2014. It has been more than 3 years since they started dating and as of 2018, they have even welcomed their first child into the world.
The couple is very close and so much in love and while April was pregnant, Thicke uploaded numerous pictures of her and her belly on his social media.
Moreover, since the couple has been dating for so long and since they are parents now, fans are questioning if the singer has popped the question to her. Unfortunately, they are not engaged yet, and there have been no reports of him planning to propose her.
We hope to see them as a married couple.