Robert De Niro is an American actor and producer. He is known for his role as Vito Corleone in the God Father Part II. He is married to Grace Hightower who is also an actress and singer. They have been married for 20 years now and are still going strong. He was previously married to Diahnne Abbott which lasted for about 12 years.
Firstly let's see the relationship between De Niro and Grace.
Robert De Niro and Grace Hightower; Relationship and Married Life
Robert De Niro and Grace Hightower met each other in London at the restaurant Mr. Chow, where she was working as a hostess, in 1987. Details about their first meeting haven't been disclosed, but according to Hightower, there was no love at first sight when she saw the two times Oscar winner actor in London.
Robert De Niro and his wife Grace Hightower
Source: Daily Mail
In 2013, Hightower revealed to New York Times that,
It was an ease-in. It wasn't a whirlwind.
Also the same year in another interview with Yahoo News, the philanthropist told that she didn't even know that Robert De Niro was an actor. He kept asking her questions which she found very irritating. Only after telling a co-worker about him, did she know who he really was?
The couple got married in 1997 at their Marbletown home. Grace gave birth to a beautiful boy named Elliot in 1998 and just when we thought everything was going great between them a big shock came to us when a news that De Niro had filed for divorce came to us in August 1999.
In 2001 it was reported that De Niro has filed a cased against Hightower for the custody of their son, Elliot. During the custody battle, Hightower accused De Niro of drug and alcohol use and De Niro claimed that Hightower once fractured one of his ribs.
Robert De Niro and his wife Grace Hightower with their children
Source: Pinterest
But their divorce was never finalized; they decided to reconcile their marriage and work things out. In 2004 the couple renewed their wedding vows at the actor's farm near the Catskill Mountains. Actors like Ben Stiller, Martin Scorsese, Meryl Streep and other celebrities reportedly attended the event. In 2011, the couple had their second child, Helen Grace, via surrogate.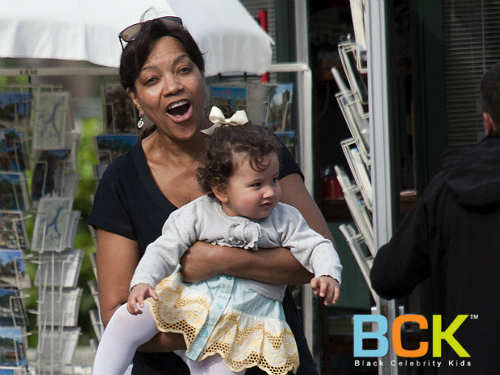 Grace Hightower with her second child, daughter Helen Grace Di Naro
Source: BCK Online
Now let's talk about his ex-wife Diahnne Abbott. Diahnne Abbott is an American actress and singer. She has played supporting roles in films of the 70's and 80's including Taxi Driver. She has also played the role of De Niro's affection in Scorsese's 1993 film, The King of Comedy.
Robert De Niro and his ex-wife Diahnne Abbott
In Taxi Driver movie, which released in 1976, she played a girl working at Porno Theater concession stand who rejects Travis Bickle, played by De Niro himself and in the same year the actress and De Niro got married. They were married for 12 years before calling it quits.
Robert De Niro and his ex-wife Diahnne Abbott
Source: Pinterest
They have two children together, a son together, called Raphael De Niro, who is also an actor and named after the hotel where he was conceived and De Niro also adopted Drena, Abbott's daughter from a previous marriage. Even after the divorce Drena and De Niro seem to be very close as she is seen with him on various occasions.
Robert De Niro and Grace Hightower with Drena De Niro
Source: NY Daily News
During their 12 years of marriage, De Niro was accused of being unfaithful to his wife and having multiple affairs while he was married to Diahnne and was also said that he was consumed by cocaine. De Niro and Abbott got divorced in 1988. After the divorce, she disappeared from the spotlight and retired from acting in 2002. We do not have much information about her personal life after her divorce. But we hope she is happy seeing her kids grow up and be successful.
For more updates keep on visiting Frostsnow.