The 49-year-old Rick Salomon is an American poker player. He is famous for his $2.8 million worth win in the 2014 World Series of Poker's Big One for One Drop event. Apart from being a popular poker player, he is also popular for having several relationships with female celebrities.
Rick has been married to Elizabeth Daily, Shannen Doherty, and Pamela Anderson. He was also involved with Paris Hilton for a short period. Having a net worth of around $30 million, Rick is currently divorced and single.
Rick is usually in the headlines more because of his personal life than his professional one. To know more about his personal life, love affairs and relationships, continue reading.
Marriage, Divorce, and Affairs of Rick Salomon
Rick has been married thrice with two official divorces and an annulment. Furthermore, he has been in several short-lived relationships as well.
The first marriage was with Elizabeth Daily. After dating a year, Rick and the voice actress tied the knot in 1995. The couple has two daughters together named Hunter and Tyson. Their marriage lasted for 4 years, and the two got divorced in 2000.
Two years after the divorce, Rick married the actress Shannen Doherty in 2002. The marriage didn't last long and was annulled after nine months in 2003.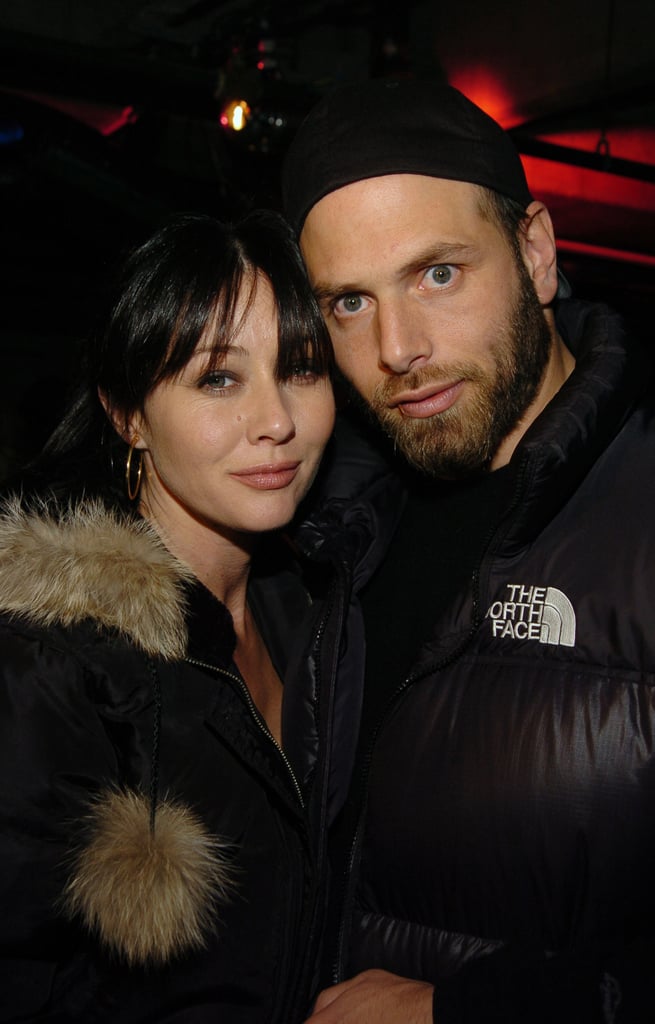 Shannen Dorothy with ex-husband Rick
source: PopSugar
Rick's third marriage was with Baywatch actress Pamela Anderson. Anderson and Salomon requested for a marriage license in Las Vegas on September 29, 2007, and got married a month later. The ceremony took place at Planet Hollywood Resort.
The marriage was also not long lasting. Within ten weeks, Anderson filed for divorce on the grounds of irreconcilable differences, but later on, the two reconciled. But in February 2008, Anderson filed an annulment citing fraud and Salomon did the same, the following month. Their request was granted on March 24, 2008.
Despite already having annulled, Rick and Anderson remarried but no details were put forward. Pamela made the announcement of her remarriage with Rick in January 2014.
Rick with his ex-wife Pamela Anderson
source: Us Weekly
Not too long after their reunion, Anderson again filed for divorce from Salomon on July 3, 2014, and Salomon filed for an annulment in Nevada. They were legally divorced on April 29, 201, and Anderson received $1 million as the settlement amount.
Anderson and Rick's marriage was a hectic one from the very beginning. The on/off divorce ended with a restraining order against Rick by Anderson for harassing and blackmailing her. Anderson once even claimed that the marriage had made her look 20-years older than she actually was.
Rick Salomon has been in relationships with famous female celebrities. One of his most talked-about relationships was with Paris Hilton in 2001. During their relationship, a sex tape featuring the two was released by Kahatani Ltd. on the internet without their permission. As a result of the violation of privacy, Paris sued the company for $30 million while Rick filed a lawsuit against the company and Hilton family.
Later on April 2004, Rick himself distributed the tape through adult-film company Red Light District Video under the title 1 Night in Paris and gave Hilton $400,000 plus a percentage of the tape's sale profit.
Other girlfriends of Salomon includes Tatum Miranda, Stefani Morgan, Nicole Marie Lenz, and Devon Aoki.
Early life and Career of Rick Salomon
Rick Salomon was brought up in Neptune Township, New Jersey with the name Richard Allan Salomon. Not much information about Rick's schooling and education is known.
The professional gambler owns an online gambling site. He is also an independent film producer. He is known for movies like My Sister's Keeper (2009), Alpha Dog (2006) and Who's Your Caddy? (2007).
The famous socialite had won $2.8 million in the World Series of Poker Big One for One Drop on July 1, 2014. The net worth of Rick Salomon was estimated to be $30 million.
Watch this video of Rick Salomon winning almost $1 million on poker
After several divorces, we just wish him that he will one day be happily married and it would last longer than the former ones. Hope he will gain more success in poker as well.