Some love stories come to an end (breakup or divorce) after hitting a small bump on the road. Whereas, some come out stronger with every hurdle they pass. Fox News' Charles Payne shared his story about how his life turned around for him and his wife Yvonne Payne.
Well, let's learn in detail about his married life of 58-year-old Fox Business Network contributor with his wife Yvonne Payne. Further, we will also talk about his past affairs and relationship. Just stay with us.
Charles Payne Married Life: Wife And Children
As reported, Charles Payne marriage to Yvonne Payne is his second wife as he was previously married to his mysterious wife.
Charles and Yvonne reportedly got married in March 2004 and are the parents of their 2 children: Charles Payne Jr. and stepson Austin Reid.
CAPTION: Charles Payne and his wife Yvonne Payne
SOURCE: Daily Mail
The couple has kept their relationship beginning details and their children's status low. But are reportedly together without mishaps of divorce since their marriage 14 years ago.
However, the couple is not free from the other problems and overcoming those hurdles, the couple's relationship has grown stronger.
Also Read: Fourth in a row: News Host Charles Payne forced out of FOX amid sexual Harassment Charges
Charles Payne's Wife Has Heart Disease: Saved By Luck
Charles Payne revealed that his wife had been suffering from heart disease ever since her teen years even before they were married. She used to be in terrible pain.
Her physical condition was only worsening with age. Even depression had begun to sink in his wife Yvonne due to her weak condition.
She was on medications and her daily activities seemed to be dependent on external devices. It was hard on Charles and his family members.
Charles Payne
Source: Gettyimages
All this was getting harder to deal with for the family.
Then back in July of 2012, Yvonne's heart seemed to have become more fragile and she had been put on the support of pumps to stabilize. She had to go through a surgery. But, for surgery, she needed a new heart, which is really hard to find.
It was a stroke of luck that saved this family from bearing a loss those days. Yvonne was in dire need of a heart transplant. Charles' long-time friend took that moment to call up and tell him that the latter's daughter had died and he wanted to donate the 20 years' old heart (of his daughter) to Charles' wife, Yvonne.
Also Read: Are Rick Carlson and Heather Childers still together? Interesting fact about this couple.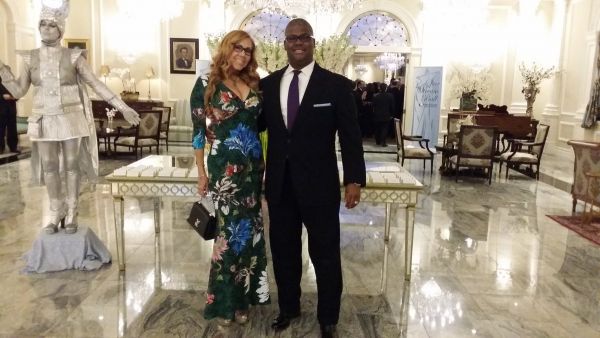 Charles Payne and his wife
Source: Daily Mail
Any hurdles came even after the transplant seemed possible, but the family overcame it all. His wife Yvonne had a successful open heart surgery. And now her husband and her lives have become so much easier and pain-free. Thanks to Charles friend!
Also Read: How rich is Sean Hannity exactly? A lot more than you think!
Controversy Of Charles Payne
Born on November 15, 1960, as Charles V. Payne, he has achieved quite a name for himself. He currently serves as the Fox Business Network contributor and host of Fox's Making Money with Charles Payne. He was formerly the co-host of Varney & Co. He had joined this network at its launch in October 2007.
However, despite all the fame Payne is not away from controversies. In July 2017, Payne was suspended by Fox Business pending an investigation as he was accused of rape by a former network guest, Scottie Nell Hughes.
Reportedly, Scottie stated that after she ended the affair in 2015, her appearance in Fox was drastically reduced.
CAPTION: Charles Payne accused of rape by Scottie Nell Hughes
SOURCE: Radar Online
The host of his own daily syndicated talk show, The Payne Nation, Charles Payne denied the accusations but admitted his 3 years of romantic relationship with Hughes before the accusation was made.
Later on September 8, 2017, Payne's suspension was uplifted. However, some sources questioned Payne's extramarital affair, though, even after these issues the Payne and his wife are still together.
Also Read: Former Fox News' Megyn Kelly Salary and Net Worth
Stay tuned for updates!