The world is stunned after of the death of boxing legend, Muhammad Ali. Cassius Marcellus Clay, Jr., known for his boxing legacy as Muhammad Ali, after his death due to Parkinson's disease at the age of 74, leaving tears in the eyes of boxing fans and sports lovers.
Ali left the secrets about his lesser-known personal life and made people curious to know about his four marriage and his children.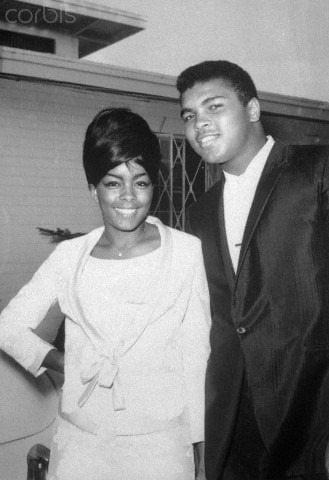 Ali with his first wife Source: fabwags
The greatest heavyweight of all time, Ali met a cocktail waitress Sonji Roi in 1964. And after one month, they decided to get married. But the relationship could not last long as they broke up and eventually divorced in early 1966 because of Roi's denial of following Muslim tradition and customs.
Soon after the divorce with Roi, Ali met Belinda Boyd, who is an actress by her profession. They quickly married each other in 1967. Boyd, who changed her name to Khalilah Ali after marriage, was only 15 at that time and had been working at a bakery in Los Angeles run by the Nation of Islam. Muhammad Ali with his wife Belinda Boyd had four children altogether.
Ali had an appetite for ladies. By the end of 1977, he promptly married an actress and model, Veronica Porsche after he divorced Boyd. They had two daughters as their children together.
Ali had nine years of marriage relationship with Porsche before they divorced. Ali was married to Yolanda 'Lonnie' Williams as his fourth and final marriage. Ali and Lonnie had been friends since 1964. They adopted a five months old baby as their child.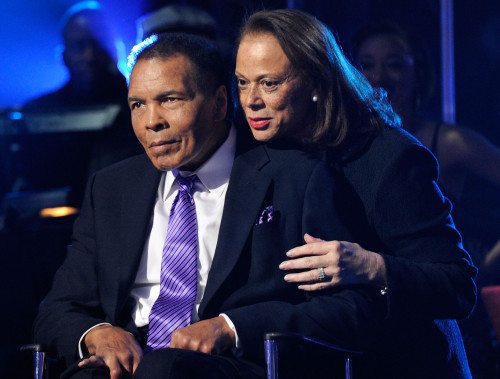 Ali with his fourth and final wife Yolanda 'Lonnie' Williams Source: fabwags.com
Ali had also been encountered to stay in a hotel in New Zealand with Linda Lewis. Rumors suggest that they were just in a physical relationship and had hooked up.
Ali was very supportive to his daughter Laila Ali. While one of Ali's son, Muhammad Ali Jr., had always felt to be ignored by his father. Ali was all under the care of his wife Lonnie as he suffered from Parkinson's disease. However, people have also claimed that Lonnie has tried to tame Ali.?