The year 2016 has been a hell of a year for the Australian Rapper Iggy Azalea. From feuds to her engagement falling apart and now being criticized for getting a plastic surgery. It's been a rough year for her.
">The Pretty Girls rapper recently got plastic surgery on her nose and b**bs and people didn't seem to like the decision she made for herself. People bashed her on Instagram and twitter for getting plastic surgery calling her "fake" and "plastic" which of course is a bit harsh.
Image: Before and after picture of Iggy after her b**bs implant.
But the rapper is pretty open about the plastic surgery and in an "> interview with Ellen Degeneres she opened up about it and told Ellen that she was very happy with it. She continued saying "I didn't need the surgery and there's nothing wrong with me. I think it's a personal choice and anybody - man or woman, they should be able to make an inform decision. And if you want to change something then that's up to you."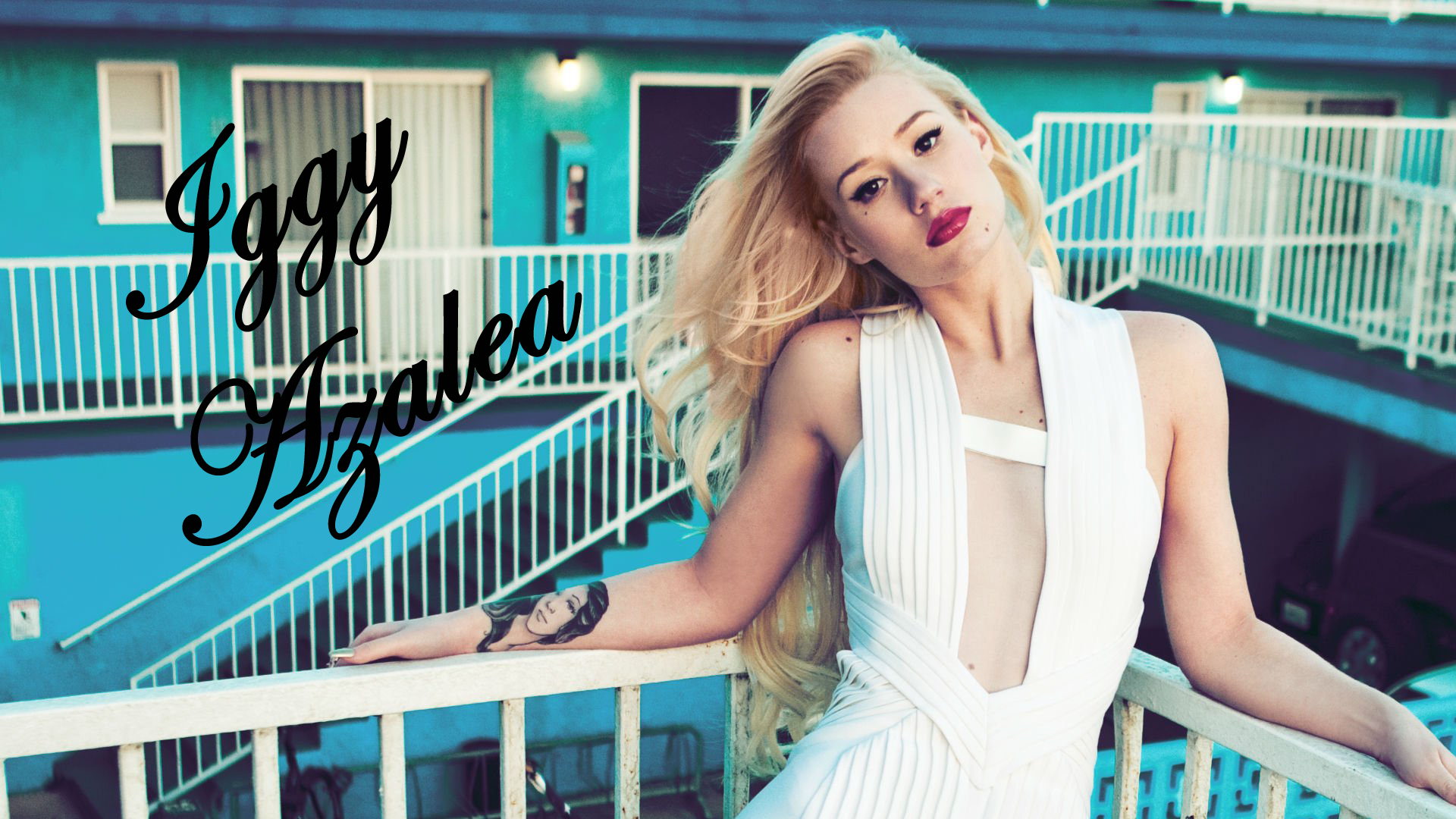 Image: Iggy Azalea
And on July when she caught up with her plastic surgeon she posted a photo with the caption, "Caught up with @DrGhavami today!!!!" she captioned the candid shot. "In case you were curious 1. He is hilarious 2. He is my Greek yogurt soul mate 3. He is the reason I have fabulously perky boobs (LOL_)"
She has also defended her decision, telling Elle Canada, "I think in 2016 people should be more accepting of the fact that both famous and non-famous women are having cosmetic procedures."
We think people are being too judgmental and harsh towards her. It's her money and her body and she have all the rights to make her decision without people calling her names and sending hate towards her.
Another reason 2016 has been hard for her is because of her engagement with her fiancé, Nick Young. Their relationship has been on news for sometimes now.
Ex-fiance Iggy and Nick.
Nick and Iggy started dating back in 2013 and they also featured in the March 2014 issue of GQ magazine. They lived together in a house in California.
On 1st June 2015, the news of their engagement surfaced and they were set to get married. However, after three months of news about their engagement, Young was accused of cheating when footage of him talking about other women surfaced. In addition, also there was a rumor that he got his ex-girlfriend pregnant while being in a relationship with Iggy.
After these rumors, they both tried to move on and fix the issue, but on 19th June 2016, Azalea announced that she and Nick had split.
Following the split, Iggy took on to Instagram and said, "Unfortunately, although I love Nick and I have tried and tried to rebuild my trust in him—it's become apparent in the last few weeks I am unable to. I genuinely wish Nick the best." She continued, "It's never easy to part ways with the person you planned your entire future with, but futures can be rewritten and as of today mine is a blank page."
But when further information about Nick's scandal surfaced, Iggy's tone may have slightly changed and she gave her final parting words to her ex-fiancé and revealed why she actually broke her engagement with him. She wrote on Twitter, "I broke up with Nick because I found out he had brought other women into our home while I was away and caught them on security footage."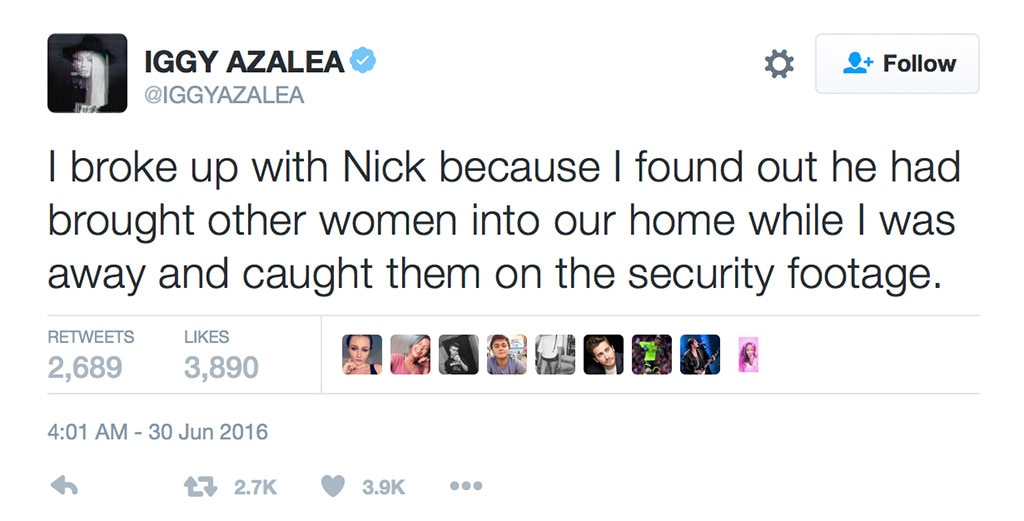 She also tweeted that, "This is just like a second shot to the chest. And I feel like I don't even know who the hell it is I've been loving all this time. People in this world are really f--ked up."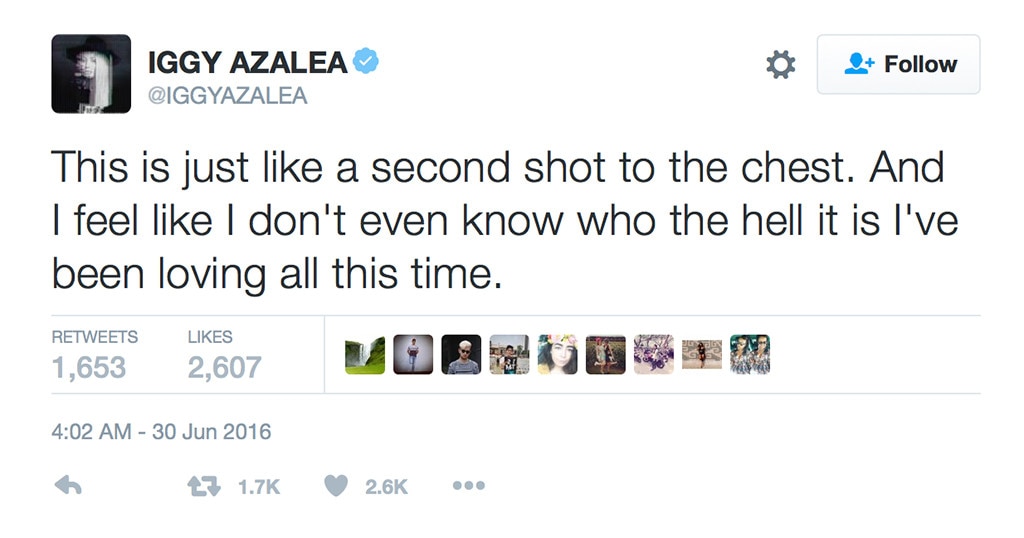 After her tweet, Young broke his silence and tweeted to his many followers, "If you perfect then be perfect. I live in a world where ppl f**k up learn from it and move on…" And minutes later he tweeted again saying, " That's life hate me or love me I'm still going to love life man."