Bad news for Rachel Bilson and Hayden Christensen's fans. They are no more an item. Yes, you read that right! Just a day ago, the pair called off their relationship after enjoying a romantic relationship for 10 long years. So, why they split?
Today, in this section, we will bring you the details of their love affair and relationship. Stay with us.
Rachel Bilson And Hayden Christensen Are Not Dating Anymore: Were They Married?
It's all over for Rachel Bilson and Hayden Christensen!!
According to several reports on Tuesday, September 19, the handsome hunk Canadian actor and producer, Hayden Christensen and the gorgeous American actress Rachel Bilson have already split.
Once engaged boyfriend and girlfriend: Hayden Christensen and Rachel Bilson
Source: usmagazine
A strong source exclusively confirmed,
She's full-time back in L.A. He's in Toronto. They've been on the outs for a couple of months.
Adding
"They are completely, officially done."
So why did they end their relationship?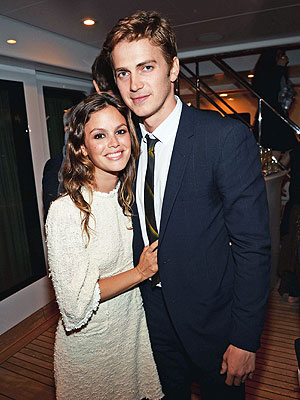 Hayden Christensen with her partner Rachel Bilson who recently split
Source: celebritybabyblog
Well, as both the actors haven't revealed the reason behind the split, the question still remains a question, however, some sources claim the reason as "irreconcilable differences", telling that they have been infamously quiet about their relationship for years.
Rachel Bilson with her partner Hayden Christensen
Source: etonline
As Star Wars: Episode III – Revenge of the Sith actor and The Last Kiss actress stayed together for 10 full years before they split, you may wonder if these 36-year-old actors were married?
Former boyfriend and girlfriend: Hayden Christensen and Rachel Bilson ( kiss)
Source: popsugar
The couple stayed together for 10 years and it's obvious many of you think the couple did marry, however, that doesn't seem to be the case. Yes, they had been sparking a romance for a decade, but they were not yet married.
Video: RACHEL BILSON Opens Up About HAYDEN CHRISTENSEN
MTV Movie Award for Best Villain winner Hayden Christensen and Teen Choice Award for Choice TV Actress Drama winner Rachel Bilson first met on the set of their 2008 film Jumper and eventually were engaged in the December of that year.
Hayden Christensen and Rachel Bilson
Source: pinterest
After a couple of years of their engagement, the couple quietly called off their engagement in August 2010, however just after three months, they reconciled.
Rachel And Hayden Are Parents To An Adorable Daughter Briar Rose
Rachel and Hayden became parents to their first child in October 2014 and the representative of the actress announced the birth of their daughter, Briar Rose,
Hayden Christensen and Rachel Bilson welcome their daughter Briar Rose Christensen born on October 29, 2014. Both mother and baby are healthy and doing well.
The family of three were often seen on vacations spending a quality time together.
Former boyfriend and girlfriend: Hayden Christensen and Rachel Bilson with their daughter Briar Rose
Source: justjared
After the split, another major question is "who will get the custody of Briar Rose?"
For more updates stay tuned with Frostsnow.