Frostsnow
https://frostsnow.com/
Queen Elizabeth's Buckingham Palace Christmas Lunch Turns Controversial
Updated On

25 Dec, 2017
Published On
24 Dec, 2017
Queen Elizabeth the second's annual Christmas lunch, organized at Buckingham Palace, could not stay out of controversy.

The Christmas lunch, which was also attended by Prince Harry and his bride-to-be, Meghan Markle, came under fire after Princess Michael of Kent, who is the wife of the Queen's cousin Prince Michael, was found to be wearing a "blackamoor" brooch, a piece of jewelry depicting black men and women, which usually dates from the 18th century.
Related News, Prince Harry and Meghan Markle Join Prince William and Kate Middleton at the Queen's Christmas Lunch.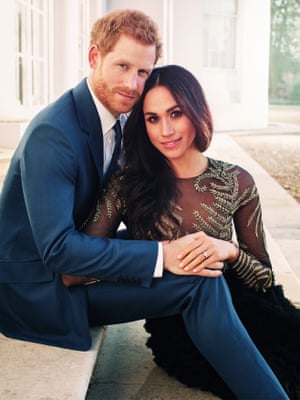 Prince Harry with Meghan Markle
Source: The Guardian
The brooch raised eyebrows, especially since Markle, who is bi-racial, has been outspoken when it comes to issues of racial and gender discrimination. Meghan's father, Thomas Markle, is white, while her mother, Doria Ragland, is black.
One Twitter user wrote,
I hope the Queen is going to ban this racist, horrible woman from any further gatherings. This woman is an embarrassment to the Royal Family,
This isn't the first time Princess Michael has found herself under fire. Back in 2004, she reportedly told a group of black guests at a restaurant in New York to "go back to the colonies." However, she denied the allegations, saying that she was "ready to go back to the colonies" instead.
It was the first time that the Suits actress, who was dressed for the event in a now-sold-out Self Portrait gown, had attended the Queen's annual Christmas lunch. She was reportedly seated separately from Princess Michael of Kent, but one can guess that the two must have met during the event.
Meghan and Harry released their official engagement portraits a day after the incident.