The very beautiful Indian superstar Priyanka Chopra is collecting a huge popularity in Hollywood from her works in the TV series Quantico and from her upcoming movie Baywatch starring along with Dwayne Johnson, Zac Efron, and other superstars.
The 34-year-old actress was recently seen on the show Koffee with Karan S5 hosted by Karan Johar himself. In the most awaited episode of the season, Priyanka revealed some surprising secret of her personal life.
If you want to know what those secrets were, stay with us.
Must read: Priyanka Chopra opens up about her current boyfriend, affair, marriage plans and future children
Priyanka in Koffee with Karan Season 5
The appearance of the Miss World Priyanka Chopra on the show is not the first time as she has appeared in every single season of the show, but this particular season was extremely entertaining and different from her previous seasons. This time Karan invited her alone on the show so as he could ask her extremely personal questions. She also tweeted after the shoot.
Karan threw a series of personal question towards Priyanka which ranged from having phone sex to taking a shower with her partner and the most interesting thing was she didn't shy out to say that she has done it all.
Despite there wasn't a rapid fire round in the show but it was far more interesting than it was ever. Karan introduced an interesting section on the show which was named as Koffee Shots where they both participated. For every YES to the question, one has to drink the coffee shots. The questions and answers were so surprising that this stunned their fans.
What happened in the Koffee Shot?
In this particular round, Priyanka had to take a Koffee shot whenever she had to answer yes to Karan's questions. Karan there threw the series of questions and first asked if she had taken shower with a partner, she took a shot and blushed.
In another question that Karan asked, if she has had sex with the light on, she again took a shot. But it wasn't only Priyanka who was taking the shots as Karan also was competing.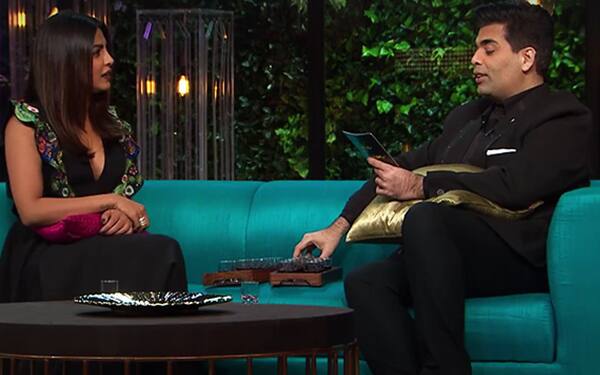 Caption: Priyanka and Karan in Koffee shot round
Source: Bollywood Life
">When Karan said that the show is not to reveal anyone's personal life then Priyanka said, "Oh really." Karan Didn't stop on this only, his next question was if she had kissed an ex-boyfriend after a break-up and she again took a shot. That was something we didn't expect to happen.
She revealed her secrets one after another which made her fans think is she really Priyanka?? But there she was, the Hollywood girl with her straight forward answers. Maybe some fans thought, what is she doing but there were some fans like us, who thinks that's how you do it.
The most surprising moment came when Karan asked her, "Had phone sex?" and she again took a shot which might have shocked Karan too. After she took a shot, she said laughingly
My mother better not watch this show.
So, this time around on the show, Priyanka stole it all. From her entry to her time on the couch and until her exit she was the life of the show. There was so much fun and so much to know about Priyanka. This time we saw a very professional Priyanka who has grown for the best.
Priyanka's fans are waiting for summer 2017 (including us) as they can watch her debut movie in Hollywood, which will release in May 2017. Best of luck PC.