Kim Jong-un, the supreme leader of North Korea, inherited the position from his father Kim Jong-il. He indeed is one of the most talked-about people in the world when it comes to politics and world news. Kim is known for being a ruthless dictator who consolidated his power by eliminated numerous senior leaders of his country whom he saw as a threat. The dictator has an estimated net worth of $5 billion and has been serving as the supreme leader of North Korea since 2011.
He is one of the well-known people in the world, maybe not for the right reasons, but nonetheless, he is well recognized all over the world. However, despite his fame, very little is known about the leader when it comes to his childhood. Many sources claim that he attended school in Switzerland. While his days in the country, he lived under a disguise as the son of an employee at the North Korea embassy and was named Pak Un.
The dictator himself has not said anything about it, but many of his classmates claimed that Pak Un was none other than Kim. One of his close friends at school even had a lot to say about Kim.
Kim Jong-Un
Source: NBC News
Here we are going to share some previously unknown facts about leader Kim Jong-Un and some information spilled by his school friend.
Kim Jong-un loves basketball and is friends with NBA star Dennis Rodman
During an interview, one of Kim's close school friends revealed that Kim was a huge basketball fan and, during high-school, they played together a lot. Kim even owned a large collection of Nike trainers. Moreover, he also shared that the future dictator was a big fan of Chicago Bulls and Michael Jordan was his idol.
Kim Jong-Un with NBA-star Dennis Rodman
Source: CBS News
Moving on to the present, the dictator is still obsessed with basketball and is very close friends with Dennis Rodman, a former NBA star. They met back in 2013 and Kim even showed the basketball player his personal island. To date, Rodman has made numerous trips to North Korea and they have been captured together numerous times.
Kim Jong-un's birth date and childhood has always been kept in the dark
Kim's date of birth is a huge mystery. He was born somewhere between 1982 to 1984. some officials have said that he was born in 1982, but sources claim that he changed his date of birth to make himself look older and mature.
If the sources are correct, it makes him the youngest leader in the world. But with his real age concealed there is no way to verify this claim.
Likewise, details about his childhood have also been concealed. Many photos of his childhood during his days in Switzerland have surfaced on the internet, with other students in the photo claiming that the person in the photo is none other than Kim himself.
Kim Jong-Un during his school years in Switzerland
Source: News.com.au
However, Kim has not shared any pictures of his childhood until now.
Kim Jong-un's addiction to Swiss cheese
Reports say that Kim spends hundreds of thousands of dollars every year to import Swiss cheese to his country. He is basically addicted to cheese. It hardly matters him that his people are famished while he his adding weight.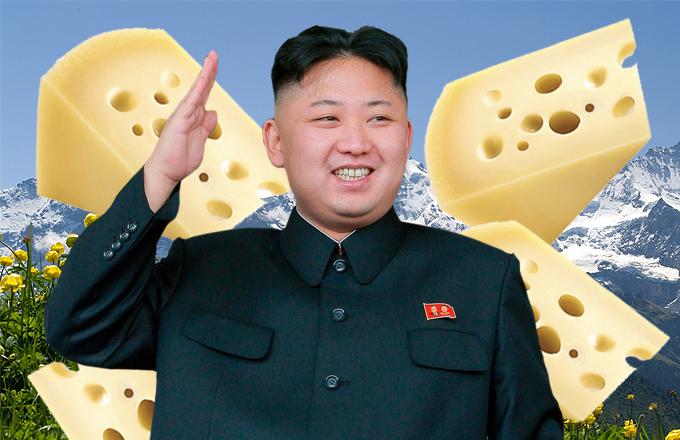 Kim Jong-Un loves Swiss cheese
Source: Twitter
It is said that he grew addicted to the type of cheese when he was a child studying in Switzerland. Well, the amount of cheese he eats might be the reason why he has bloated up so much.
Kim Jong-un has numerous titles
Some of the common titles carried by the North Korean dictator are the Supreme leader of North Korea and The Main Leader of the Democratic People's Republic of Korea, the Leader of the Party, and the People.
But he has other titles like:
The Brilliant Comrade
The New Start
The Marshall of North Korea
The Genius Among Others
He is considered 'The Personification of Joy'
Kim Jong-un is a ruthless dictator and has executed numerous people in his country for the smallest reasons. Moreover, he also has threatened numerous countries to blow them up using bombs. Listening to this, anyone would expect Kim to be a dark, vicious maniac.
Kim Jong-Un Smiling
Source: Business Insider UK
However, there is another side to the leader as well. At least in front of the camera, Kim can often be seen sporting the biggest smile. The reason for his massive smile is because he wants to demonstrate to his people that he is 'The Personification Of Joy'.
Donald Trump wanted to be his friend
After becoming the President of United States, Donald Trump shared that he wanted to be friends with Kim Jong-Un and was open to meet his any day.
However, Kim did not share the feeling. Rather, he insulted Trump by calling him old. Donald, on the other hand, went on to Twitter and ranted about how he wanted to be friends with Kim but was insulted.
People found the tweet hilarious and numerous memes have been made regarding the tweet.
Not long after the incident, Kim threatened to blow up the United States, but Trump had a better-yet-funny response to it. He wrote on Twitter that he also had a button ready to blow up North Korea and that the button actually worked.
Take a look at the Twitter post.
He was named sexiest man alive
In 2012, Kim was named as the 'Sexiest Man Alive' by The Onion newspaper. At the time, he was just 29-years-old and it was indeed a good year for him.
Moreover, this is what the newspaper had to say about his irresistible handsomeness:
With his devastatingly handsome, round face, his boyish charm, and his strong, sturdy frame, this Pyongyang-bred heartthrob is every woman's dream come true.
Kim made sure everyone mourned the death of his father
After the demise of his father, Kim Jong-il, on 17th December 2011, Kim made sure that his father's death was mourned by entire North Korea. He made it compulsory for his people to shed tears while mourning. Those who could not fake a tear were sentenced to six months of labor camps.
He also executed an assistant chief of Ministry of the People's Armed Force after the assistant chief attended the mourning ceremony drunk.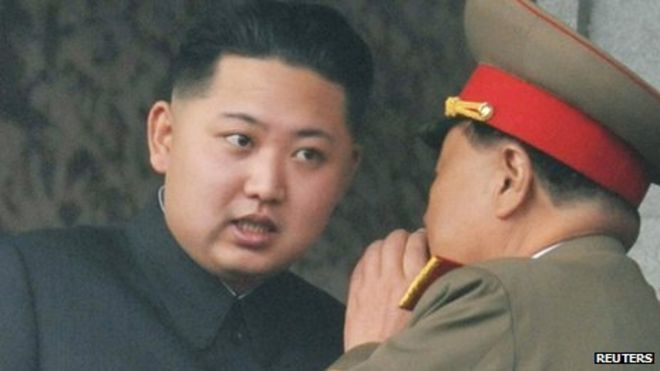 Kim Jong-Un angry
Source: BBC
After he found out about the insulting behavior, his words we are as follows:
no trace of him down to his hair should remain
Hope you enjoyed these facts about the North Korean dictator. Go to the comment section below to share your opinions.