Ladies and Gentleman, Jodie Foster is off the market as she is a married woman. And we couldn't be happier for her and her wife, Alexander Hedison. The Oscar winning actress tied the knot with photographer Alexander, in April 2014 after dating for a year.
The couple started dating in summer of 2013 and a source told that they were very much in love with each other and in a serious relation. No other details have come out about their wedding except for the fact that they are married, as we know foster is a private person.
Alexander may not be a house hold name, but she is very famous in her line of work. She is a photographer and a very brilliant one. Her works have been exhibited in New York, London and LA. Her father, David Heidson, is an actor who has worked in many successful movies and she herself has acted in some.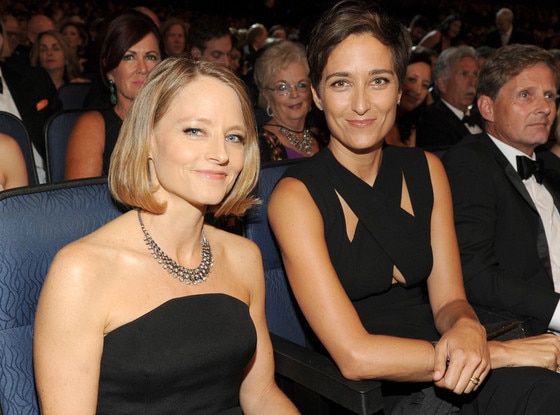 The beautiful actress doesn't like to talk about her personal life as she values her privacy and wants there to be a clear line between her private and professional life, as she has been in the public eye for so many years.
Forster's sexual orientations have been a topic of discussion for a very long time, but she publically acknowledged it in a speech at the Hollywood Reporter's "Women in Entertainment" breakfast honoring her in 2007. In 2013, she gave a speech after receiving the Cecil B. DeMille Award at the 70th Golden Globe Awards, which was interpreted as her coming out to the public and ended years of speculation about her sexuality.
"This is not going to be a big coming-out speech tonight because I already did my coming out about a thousand years ago back in the Stone Age – in those very quaint days when a fragile girl would open up to trusted friends and family and coworkers and then gradually proudly to everyone who knew her," she ">said during the award show to the audience at the show and million people watching at home.
The 54 year old actress was previously in a long relationship with her ex-partner Cydney Bernard. They dated for 20 years before calling it quits in 2008. Foster has two sons from that relationship, Charles "Charlie" Foster who was born in 1998 and Christopher "Kit" Foster who was born in 2001. Alexander Hedison was also in another relationship before meeting Foster. She dated the famous talk show host Ellen DeGeneres for 3 years and they ended things in 2004.
Seeing them together makes our hearts go warm and happy as they look so in love and adorable together. The happily married couple lives in Los Angeles and has been married for 2 years now. And we wish the happy couple all the best in their life.
To know more about Foster click here.