All the rock music lovers out there, who remembers the famous singer and drummer Phill Collins, from the band Genesis. In the Air Tonight, Another Day in Paradise are some of his famous songs.
Phill was married with Andrea Bertorelli, Jill Tavelman, and Orianne Cevey, but wasn't able to continue his married life smoothly and ended up with divorce. Scroll down and find out all his love affairs and marriage.
Phill Collins got divorce with his wife Orianne Cevey
Phill and Orianne tied their knot on July 24, 1999, in Lausanne, Switzerland. Orianne is an owner of Events Company O-Com S.A. It is the third time that Phill got getting married to Orianne whereas it was the second time for Orinnae.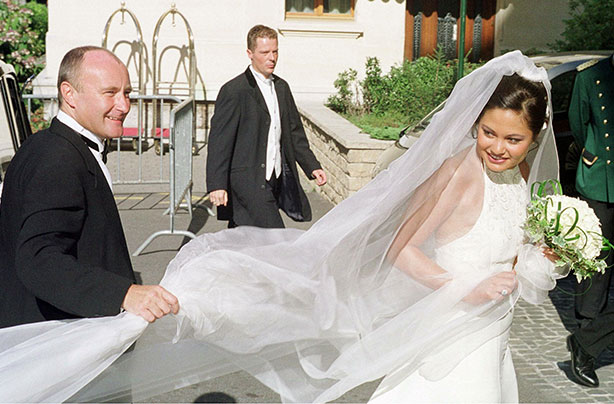 Phil Collins and Orianne Cevey in their wedding
Source: goodtoknow.media
Both of them were happily enjoying their married life and were glad to have each other in their life. They were supportive to each other's profession and used to help each other as far as possible. In 2000, they founded the Little Dreams Foundation.
They welcomed their first son Nicholas Collins on April 21, 2001, which brought a great happiness in their life. After three years Orianne gave birth to their second son Mathew Thomas on December 1, 2004, which further add happiness in their life. Everything was going right between these couples.
Phill and his wife Orianne with their baby
Source: i.telegraph
Looking at this all we can't even imagine about these couple's divorce but everything won't be the same as we think. Well on August 17, 2008, these couples got divorced due to the mutual misunderstanding between them.
But after a long time, these couples are again back to each other's life which is a great news for all the fans of Phill Collins.
Phill Collin and his third wife
Source: i.dailymail
Phill mentioned that he is living together with his third ex-wife in Miami from past six months after he paid £25 million divorce fine to his wife. Speaking to the Billboard, he said: "I'm back with my third wife- I haven't Really talked about it. We've been together for a while, and nobody's noticed."
Video: Phill Collins to Remarry His Ex-Wife After Costly 2008 Divorce
Well after a long time a great happiness has reloaded in these couple's life. We hope these couples keep loving and caring each other and have a wonderful life ahead.
Know Phill Collin's other ex-wives
Who are the other ex-wives of Phill? Do you have any idea about it? Let's find out.
Phill married his first wife Andrea Bertorelli in 1975 and was happily enjoying their married life. These couple's life was filled with happiness when they welcomed their daughter Joely Collins on August 8, 1972. Whereas the happiness increased even more after they welcomed their son Simon Collins on September 14, 1996.
Phill Collin with his first wife Andrea Bertorelli
Source: divorcedebbie
Everyone wants to have a long and happy married life but it won't happen the same as we expect. In the same way, Collin and Andrea also failed to have happy married life and got divorced in 1990.
After four years, Phill tied his knot with his second wife Jill Tavelman on August 4, 1984. They were happy to have each other in their life and were enjoying their married life. The couple's life was filled with full of joy after they welcomed their first family member Lily Collins on March 18, 1989.
Phill and his second lovely wife Jill
Source: i1.mirror
Looking their love and care for each other we can't even imagine their divorce. But our imagination won't come true in the real life. Well, these lovebirds weren't able to continue their relationship and ended up with divorce on December 5, 1996.