Peter Thiel, an American entrepreneur, venture capitalist, philanthropist, political activist, and an author, is regarded as one of the richest gay billionaires in the Silicon Valley. The 50-years-old businessman is also the writer of the famous book Zero to One. As of 2018, Peter Thiel's net-worth is $2.6 billion.
The former Pay-Pal co-founder, Theil had been low profile in regards to her relationships until he was rumored dating his co-worker in the Theil Capital, Mat Danzeisen. The rumors proved out to be true after the news of Peter Theil and Matt Danzeisen's marriage surfaced on the internet.
Gay Billionaire Peter Theil
Source: southfloridagaynews
Curious to know more about the married life of Peter Theil? Let's dig out all the details about Peter Theil's marriage, his relationships, and past affairs below.
Openly Gay Peter Theil's Married life with Matt Danzeisen, Relationship
Peter, who is also a supporter of the U.S. president Donald Trump, currently is the highlights because of his married life with Matt Danzeisen. Despite a huge buzz about his married life, Theil has not opened up much, but as per Axios, the couple tied the knot in Vienna, Austria in mid-October, 2017.
Their wedding came out as a surprise to everyone. Their marriage took place on Peter's 50th birthday, and the guests who had come to attend Peter's birthday were shocked to see him getting married to Matt. However, none of them has shared the photo of the wedding.
Spouse of Peter Theil, Matt Danzeisen(right)
Source: Daily Mail
Peter earlier had 10.2% stake in Facebook and sold the majority of the stake for over $1 billion in 2012. However, he still remains on the board of directors. Even though Peter doesn't share much on the social media about his partner, the couple probably behind the scenes is enjoying a lot.
Well, many of us are curious about how the relationship between Peter and Matt began, but unfortunately, no information is disclosed yet. Anyway, Matt is reported to be a longtime boyfriend of Peter, so they allegedly are together for a long time.
Peter seems to be clear-cut from the records of his past affairs too.
Also read: Happy Gay couple Ricky Martin and Jwan Yosef's married life
Peter Theil; Any Plans For Children?
In short, the answer is a 'No.' Peter seems to be busy in his career and business. Neither Peter nor his spoke person has commented or hinted anything about them having a child.
Let's wait for the day and wish them best for further.
Peter Says 'I 'm proud to be a gay' at RNC
Peter was outed as gay in 2007 by Gawker, owned by Nick Denton. But, he doesn't have a problem regarding it as he is proud to be a gay. In July 2016, the vocal supporter of current president Trump, Peter raised a voice to support the LGBTQ.
He even touched the point about which bathroom should a transgender people use stating it as a distraction from the real problems. Have a look at the video.
Applause for his bravery and vision!
In January, he told The New York Times, he wasn't worried about the Trump administration rolling back equal rights for LGBTQ people with his statement:
I think Trump is very good on gay rights. I don't think he will reverse anything. I would obviously be concerned if I thought otherwise.
Peter also added that he wasn't worried about Vice President Mike Pence's lengthy anti-LGBTQ history.
Well, Peter reportedly recently invested in a startup called 3T Biosciences with early Facebook investor Sean Parker aiming to build technology to fight cancer cells. Many of you don't know, but Peter Theil funded the lawsuit brought by Hulk Hogan after Gawker revealed his sex tape without his consent in 2016.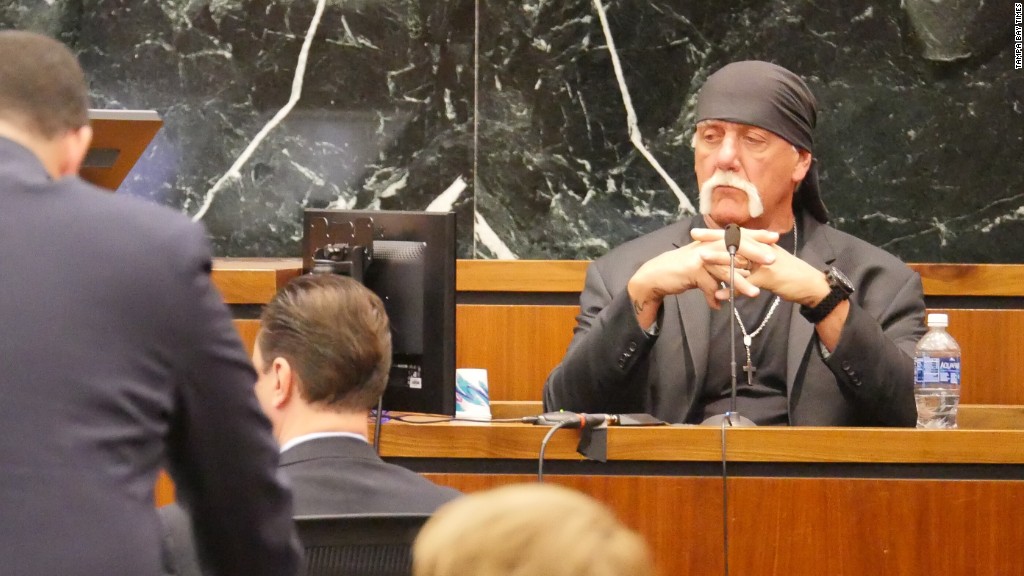 Pro-wrestler Hulk Hogan lawsuits Gawker for revealing his sex tape without his consent
Source: CNN Money
And as of 2018, Peter hit the headlines after making an offer to buy the Gawker news site's remaining assets. However, the sale is not finalized yet.
Also read: Vice President of the United States Mike Pence's Net Worth
Stay tuned for more updates!