Relationships become so beautiful when we express love. If you are in love with someone you obviously have tried your way to express love to your partner, haven't' you. If not, then just give it a try. The relationship becomes so special!
And everyone does have their own way of expressing love. This Hollywood actor tried his way out to make his girlfriend feel so special and succeeded. Chris Zylka an American actor/model, in a surprising way, impressed his girlfriend, Paris Hilton an American actress/model with a tattoo of her name on his left forearm. Such a lucky girl!
But do you know how the actress reacted on this? Stay a little longer to find out the answers and more on the couple's romantic relationship.
Paris Hilton's boyfriend Chris Zylka surprised her with a tattoo of her name
The most magical place on Earth is Chris Zylka hand! In details.
Chris Zylka, 32, surprised his girlfriend on last Thursday by getting a massive tattoo of her first name in Disney font.
via GIPHY
The actress also defined as a businesswoman, television and media personality and DJ gushed with pride after looking at the tattoo and took it to Instagram on Thursday night to showcase the new ink love writing,
"Such a lucky girl! My love surprised me & got my name tattooed in #Disney font. And said cause I'm his most magical place on Earth & he finally found fairy tale princess. #BoyfriendGoals".
Such a permanent way to show love! But don't just get jealous because there's more to come.
Check out a video below to find more on the tattoo inked by Zylka.
The 36-year old actress then posted a beautiful picture of the couple with a caption,
Happy Anniversary my love! Thank you for making me feel like a Disney Princess every single day. You are my knight in shining armor & I have never felt so safe & secure.

You have changed my life in so many ways & shown me what true love really is. You are my best friend, my other half & made me see that fairytales exist & dreams really do come true. I love you, baby.
Check out her post here.
How could anyone be some much love? Totally smitten!
Also Read, Chris Zylka dating Hanna Beth.
But that wasn't all for the actress last week. She came out with a new perfume, Rose Rush. Looks like the perfume along with love was sprayed in the couple's relationship. Don't you guys think so?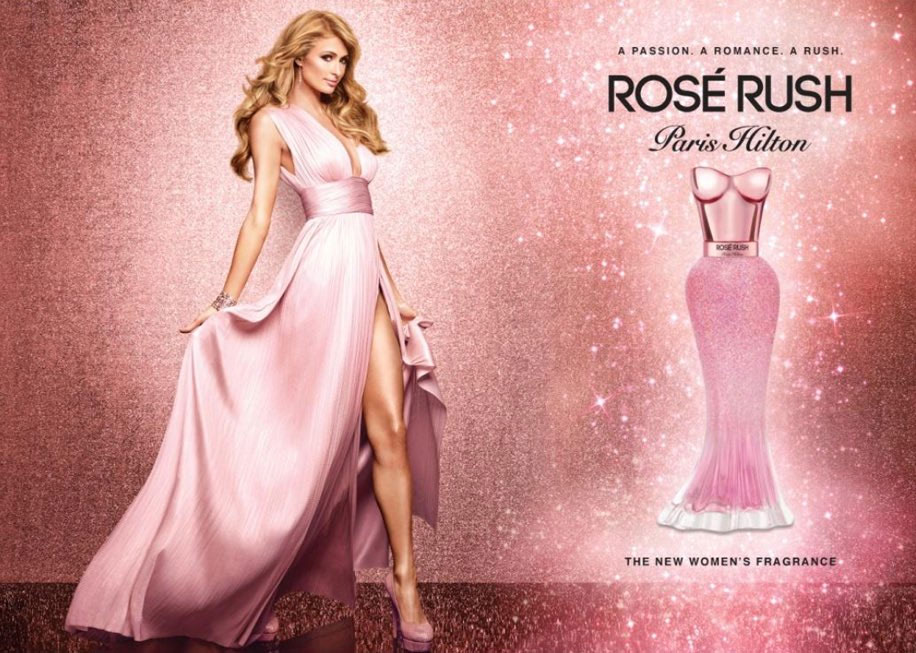 Rose Rush Paris Hilton for women Pictures
Source: Fragrantica
Oh! so much love. Hilton too is second to no one when it comes to showing love. The actress/model recently showed how deep she is in love with Chris.
Being soulmated is just being best friends and finally finding someone that I love and turst and know that I want to spend the rest of my life with. It's the best feeling in the world.
She gushed to ET.
Indeed it's the best feeling in the world. Isn't it?
The chemistry between this lovely couple is so cute. How could they fall in so much love? How have they kicked on their relationship? As we can assume, the couple got to meet each other because of their profession. But, was it enough to pull these two so close, or there's something else. Let's find out.
Two lovebirds; Paris Hamilton and Chris Zylka
Paris's relationship with Chris came into the spotlight only after the actress confirmed their relationship in February with an Instagram post. Sice then, the couple have been practically inseparable and frequently keeps on gushing about their relationship in the social sites.
Chris Zyale gives a lovely kiss to his girlfriend Paris Hilton
Source: Perez Hilton
Chris is absolutely crazy about Paris. He thinks she is the most beautiful, intelligent, fun and interesting person he's ever met in his life.
a strong source said.
And the couple sees no stop on talking about each other. As per dailymail.co.uk,
Paris tells everyone she's finally met her perfect match, and that he is even more beautiful on the inside than he is on the out.
Such an example of true love!
Know about Paris Hilton's love affairs and boyfriends
Along with a progressing acting career, Chris is also a talented photographer, and he had shot Paris for almost all of her professional shots since the couple got together. And in an interview with LLNYC magazine,
Paris told;
One of the things I love most about him is how talented and creative he is.
The actress further added;
We love making art together, doing photos shoots and making music. I loved having my man behind the camera, you can see it in my smile in my photos.
Looks like the art of creativity has also helped pull the couple this far for each other. Well, love is an art of expressing the feelings for someone special. Isn't it?
For more updates keep on visting Frostsnow.