Jason Earles who made the highlights with his second marriage to longtime girlfriend Katie Drysen is reported to have a daughter. With his previous wife, Jennifer Earles, he has a daughter named Noah Earles.
Noah, who is still a child, has already shown the sign as a coming-up actress with her tiny mimics and innocent acting skills. Well, here we are going to discover more about the father and daughter relationship.
Jason Earles Relationship With Jennifer Earles: Their Children
Jason Earles, 41, the Hannah Montana actor, known for playing the role of Miley Cyrus' brother Jackson Stewart on the series was married to his first wife, Jennifer Earles.
The fell in love with each other during their college days and turned their datings into a husband-wife relationship as they got married in 2002.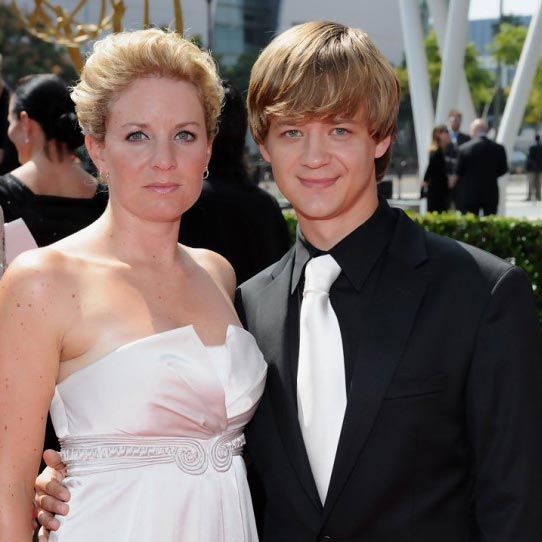 Jason Earles with his wife, Jennifer Source: Getty Images
However, after 11 years of marriage, they exploded the headlines after a sudden and unexpected separation of this couple came out.
The couple got divorced in 2013. In their on-going relationship, they shared a daughter named Noah Earles.
So, what's up with her? How is Noah's relationship with her father, Jason? Let's know.
Jason Earles Relationship with Daughter Faded?
All relationships may not flow as we want, which is the same case as Jason and his first wife. Till now, the former couple hasn't disclosed the actual reason behind their separation, neither has enlightened the birth details of their daughter.
Jason has an amazingly beautiful daughter, Noah Earles who looks more like her mom. She is a very smart and outspoken kid.
ALSO SEE: Family of Jennifer Earles and her affair stories
As per sources, after divorce, Jennifer took the custody of her daughter while Jason was left all alone.
Even though Jason Earles was often seen with her daughter in various social events but these days, the father-daughter moment has become quite rare.
Probably, the distanced relationship led to the consequences. Let's hope we will get to see the cute Noah very soon on the big screen alongside her father.
Jason Earles' Second Marriage: Wife Katie Drysen
Left alone without the love of wife and daughter, Jason's luck shined as he got to meet his soulmate Katie Drysen. The couple is yet to disclose their relationship beginning, though they reportedly started dating in January 2013.
After more than three years of dating, Jason popped up the question in November 2016, which united them as finances.
The couple then didn't take long to walk down the aisle as only after a month of their engagement, they got married in 2017.
The wedding took place at The Garland in Toluca Lake in California attended several of his former Disney Channel costars.
The lovely couple free from the mishaps in their relationship is yet to share children of their own.
Currently, Jason and Katie seem to be happy along with each other and can be seen sharing romantic moments.
Best wishes ahead!
Jason Earles remarkable Career
Talking about Jason, he has acted in several American series and few movies. Even though he has performed a very small role in the series, his acting skills are really appreciated.
Some of the series and movies where Jason played are Hannah Montana, Special kid, Gordon Glass and so on. Jason has played the role of Thomas Gate, ancestor of Ben Gates in the movie National Treasure.
Video: Jason Earles talks about auditioning "Hannah Montana."
Social networking sites like Facebook, Twitter is the best way to get connected with Jason. Moreover, Jason is also a martial artist and is often seen with several action sequences in several movies.
Thus, Jason has a fantastic career as an actor and earns an excellent salary from his career that adds up to his net worth which is currently estimated to be $8 million.
SEE MORE: Liam Hemsworth Hospitalized Ahead of Miley Cyrus' Grammys 2019 Appearance
Stay updated to Frostsnow to catch the details on your favorite celebs.