The NFL has lost another superstar to injury. Green Bay quarterback Aaron Rodgers, who is a two-time league most valuable player, suffered a broken collarbone on Sunday, October 15 in a game against Minnesota, putting the rest of his season at risk.
The injury happened in the first quarter when Aaron absorbed a hard hit from Vikings linebacker Anthony Barr. The quarterback, who looked angry that the hit didn't draw a flag, was carted off the field.
Green Bay Packers: Aaron Rodgers Suffers Broken Collarbone
Source: chicagotribune
The story comes on the heels of injuries to several star players including Houston defensive lineman J.J. Watt, New York Giants receiver Odell Beckham Jr., and Washington cornerback Josh Norman.
A broken collarbone in 2013 sidelined Aaron for seven games. He returned in 17 Week and was able to play in the postseason.
With Aaron out, there's a possibility the Green Bay Packers could look to controversial quarterback Colin Kaepernick, who some people argue teams have avoided because of his unwillingness to stand for the national anthem, a protest that started a league-wide trend.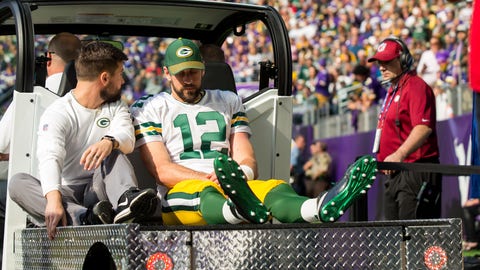 Green Bay Packers Aaron Rodgers injured
Source: foxsports
Three of the four NFC North teams have either been forced or opted to change quarterbacks. Matt Stafford from Detroit is the division's only remaining starting quarterback from Week 1.