Do you know who is Ottavia Busia? She is an MMA fighter. She is famous for being a wife of famous American chef, author, and television personality Anthony Michael Bourdain, with whom she separated last year. She ended her 9-year-long relation with him in 2016. Before we move to her married life with Anthony, know something about Ottavia.
Ottavia was born and grown up in Sardinia, Italy. She migrated to New York City in 2000 and soon after started working in the restaurant before she became an MMA fighter. While she was working in the restaurant, she held many positions in restaurants such as Sette Moma, Cafe des Artistes, Le Bernardin, Orsay, Serafina.
Want to know more about her married life and divorce with Anthony, and Anthony's previous marriage? Stay with us.
Ottavia Marriage, Children, and Divorce with Anthony Bourdain
Ottavia Busia, an MMA fighter met her husband Anthony Bourdain in 2007 and started dating him. After dating for few months, these two decided to tie a knot and got married on April 20, 2007. After few months of their marriage, they gave birth to a daughter in 2007. Later, they named their daughter as Ariane.
After Ottavia got married to husband Anthony Bourdain, she made her appearance in several episodes of No Reservations, an American travel, and food show which aired on the Travel Channel and also on the Discovery Travel & Living. The show was hosted by her husband Anthony. Ottavia's most notable travels with No Reservations were in Sardinia, Tuscany, Rome, Rio de Janerio, and Naples.
Caption: Ottavia Busia divorced husband Anthony Bourdain
Source: hollywoodlife
The news of their split was first broke when a source revealed to PageSix that the couple has been separated for a while and soon after, Ottavia confirmed the news.
Anthony speaks out about his split with wife Ottavia to People Magazine. Anthony stated that he had a very busy schedule during his show Parts Unknown. He has to travel 250 days out of a year for his show which increased the gap between them. He also said that when he was at home, he mostly gave his time to his daughter Ariane rather than his wife Ottavia.
Video: Ottavia talks about her passion for MMA
Before Anthony got married to Ottavia he was married to his first wife Nancy Putkoski, whom he divorced in 2005. If you are wondering to know more about his previous marriage, we have it for you.
Anthony Bourdain Previous Marriage
Anthony Bourdain was first married Nancy Putkoski. We only know that Nancy is an American with whom Anthony developed a relationship in 1985. They got married in 1985 and remained in the married relation for about 20 years.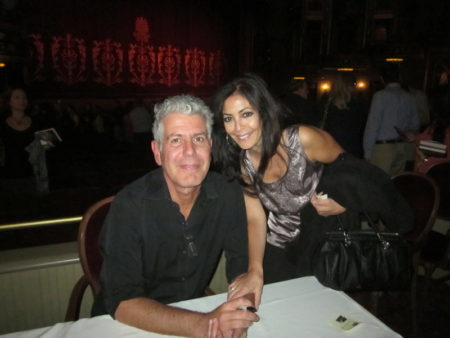 Nancy Putkoski and Anthony Bourdain
Source: Celebsroll
They didn't have any child during their 20 years long married relation. In 2005, he ended his relationship with Nancy after he legally divorced her.
What do you think of Ottavia and Anthony? Please, leave your opinions in the comment box below.