The 88-year-old television and film sensation, Orson Bean has successfully marked himself as one of the greatest figures in the American film industry. He is the long-time former panelist on 1950's popular television game show, To Tell the Truth.
Unlike his successful professional career, Orson Bean has been through many dark phases when his personal life is concerned. Yes, guys!! After a couple of disastrous marriages with Jacqueline de Sibour and Carolyn Maxwell, Orson Bean is finally married and he is living a happy married life with her beloved wife Alley Mills since 1993.
We know you are eager to know about Orson Bean's married life and divorce details. So, what are you waiting for? Let's get started, guys. Keep scrolling!!
Married Life, Children, And Divorce Details of Orson Bean
As we mentioned earlier, the actor who gave more than a hundred movies to Hollywood, Orson Bean has married thrice in his life. Firstly, he was married to Jacqueline de Sibour, then after the end of the relationship with her, Orson got engaged in the marital relationship with his second wife Carolyn Maxwell.
American film, television, and stage actor Orson Bean
After 16 years long marriage with Carolyn, Orson ended the relationship with a divorce and eventually got married to Alley Mills.
Marital Relationship With First Wife Jacqueline de Sibour
Orson Bean's first wife Jacqueline de Sibour was an actress who was widely known by her stage name was Rain Winslow. Jacqueline is the daughter of a French nobleman and pilot, Vicomte Jacques J. de Sibour.
Sibour family when Jacqueline de Sibour was young
Source: Pinterest
After months of dating, Orson and Jacqueline tied the knot in 1956, however, their marriage didn't last more than 6 years and the couple eventually ended their marital relationship with a divorce in 1962.
Their marriage resulted in the birth of their first child; a daughter whom they named Michele Bean.
Marriage And Divorce With Second Wife Carolyn Maxwell
After three years of his divorce with Jacqueline, Orson started an affair with a fashion designer Carolyn Maxwell and eventually got married to her in 1965.
The couple were living a happy married life and even shared three children; two sons Max and Ezekiel, and a daughter Susannah. But, unfortunately, the cute couple got divorced in 1981 without citing any reason behind their split.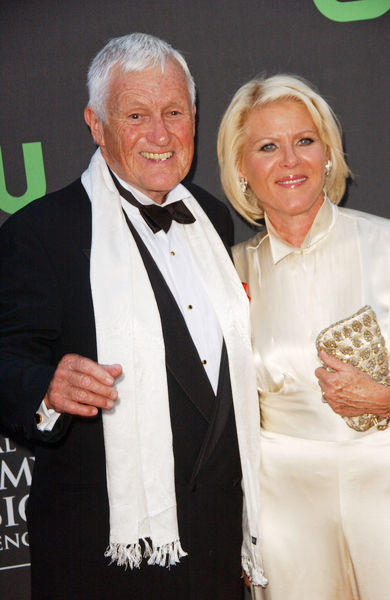 Actor Orson Bean with his second wife Carolyn Maxwell
Source: aceshowbiz
Their daughter Susannah was married to the conservative commentator, Andrew Breitbart until his death. Susannah and Andrew from their relationship had four children.
Finally Happily Married To the Third Wife Alley Mills
After two unsuccessful marriages, Orson Bean is finally living a happy married life with Alley Mills. Orson got married to her in 1993 after being single for 12 years following his divorce with Andrew Breitbart.
Happily wed husband and wife: Orson Bean and Alley Mills
Source: zimbio
You might not know but Alley Mills is 23 years younger than Orson Bean but as it is said "age does not define love", this age difference doesn't seem to matter for them too.
Best Wishes For You Orson and Alley!!!
For more updates, stay tuned with Frostsnow.