Rohit Sharma is a well-known name in the Cricketing world. He is a very integrated part of the Indian cricket team. The 29-year-old cricketer has been playing cricket since his childhood days while he is representing the Indian Cricket team since June 2007. Rohit is a mad man in the limited overs game as he has two double tons in the ODI.
The very famous Indian opener Rohit Sharma has recently started his married life. India's ODI and T20 specialist Rohit is married to his wife Ritika Sajdeh since December 2016. To know more about his past days and current relation with Ritika, stay with us.
Rohit relation with Ritika before marriage
Rohit and Ritika were friends at one time which later turned to best friends and they later chose each other to live their whole life together as a partner. Rohit asked his best friend Ritika to be his life partner on April 28, 2015. According to reports, he proposed his wife at the Borivali Sports Club, where he began his cricket career.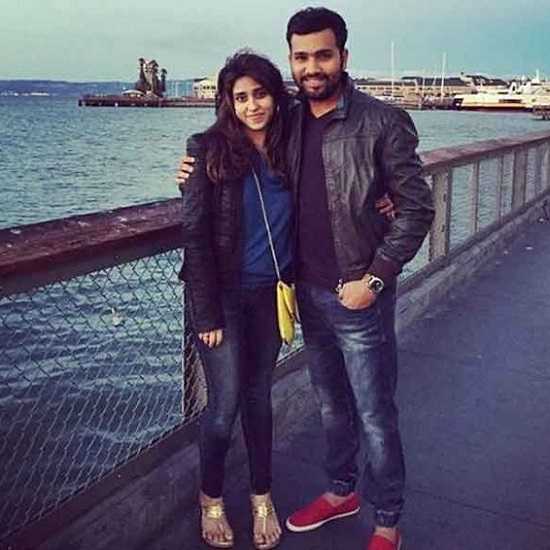 Caption: Rohit with his wife Ritika
Source: My Marriage Website
Prior his proposal to his wife, he was in a long-term friendship of 6 years with his wife Ritika. We guess we don't have to focus too much light on Rohit as he is a very popular guy, however, very few of you might be familiar with his wife Ritika.
She is a sports manager who always reaches the stadium wherever Rohit goes. An interesting fact about her is, she is the 'Rakhi-sister' of his teammate Yuvraj Singh.
Rohit Sharma married his friend of 6 years Ritika in 2015
Rohit got married to his fiance Ritika on December 15, 2015, after 7 months of his proposal to her. The marriage ceremony was held in Mumbai where a lot of stars were present including members of his national team. After getting married to Ritika, he tweeted on his twitter as "Introducing Mrs. Sharma #Today&Forever"
The famous cricket player like Virat Kohli, Suresh Raina, MS Dhoni and others were also present at his marriage who later took Twitter to express theirs happiness towards the man who recently tied the knot.
It has been over 1 year since they got married and they are happily together in the relation and they are having some quality time with each other. They have not given birth to any child till the date but they sure have some plans.
Must Read: Is Anushka Sharma in a relationship with Virat Kohli? Know about her affairs
Rohit career highlight
Rohit's international debut came in the year 2007 where he debuted versus Ireland on 23 June 2007 with 126th ODI cap. Since then he has played 153 ODI matches in which he has 29 half centuries and 10 centuries.
He has the record of an individual high score of 264 runs in an inning in the ODI which came against Sri Lanka on 13 November 2014 at the Eden Garden Kolkata. While prior to this he had also scored 209 against Australia in 2013.
He has also played 21 test matches in which he has scored 1184 runs with the highest score of 177. He debuted against West Indies in 2013. Rohit debuted in the shortest version of the game in 2007 and since then he has played 62 international matches and has a high score of 106 which came against South Africa in 2015.
Rohit is currently out of the team due to his injury. We hope he will make his comeback soon and we would get the opportunity to see the vintage Rohit Sharma.