Frostsnow
https://frostsnow.com/
Novelist Ursula K. Le Guin Dies at 88
Updated On

23 Jan, 2018
Published On
23 Jan, 2018
Ursula K. Le Guin, the grand dame of science fiction whose works upturned the male-dominated field beginning from the 60's, died on January 22 at her home in Portland.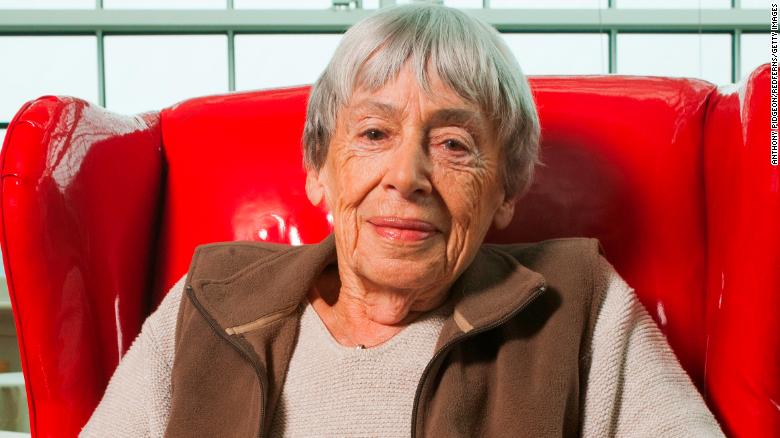 Ursula K. Le Guin died on January 22 at her home in Portland
Source: CNN
Ursual's son, Theo Downes-Le Guin, said the cause of her death was yet to be determined.
Le Guin was one of the very few authors of her times who used science fiction as a tool to deal with with a variety of human and philosophical problems ranging from gender and racial inequality to environmental destruction.
Ursula K. Le Guin gives her acceptance speech after receiving the National Book Foundation's Medal for Distinguished Contribution to American letters
Although a widely admired writer of science fiction she was less concerned with the miracles of modern science and drew heavily from ancient mythology, Oriental philosophy and Taoism. In fact, Le Guin brought out a translation of Tao Te Ching, one of the seminal works of Taoism attributed to the 6th-century BCE sage Laozi.
Her 1996 collection Unlocking the Air and Other Stories was a Pulitzer Prize finalist. She received an honorary National Book Award in 2014, for her contribution to American letters; and was one of the perennial favorites in recent years for the Nobel Prize in literature.
Ursula K. Le Guin wrote numerous books during her writing career
Source: Pintrest
One of her most acclaimed novels, The Left Hand of Darkness (1969), received the Nebula and Hugo awards, science fiction's highest honors. American literary critic Harold Bloom cited the novel as part of the Western Canon.
Ursula K. Le Guin was born Ursula Kroeber in Berkeley, California, on Oct 21, 1929. Her parents, both of whom were anthropologists, researched on American Indians living in California. Her mother wrote the popular 1961 book Ishi in Two Worlds.
She met historian Charles Le Guin while on a Fulbright fellowship in Paris. They married in 1953. Her survivors include her husband, son, and two daughters, Caroline Le Guin and Elisabeth Le Guin. She also has four grandchildren.