The big question these days occupying the mind of millions is that whom the handsome hunk Nick Robinson is dating? There is a confusion that Nick is either dating Taylor Spreitler or Chloe Moretz. So, today, in this section, we are going to discover all the answers regarding Nick's love affair and relationship.
Nick Robinson is a young American actor who is best known for his notable roles in Jurassic World, The Kings of Summer, The 5th Wave, Melissa & Joey, and Everything, Everything. Now surrounded by the dating rumors with two renowned American actresses Chloe Moretz and Taylor Spreitler, let's dig out all the details.
Relationship With Chloe Moretz: Is she Nick Robinson's Girlfriend?
You must have seen Nick and Chloe hanging out together in numerous places, parties, and events, making you think if they are sparking a romance. But the actual truth is, they are nothing more than friends.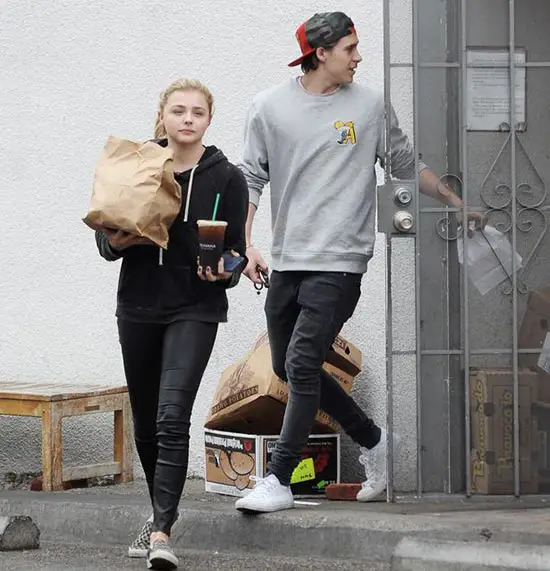 Rumored boyfriend and girlfriend: Nick Robinson and Chloe Grace Moretz
Source: Just Jared
Though they are in a romantic relationship in the science fiction film The 5th Wave, the duo denies of having an affair in real life.
Rumored boyfriend and girlfriend: Nick Robinson and c
Source: Zimbio
In fact, the 21-year-old Dard Shadows actress was dating the British professional footballer's son who is none other than David Beckham's oldest son, Brooklyn Beckham.
But, now, Chloe and Brooklyn have already broken up as Beckham is seen making out with Lexi Wood.
Must Read - Chloe Moretz & boyfriend Brooklyn Beckham Again Dating After a Long Time, Know their Relationship.
Romantically engaged boyfriend and girlfriend: Brooklyn Beckham and Chloe Grace Moretz
Source: Hellow Wiggles
Thus, there is very less chance of Nick Robinson dating Chloe Moretz. The dating rumors were just silly news that floated around for no reason keeping in mind their on-screen chemistry.
So, who is he dating?
Is Nick Dating Taylor Spreitler?
Nick Robinson's dating rumors started after a source told that Nick had a new girlfriend. He stated;
We all have been hearing rumors about Nick's new girlfriend. But most of us don't know who she is. But as far as I know, he is dating either Taylor Spreitler or Chloe Moretz.

I heard that he had crush on both of them and he would have dated either of them if they'd say yes,
Rumored boyfriend and girlfriend: Nick Robinson and Taylor Spreitler
Source: Pinterest
The statement was made after Nick was accused of being gay. The source told:
While doing Melissa and Joey, Nick fell head over heels for his on-screen sister. But he was too afraid to ask her out. And then he started filming The 5th Wave with Chloe and he fell for her as well.
The source further added Nick Robinson being a straight guy and not a gay. It said:
Now that he is actually dating someone, it should either be Taylor or Chloe. I mean he is not gay, so he would obviously date woman, wouldn't he?
Melissa and Joey co-stars: Nick Robinson and Taylor Spreitler kissing scene (rumored boyfriend and girlfriend)
Source: Just Jared
Though the source talked a lot about Nick's relationship, it was unsuccessful to confirm if Nick is dating or still single since he is not highly active on the social media platforms.
Until the actor confirms his relationship himself, it will be best if we wait.
For more updates, stay connected with Frostsnow.