Nitara Carlynn "Nia" Long is a New York-born famous American actress, known for her roles in the TV series like The Fresh Prince of Bel-Air and Third Watch. Keeping up with her professional career, Nia Long is currently enjoying her relationship with her fiance Ime Udoka, with whom she shares a son.
However, the 47-year-old actress' love life was not much stable in the past. Having dated many handsome males in the past, Nia Long also shares a son with her previous affairs. Well, Nia Long after her engagement to Ime Udoka in 2015 is yet to be married. So, what are the couple's marriage plans? Let's know all about Nia's relationship, affairs, and children.
Nia Long Is Engaged To Boyfriend Ime Udoka: Children
Nia, the 3 times NAACP Award winner and currently her fiance Ime Udoka, an American former basketballer are in a relationship for a long time. It is reported that the couple started dating in 2009 and it took 6 years for the couple to take their relationship to another level.
The Best Man Holiday actress Nia and Ime turned fiances from boyfriend-girlfriend as they got engaged in May 2015.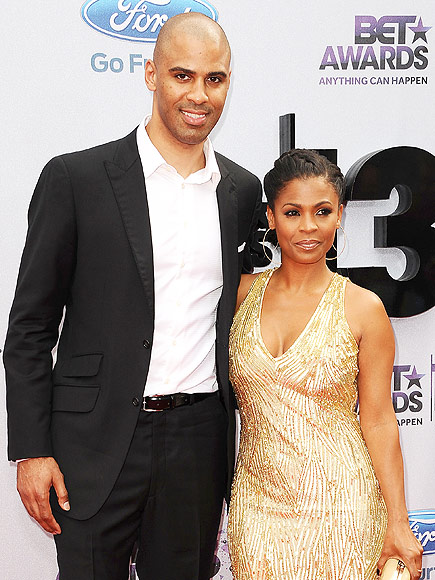 Caption: Nia with her fiance Ime Udoka
Source: Alchetron
The news of their engagement was confirmed on May 26, as Nia flashed her sparkling engagement ring while out to dinner with her fiance Ime Udoka.
Caption: Nia Long's engagement ring
Source: Daily Mail
Probably, many of us are not aware that Nia Long is not married but is the mother of 2 children.
On November 7, 2011, Nia Long and Ime Udoka welcomed their son Kez Sunday while another son named Massai Zhivago Dorsey II is from her past affair with former fiance Massai Z. Dorsey.
View this post on Instagram
So, the main question revolves again, when will Nia Long get married? Let's know.
Is Nia getting married soon?
We all know, the stunning actress Nia is engaged with her fiance Ime Udoka, current assistant coach for the San Antonio Spurs and also has a son with him. Nia might be getting married soon, but she has not revealed yet the date.
The couple has faced some difficulties with their relationship, however, the two have managed to be in a relation. Nia said they were committed to one another and their babies, as per her statement:
You know, you just do what you gotta do. It was a great opportunity for him, coming from being a player. It was the perfect way to parley into his coaching career and so I have to support that.
Nia told TMZ that she sometimes hopes for the Spurs to lose the game so that her fiance can come home and they can spend some quality time together.
We hope Nia and her fiance, Udoka would get married soon and live a happy married life forever.
Past Affairs And Rumored Relationship Of Nia Long
Let's get it short and sweet; Nia Long was previously engaged to Massai Zhivago Dorsey in 2001 after dating for a couple of years. However, by the year 2002, the couple called quits to their relationship.
As reported, Nia Long has dated Cuttino Mobley (2007), Kevin Phillips (2006 - 2008), Dwight Freeney (2006), Chris Webber (1993 - 1995), Peter Thomas, Alfonso Ribeiro, and Chris Tucker.
View this post on Instagram
While her rumored affairs include Joel Gonzales (2008), Mick Jagger (2004), Will Smith(1995), Kendu Isaacs (1992) and50 Cent.
But in the end, Nia Long seems to have found her soulmate Ime Udoka. We wish them best for further.
Also Read: Hollywood Actress Nia Long's Career Achievements: What About Her Net Worth In 2018?
Stay tuned for more.