Rajdeep Sardesai is a well-renowned personality in the Indian media industry. He is the host of 'Headlines Today' who is married to beautiful Sagarika Ghose. Sardesai's wife Ghose is also a famous journalist who currently worked as a consulting editor for Times of India. This amazing pair got married in 1994 and their marriage is still moving ahead perfectly.
How Rajdeep Sardesai and Sagarika Ghose met
Sardesai and Ghose's firsts meeting was coincident. They met in 1986 in Jamshedpur (currently known as Jharkhand). They were both fighting for The Rhodes Scholarship. Sardesai and Ghose were in Jamshedpur in order to interview Russi Mody, former chairman of Tata Steel. Interestingly, only Ghose got the scholarship then but Sardesai didn't. During an interview, he revealed about the first meeting and said: "She got it. I did not. I am still trying to get back,"
Image: Rajdeep Sardesai and Sagarika Ghose
Rajdeep Sardesai's first impression
Sardesai's wife Ghose also added that her husband's first impression wasn't really good. She said: "In those days, Rajdeep was extremely laid-back; in fact, he was so laid-back that he was horizontal. I remember when the results were being announced he was sleeping somewhere up there in his room."
Image: Rajdeep Sardesai and Sagarika Ghose
Rajdeep Sardesai and Sagarika Ghose's married life
Later, they got married on 11th April 1994. They tied the knot according to traditional Hindu culture. Their auspicious wedding ceremony was attended by family and friends. At present, Sardesai and his wife have two amazing kids. A son named Ishan and a daughter named Tarini.
Image: Rajdeep Sardesai and Sagarika Ghose during their wedding
Despite being married for so many years, Sardesai's relationship with his wife Ghose is perfect. This couple can be taken as an inspiration. The one reason behind this could be their matching profession. It seems like the similarity in their profession has enhanced the understanding between them.
Rajdeep Sardesai and Sagarika Ghose's love and respect for each other
Ghose respects her husband very much. During an interview, she said: "Rajdeep is a workaholic, a newsaholic, a journoaholic. Thank God he is not an alcoholic. He is obsessed with what's on the ticker, the top bands. This way the people who are doing the work are not empowered because they keep trying to second-guess him. In fact, my team is obsessed with Rajdeep. I delegate much more and believe if you empower people, things run on their own and you get fresher ideas."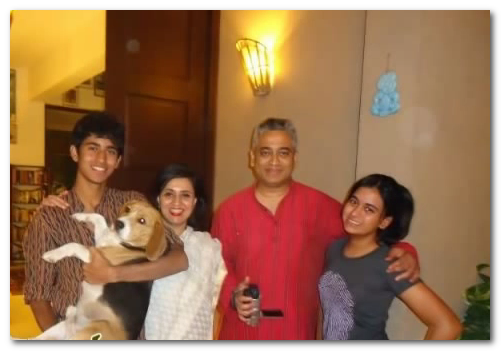 Image: Rajdeep Sardesai and Sagarika Ghose with their kids
Similarly, Sardesai also loved and respects his family. When asked, he says: "My wife and children are my biggest critics. The world of my kids is far remote from my world of news."
Aren't this pair amazing? What do you guys think? Please leave a comment.