Adam Silver is a lawyer, and a businessman holding one of the most powerful posts in the world of sports. The commissioner of National Basketball Association (NBA) has been serving in the post since 2014, and in the same year, he was also the second most trending topic on Twitter. He has been serving NBA since 1992, and he has worked in the production of numerous films like Michael Jordan to the Max featuring Michael Jordan himself.
Silver was born on 25th April 1962 and is 55-years-old. He has an estimated net worth of $100 million with an annual salary of $10 million. Moving on to his personal life, the commissioner is currently happily married to his wife, Maggie Grise.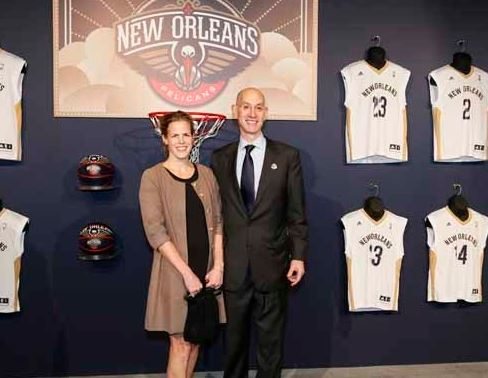 Adam Silver and wife Maggie Grise
Source: Fabwags
Here, we are going to share some information about commissioner Adam Silver's marriage with wife Maggie Grise, their children, and his past relationship.
Adam Silver married to wife Maggie Grise. Do they have any children?
Commissioner Silver is currently married to wife Maggie Grise, an interior designer based in New York. According to sources, the couple was introduced to each other by a mutual friend back in 2013. They seemed to have hit it off during their first meet as they started dating just a year later in 2014, and the news about their relationship was everywhere.
Adam Silver and wife Maggie Grise
Source: Zimbio
Moreover, in April of 2015, the commissioner, during an interview, shared that he was getting married next month. Not only this, but he also shared that he wanted to have kids with Maggie. This is not something one expects from a person holding such a position, but it seems he is so much in love that he does not care at all.
Watch the video here (Please arrange the size of this video)
As mentioned above, the couple got married to each other in May of 2015, in a private ceremony which took place in a New York-based hotel. Being professional, they did not share any wedding pictures on social media and the details about the bride's dress and others is still a mystery.
However, the couple can be seen together in numerous events and occasions. Silver took his newlywed wife to the White House for a state dinner in honor of Canadian Prime Minister Justin Trudeau and his wife. In the fancy dinner party, the interior designer sported a gorgeous blue dress which looked amazing on her while Silver was in his regular Tux.
Adam Silver and wife Maggie Grise at the White House state dinner
Source: Zimbio
Furthermore, the couple also has a daughter together, but the details about her date of birth, name, and others are not available. The parents seem to be very concerned about their daughter's privacy.
Adam Silver past relationships
Adam is a very professional man, and as a lawyer, he makes sure not to spill details about her personal life in the media except for that one time which we have already mentioned.
Watch an interview with Adam Silver
There are no reports about the commissioner's past relationship and affairs. Being a good-looking man, there are no doubts that he might have been in a couple of relationships beforehand, but he has made sure to not share those with anyone.
Nonetheless, we wish the couple who have been married for almost three years best for their healthy relationship and career.