Marriage is one of the best moment in a man's life, but everything gets shattered when he reaches to the edge on his marriage where he can do nothing except divorce.
We surely know that getting a divorce is a very heartbreaking and stressful situation. It's really tough to accept the fact how two people who meant the world to each other some times ago end up getting separated. That's bad. But, that's how things roll on these days.
We can just look at NBA player Carmelo Anthony's married life. Just when we thought things are going great between him and his wife La La, they are getting separated. The couple, who was drenched in love last year posting adorable photos of one another on their Instagram, is getting divorced soon. Let's find out more.
Carmelo Anthony and La La's marriage and children
Anthony and La La started dating back in 2004 after La La appeared as MTV's 'Total Request Live' host. They got engaged the same year. They tied the knot on 10th July 2010 at Cipriani's in New York City. Their wedding ceremony was attended by 320 guests.
Their luxurious wedding was aired by reality show 'La La's Full Court Wedding' of VH1. The reality show found huge success resulting in five more seasons named 'La La's Full Court Life'. Although the pair has been married for 7 years, reports claim that they have now split.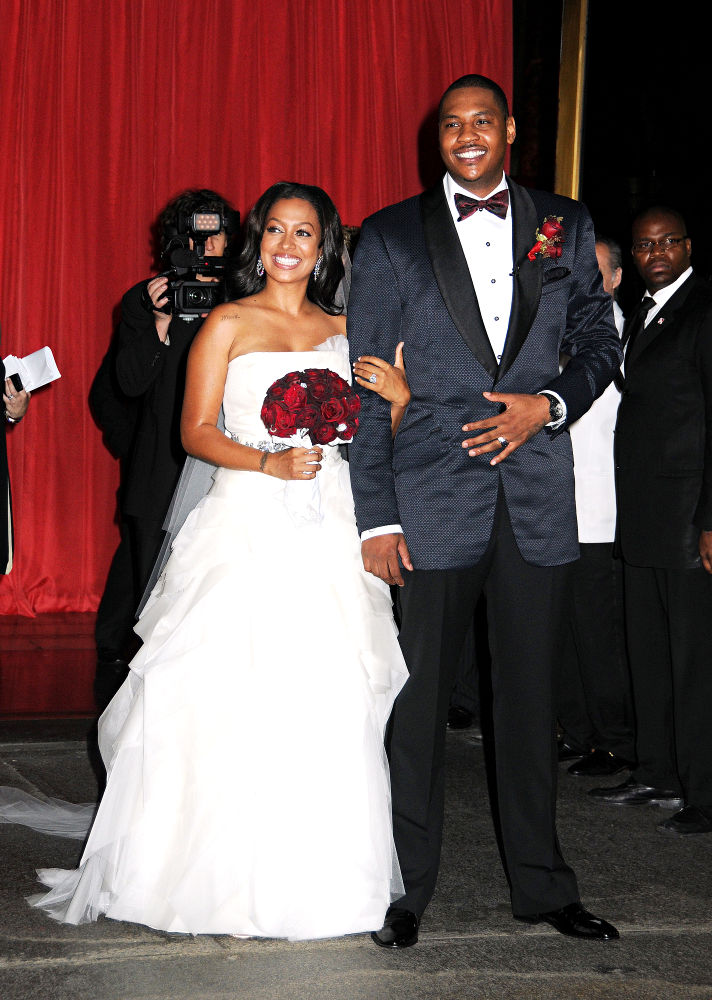 Carmelo Anthony and wife La La Anthony during their wedding
Source: Ace showbiz
If you are wondering about their children, La La and Anthony have only 1 child together who is 10 years old already. La La gave birth to Anthony's son, Kiyan, on 7th March 2007. Although their wedding is about to break, they still have respect for one another.
La La moved out of Carmelo Anthony home
TMZ reported that the Knicks star and his gorgeous wife doesn't live together as she has already moved out of their home. La La is living in her own apartment in New York.
Video: Carmelo Anthony and wife La La Anthony separated
Reports also reveal that the couple disputed since a year and a close source says that their marriage has always been unsteady.
Carmelo Anthony and La La Instagram posts
Just a few weeks ago La La posted a very adorable photo of her husband and son Kiyan cuddling on the couch.
She also posted her family photo on 14th February. Similarly, Anthony had also wished his wife during Valentine's Day back in February by posting a gorgeous photo of La La on his Instagram account.
While a lot of Anthony's fans says that New York life messed him and he should return to Denver. Well, there is no any hint of why Anthony and La La are splitting up, but we'll make sure to keep you updated with the pair's divorce news. Keep in touch with Frostsnow.