You might have imagined how lucky it would be to marry a chef. But just because he/she has magic in their hands doesn't mean the magic will work out in their personal life, let's say their marital life. If you have ever watched Parts Unknown on Netflix or read any of late Anthony Bourdain's best-selling books, you might know how great he was with words and food.
If you are unaware of Bourdain's first wife, then let us tell you that Bourdain was married to Nancy Putkoski. Even though Putkoski and Bourdain seemed like they were happy with their marriage, they decided to end it. The pair divorced in 2005 ending their 20-year-long marriage.
Why had the couple split? Let's find out:
Nancy Putkoski married life with Anthony Bourdain
Renowned chef and TV personality Anthony Bourdain and Nancy Putkoski were high school lovers. They dated while they were in high school and later decided to turn their affair into a marriage. The pair tied the knot in 1985.
Image: Anthony Bourdain with his first wife, Nancy Putkoski Image: Zimbio
The couple was in a marital relationship for two decades and didn't have any children in their decades-long relationship. So, not having any children was the reason for their divorce?
Reason for Nancy Putkoski and Anthony Bourdain's Divorce
Well, neither of the two (Nancy Putkoski and Anthony Bourdain) opened up whether not having children was the reason behind the split or not.
Also See: Anthony Bourdain is Dead; Who are his Ex-wives, Children, and Girlfriend?
But it is reported that Bourdain and Putkoski's marriage started falling apart due to Putkoski's husband's busy schedule and extensive travel needs. They got divorced in 2005.
However, Bourdain wasn't ready for the divorce as he told The Guardian:
She was the love of my life. But everything changed.
Bourdain claimed himself to be an ineligible person in matters of love as he can't even take care of himself. However, he admits that he is a good uncle as he lets the kids do everything.
Anthony Bourdain's Second Marriage: Wife Ottavia Busia
It seems like Bourdain's opinions about himself changed in subsequent years as he became a father in the year 2007.
Bourdain married mixed martial arts fighter Ottavia Busia on 20th April 2007 and became a father to an angelic baby girl named Ariane in the same year.
Image: Anthony Bourdain with his second wife, Ottavia Busia Source: People
However, Busia shared the same fate as Putkoski as her marriage also ended in divorce in 2016. Regarding his divorce, Anthony told People:
My wife and I live, have lived, very separate lives for years. There's no drama here. We get along really, really well and it's not a big lifestyle change happening here.
So, what's about his wives now?
You May Be Interested: Ottavia Busia Married Husband Anthony Bourdain but later Divorced; Know Divorce Reasons HERE!
Anthony Bourdain dated Italian beauty Asia Argento
In 2017, Bourdain was reported to be in a relationship with Asia Argento, an Italian lady. As per Page six, Bourdain met her while he was in Italy to shoot an episode of Parts Unknown.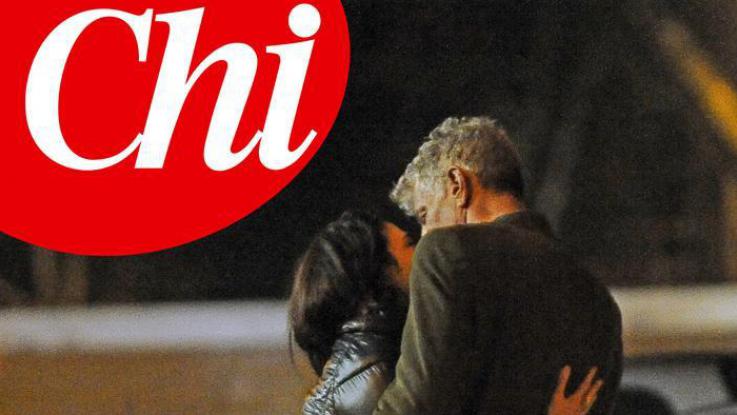 Image: Anthony Bourdain kissing his new girlfriend Source: Liverampup
However, the love story got to a dead end with the death of Anthony Bourdain.
Anthony Bourdain' Death
As reported, Anthony Bourdain was known for his habit of heavy smoking; however, the reason for his death was revealed to be suicide. Bourdain was found dead due to an apparent suicide by hanging in his room at Le Chambard hotel in Kaysersberg, France on June 8, 2018.
As per public prosecutors, Bourdain's toxicology results were negative for narcotics, and his suicide appeared to be an "impulsive act."
Quick facts about Anthony Bourdain:
How many times did Anthony Bourdain marry?
Celeb chef Anthony Bourdain was married twice in his life.
Who are Anthony Bourdain's wives?
Previously married to Nancy Putkoski, then to Ottavia Busia.
Who did Anthony Bourdain also date?
He also dated Italian beauty, Asia Argento, however, he suicided in 2018.
Is Nancy Putkoski married?
Currently, his first wife, Nancy has not re-married yet and lives a single life.
For more news, gossips and biography on Anthony Bourdain, visit frostsnow.