Nowadays, same-sex marriage is the common thing. But it's the first time a lesbian wedding has been aired on the U.S. television. The aired wedding was of the African-American lesbian love birds Monifah Carter and her husband Terez Thorpe.
Monifah Carter is a renowned American R&B singer-songwriter and an actress. Her single song I Miss You was one of her hit songs. She is best known for her association with rapper Heavy D. and her music from the mid-1990s including 1998's Touch It. Terez Thorpe is known as the husband of Monifah and the couple is married since 2014 after a long-term relationship.
Let's have a look at their married life.
R&B singer Monifah Carter got married to her long-term girlfriend Terez Thorpe in 2014
Monifah Carter and her partner Terez Thorpe tied the knot in February 2014 in Honolulu Hawaii. Their marriage was certainly a memorable one. Also beautiful one indeed!
R&B diva star Monifah Carter with her husband Terez Thorpe
Source: OUT
Why was it so memorable? It's because their wedding is the first ever televised wedding in the U.S. The African-American lesbian wedding was aired on the TV One on June 25 for the first time featured on The R&B Divas: Atlanta episode.
Both of them have a good sense of style, Monifah designed her wedding dress by herself with a couturier, Giselle James, from Atlanta. On the other hand, Terez Thorpe made a jumpsuit with a New York couturier, Walter Foster.
Monifah Carter got married to husband Terez Thorpe in 2014 in Honolulu, Hawaii
Source: OUT
Let's also read more about their beautiful story of Terez Thorpe's secret proposal to Monifah and their engagement day!
Terez made the secret visit to her beloved girl Monifah in Chattanooga, Tennessee, during the latter's film shooting. Monifah was bound to be surprised by Terez's romantic proposal. Afterward, in an interview, she responded to the day saying, "Thank God she said yes!"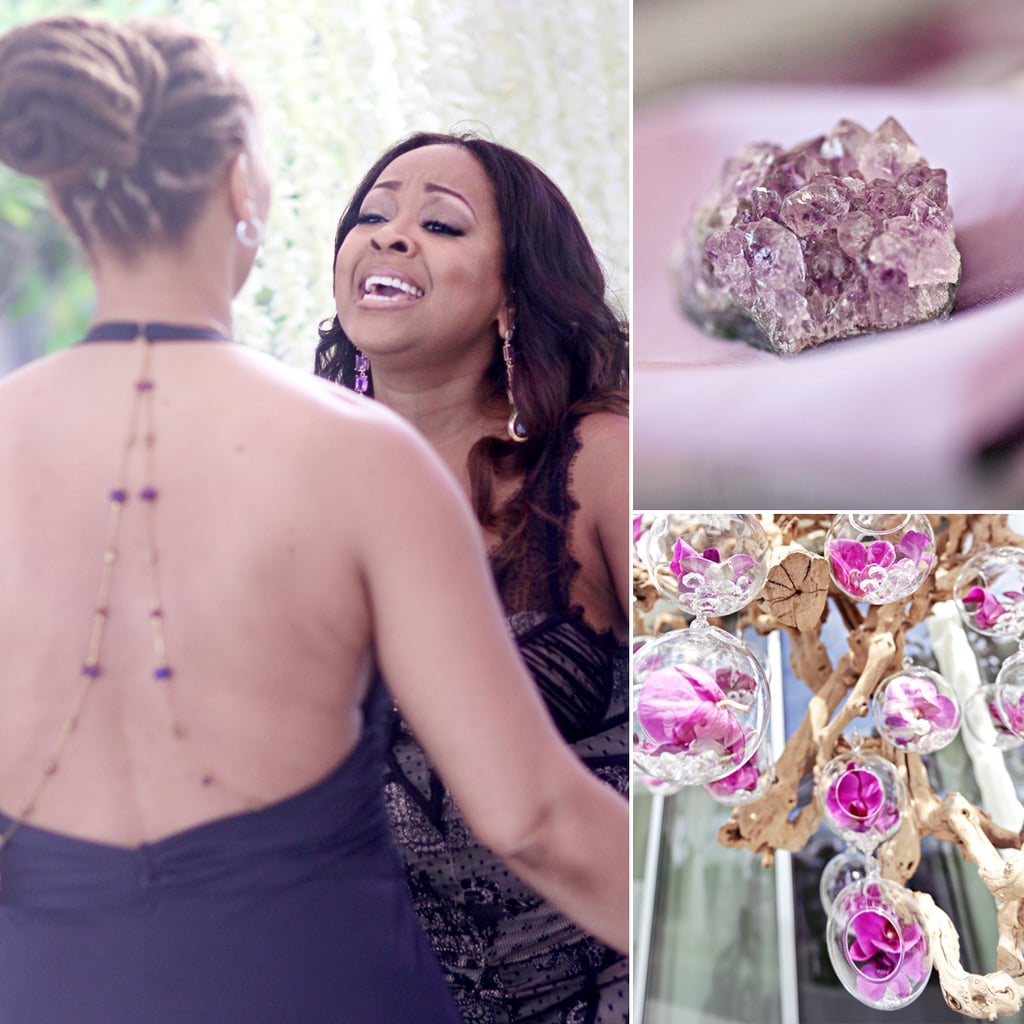 On the day of their wedding; Monifah Carter and husband Terez Thorpe had the engagement rings made of diamond and amethyst
Source: HUFFPOST
After two years of dating, Monifah and husband Terez Thorpe got engaged. During their engagement day, they had rings made of diamonds and amethyst which represents happiness, healing, and eternal love. How sweet!
Their good friend, Keke Wyatt, a singer performed a song called Lie Under You at their wedding. The wedding was also attended by Queen Latifah, Syleena Johnson, and Faith Evans to name a few.
Monifah and Terez's first encounter; The couple's shared interests got them close
Do you guys want to hear about their first encounter and a first date together? Yes of course!
There is a funny story on how they ended up meeting with each other. Terez who loves food went to her favorite restaurant with her friend to have a roasted garlic chicken. The restaurant ran out of that food item so Terez Thorpe's friend knew of the Monifah's concert.
CAPTION: Monifah with her husband Terez Thorpe and friends.
Then they took a detour to Monifah's concert and the plan was more appealing for Terez while she heard that the event serves the buffalo wings. Funny right?
Terez saw Monifah singing live and got impressed by her singing skills. That's how Terez Thorpe fell for her. In the interview she said;
"It was the first time I'd heard her sing live and she blew me away!"

"The rest is history and we've been inseparable ever since."
Singer KeKe Wyatt sang 'Lie Under You' at the wedding
Source: OUT
Then the first date was set up. Their romantic and intimate date was at one of the foodie place called Sushi Samba in New York City. After their conversation, turned out, That both Monifah and Terez Thorpe are food lovers. Well, they chatted for hours after they discovered their common likings for food.
Terez said to Out that;
"Food has been kind of at the center of it all."
Good for them right? A connection is an essential thing for any couple to have a strong bond. Here, food becomes their medium to bond. congratulations to both!
Also, it's commendable how they stepped up to the world airing their wedding day.
Let's have a look at the short clip of Monifah & Terez Thorpe!
Here is Monifah with her bold statement on the twitter!
According to sources, Monifah and husband Terez Thorpe are living happily together with each other on their side. We wish the couple the very best for their future.
Quick facts about Monifah and Terez Thorpe
Who is Monifah Carter married to?
Monifah is married to husband Terez Thorpe.
When did Monifah and Terez Thorpe get married?
Monifah and Terez Thorpe got married in the February of 2014.