Alexandra Crandell, also known by her stage name Allie Crandell is a fashion model and TV personality based in the United States. She is best known for her appearance in The City of MTV. It is the spin-off of American TV show The Hills. The show also stars other actors like Whitney Port, who recently announced her pregnancy with first child. She appeared on the show in 2008 and was a major character during the first season. However, she only appeared a few times during the second season and later announced through her Twitter that she was done with The City forever.
As a model, Allie has appeared in music videos like No Promises. She also appeared on an editorial of V Magazine alongside Camila Finn and Erin Heatherton. Moreover, she was also featured in a campaign of Revolve Clothing in 2009, and during the initial stage of her modeling career, she was also featured as the model on models.com.
She is one of the most underrated models in the industry. She does not only look stunning but also has the quality that top models have. Here we are going to take a look at her personal life. Further, we will talk about her past relationship with ex-boyfriend Adam Senn. We will also discuss if she is dating anyone at the moment.
Allie Crandell's relationship with ex-boyfriend Adam Senn
Allie was previously in a relationship with Adam Senn, an American actor, model, and a restaurateur. They started dating back in 2009, and their relationship gained attention after she was introduced to the show The City as Adam's girlfriend.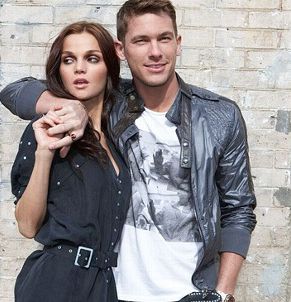 Allie Crandell with ex-boyfriend Adam Senn
Source: Whosdatedwho
They were quite a stunning pair on the show and were fans favorite. However, somewhere along the road, the pair's relationship went downhill eventually resulting in them breaking up.
Watch Allie and Adam on The City
After breaking up with the model, Adam has had been in a relationship with some well-known woman in Hollywood. After breaking up with the gorgeous Allie, he started dating American actress Lindsay Lohan. They started dating by the end of 2009 and broke up a few months later in 2010.
Later, in the same year, he started dating singer Madonna. They were in a relationship only for a month.
Is Allie Crandell dating someone?
After Allie break up with Adam, Allie has been keeping her personal away from the limelight. Her modeling career is going quite well, but she has kind of vanished within the industry.
However, the model has gotten hotter than ever and looks stunning. Moreover, the model is currently giving it all to her career and is single.
There have been no reports of her dating any man or being in a relationship. She also does not share pictures of men. So, it is safe to assume that she is currently single and living a fiercely independent life.
Moreover, she is neither married nor has any children.
Being one of the gorgeous models, it is sure that Allie has many men following her. We hope that she finds the man soon and shares her love life with her fans.