Missi Pyle is a very gorgeous and talented American actress who made her appearances in various movies such as 'Charlie and the chocolate Factory', '50 first dates', 'Gone Girl', and much more. Her professional life is known by many as she is a renowned actress, but only a few know about her personal life.
Pyle is currently in a relationship with her boyfriend Josh. She is blessed with a child; a daughter, but not with Josh. So, is it with her ex-husband? Who is her ex-husband? Read the full article:
Missi Pyle dating boyfriend Josh
Pyle doesn't like to talk much about her personal life, but rumors are that the actress began dating Josh since 2014. The couple appears to share a very healthy relationship. Despite the years, Pyle and Josh's relationship is in great terms as they show no signs of a split.
Missi Pyle with her boyfriend Josh and daughter Zooey Rose
Source: Josh's Instagram
Something to be proud of. Unlike most of the couples in the Hollywood where break-up stories are pretty normal, this pair is showing everyone how to deal with a relationship. Good Job!!
Who is Missi Pyle daughter's father
Pyle is frequent Instagram user and so is her boyfriend Josh. Pyle's Instagram is filled with Josh and her baby girl's photos. Many of you might get confused to see the baby girl. Well, the truth is: Pyle's daughter, Zooey Rose, is neither from her boyfriend Josh nor with her ex-husbands. Pyle actually adopted her after she was born in September 2015.
Missi Pyle with her daughter baby Zooey Rose
Source: Daily mail
Pyle boyfriend Josh also loves Zooey as her own daughter. We can see the love and bond between them by looking at the photos. Have a look at it yourself:
Don't you think so people? We bet you do.
Missi Pyle Married Twice in the Past
Sometimes you have to get knocked down lower than you have ever been to stand back up taller than you eve were. It feels great to know that Pyle didn't lose faith in love after failing at two marriages. Pyle was married and divorced twice in the past.
Video: Watch to know if motherhood has changed Missi Pyle
Missi Pyle first marriage: Husband Antonia Sacre
Pyle tied the knot with Antonia Sacre in 2000. The pair lived together as a husband and wife for 5 long years but sadly, their relationship couldn't move past 2005.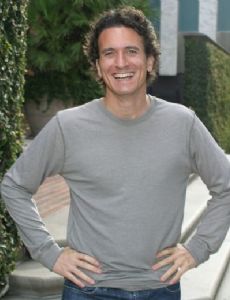 Missi Pyle first husband Antonio Sacre
Source: whosdatedwho.com
They got divorced in 2005 but neither of them ever revealed the reason behind their split.
Missi Pyle second marriage: Husband Casey Anderson
Three years later in 2008, Pyle got hitched to Casey Anderson, an American TV personality. They got married in Montana in a country-western themed wedding.
Missi Pyle with her second husband Casey Anderson
Source: alchetron.com
She met Anderson on the set of the movie 'Pretty Ugly People'. Pyle couldn't succeed in her second marriage as well as the couple got divorced in 2012.
Maybe Pyle is opting to get married for the third time as well. Looking at Pyle's bonding with her boyfriend Josh, we think that this time it will be a success. Well, the decision totally depends on Josh and Pyle. Good luck to them.