The well known American actress Michelle Williams who rose to fame with her role as Jen Lindley on the WB series Dawson's Creek is recently making headlines with her passionate love relationship. The 36-year old actress heated up the social sites when she was spotted kissing her reported boyfriend.
It's not a new thing for celebrities getting spotted holding hands, but when it comes to a kiss, we ought to believe it's love, don't we? Well, kiss falls among the best ways of expressing deep love and the recent incident of Rome got all the Williams' fans to believe she found her love partner, her new boyfriend.
Well, you guys might be wondering who the mystery man is? Are they dating each other? And it's even obvious to think if they are girlfriend and boyfriend? Well, let's see.
Let's find out on the Rome incident and the rumored couple's relationship here in Frostsnow.
Michelle Williams Spotted Kissing her Reported new Boyfriend During her Time in Rome
The Dawson's Creek star was spotted while kissing and holding hands with her reported new boyfriend in Rome, Italy on the 15th of July. The pictures back from the day were posted on the Michelle William's Twitter Fan page. Check out the tweet here.
Well, we feel sad to inform her fans that the reported boyfriend is still a mystery man. But we believe Williams's happiness matters the most than the name of the mystery man, isn't it?
And above all, the reported duo totally seems to be fond of each other. Williams was totally on smiles. So, is the duo actually on a date, or there's something else? Let's find out here.
William's and her Mystery Man's Relation
The 36-year old actress, soon to appear in the movie The Greatest Showman along with co-star Hugh Jackman, has been single since she was linked to Jonathan Safran Foer, an American author in 2015. But it looked like Williams has opened up a new love chapter, as she enjoyed some lavishing time with a handsome hunk in Rome, Italy.
Michelle Williams, 36, took time out of her busy shooting schedule to enjoy a sun-soaked stroll with an attractive mystery companion in the Italian capital of love on 15th of July
Source: dailymail.co.uk
Love in the Italian capital of Love! Find in details.
The actress indeed seemed happy as she walked with her mystery man hand-in-hand during their trip to the Campo De'Fiori street market in the Italian capital of love.
Michelle Williams seemed blissfully happy as she walked hand-in-hand with the handsome hunk and stopped to share a tender smooch with him
Source: dailymail.co.uk
The couple appears to enjoy each other's company, isn't it? And in their story all we find is love. You will know what we mean.
The actress is in Rome to shoot for her upcoming film All The Money In The World, a crime drama directed by Ridley Scott to be released on December 8, 2017. And despite her busy schedule, Williams made sure to enjoy some time with her mystery man. Love is in priority!
The couple was then joined by Wiliam's daughter Matilda, 11.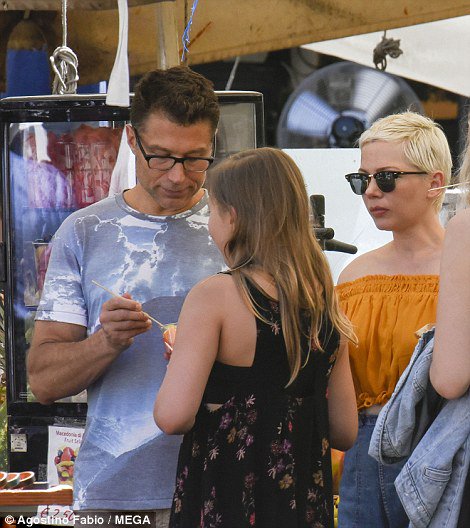 The reported couple with William's 11-year old daughter Matilda
Source: dailymail.co.uk
Well, looks like a family time! The three of them enjoyed their lavishing time in the Campo De'Fiori street market in the Italian capital of love. Looks like, the actress has found a life partner. What do guys think on this?
Though the reported couple's romantic chemistry neither of them have confirmed about their relationship. But we hope to hear from the couple in coming times, and we hope everything in between the couple is a real deal.