The increasing number of female reporters in the world of sports makes us realize that women are taking over the sports media. The super hot ESPA reported Michelle Beisner is also the one who has been working actively as a sports host and reporter for a pretty long time. Michelle might be just thinking that her fans are interested in her professional life, but she should know that many want to know about her personal life including her marriage, affairs, and kids as well.
Well, Michelle is happily married to her husband Joe Buck, but they don't have children yet. Keep reading to get the details about her married life with Joe. Also, find out the key to their successful life together:
Michele Beisner and Joe Buck love story
Michelle and her darling husband's love story began in 2012 when she came to know through her colleague Rich Eisen that someone from NFL booth asked for her number. Back then, Michelle wished it to be anyone except Joe Buck. Moreover, she had a boyfriend back then. Ah! Fate they say!
Michelle Beisner with husband Joe Buck
Source: Sports Illustrated
Joe's impression on Michelle wasn't so strong back then as she thought he was an arrogant and egoist person. She only took him as a fellow journalist but nothing more than that. The two got hitched eventually. Don't underestimate secret admirers; they might be your future husband. Lesson learned!
Michele Beisner and Joe Buck wedding
Michelle's husband Joe Buck is a sportscaster by profession. They began dating in 2013. The pair got engaged in October 2013.
Later, they exchanged their vows on 14 April 2014 in Cabo San Lucas, Mexico.
Michele Beisner is Joe Buck second wife
Michelle has kept the former boyfriend and relationships away from the limelight, but she has never been married in the past. However, she is the second wife of her husband. Joe was married to Ann Archambault in the past. They tied the knot in 1993, but the marriage ended up in a divorce in 2011.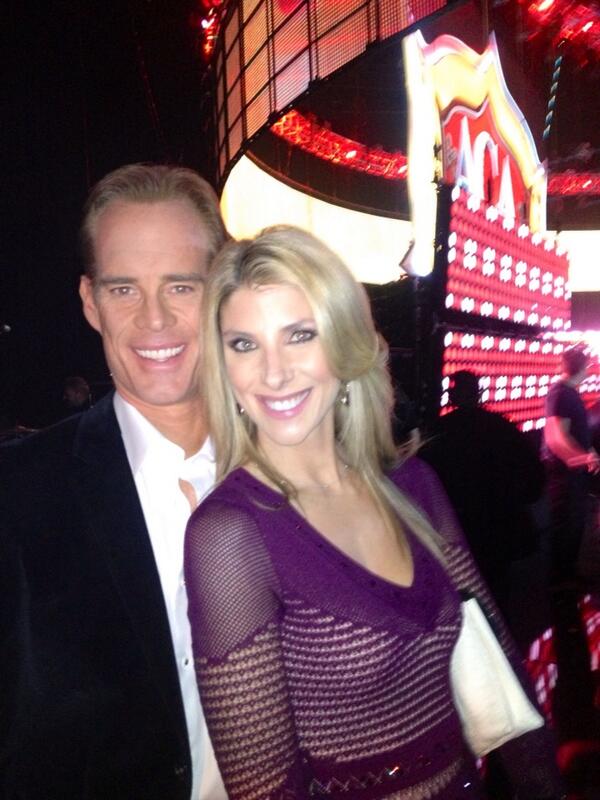 Michelle Beisner with husband Joe Buck
Source: Twitter
The happily married couple doesn't have any kids of their own yet, but Michelle is a stepmother of Joe's two daughters, Natalie and Trudy.
Joe Buck reveals his daughters are his greatest gift:
There's no secret about Michelle Beisner and Joe Buck's marriage. The immense love, support, and respect they have for one another is the key to their healthy relationship. We wish them more success in years ahead.