Former American football player Michael Strahan has been on headline for a while now. From his exit from Live with Kelly and Michael to dating a girl with a criminal history, all have made the front news.
Well, once again the star has made the headlines on the major news channels and that too for his rumored relationship. So, today in this section, we are going to reveal all about his relationship and affairs. Who is the girl he has lately been rumored to be dating? Let's find out. Just stay with us.
Is Michael Strahan Dating
Kayla Quick? Their Love Affair And Relationship
Kayla Quick and Michael Strahan are having to spark dating rumors last year, and for now, the couple has confirmed their relationship.
The photos of them cozying up with one another in St. Barts cleared up all the rumors. He has also been pictured going to the gym with her.
Recently, Michael Strahan during an interview claimed that he is involved in a serious relationship with her current girlfriend, Kayla Quick after numerous relationship failures.
Boyfriend and girlfriend: Michael Strahan and Kayla Quick Source: Daily Mail
Last year in October when he appeared on the Bravo's Watch What Happens Live With Andy Cohen, he confessed that he was in a serious relationship but denied to give any more information on his girlfriend.
Strahan jokingly said to the host of the show Andy Cohen,
You want me to give you a full name? None of your business.
He further added,
You know one thing I've learned? The whole public relationship thing doesn't work. So, I prefer to do my thing and live my life away from that. You'll put too much pressure on it.
The couple was first seen having dinner together at the DirecTV Super Bowl party in February 2015 along with Kelly Ripa, his co-host from Live with Kelly and Michael and her husband, Mark Consuelos, at the Polo Barin in New York City.
Boyfriend and girlfriend: Michael Strahan and Kayla Quick Source: Daily Mail
Nobody knew anything about Kayla Quick other than being Michael's girlfriend until a website called Radar Online posted an article about Kayla Quick's past.
Kayla, who has worked as a stripper was first arrested at 14 years old for disorderly conduct after getting into a fight in her Port Charlotte, FL., hometown.
Again at the age of 18, she broke up with her ex-boyfriend Justin Hundley and broke into her grandmother's home and stole $6,000 worth of jewelry. According to Daily Mail, Quick ended up confessing to the crime.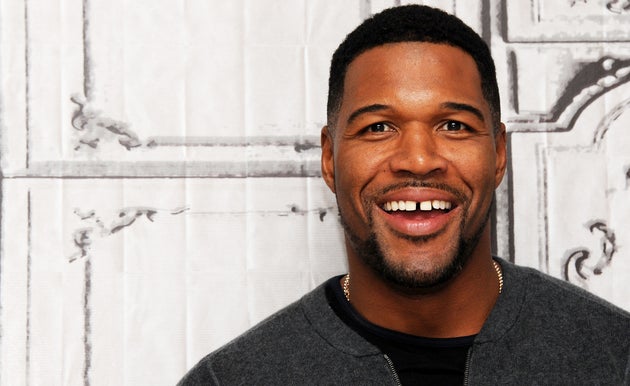 Michael Strahan Source: Huffington Post
This left us to imagine, how much does Strahan really know his girlfriend Quick?
Both Strahan and Quick have been in past relationship. But the only past relationship we know about the 30-year-old Quick is Justin Hundley, whom she dated when she was in high school, and who helped her steal her grandmother's jewelry.
Micheal Strahan's Affairs, Marriage, Divorce, And Children
Before Quick, the former NFL player has been divorced twice and engaged three times. He has four children from his two marriages. His first wife is Wanda Hutchins, and they got married in Germany until they got divorced in 1996.
He has two children with her, a daughter named Tanita Strahan and son Michael Anthony Strahan, Jr. He moved alongside her children and purchased a $163,000 house in the same Houston neighborhood in which his parents reside.
Michale Strahan with his children source: BCK Online
In 1999, Michael Strahan married Jean Muggli. They met at a Manhattan spa, and he has two twin daughters with her, Sophia and Isabella Strahan. Muggli and Strahan divorced in 2006 after a messy relationship.
Muggli accused him of abusing and cheating on her and ignoring their daughters. He denied the claims and the judge dismissed it. But the judge awarded Muggli $15 million as a divorce settlement and $18,000 monthly for child support.
Michael Strahan and his now ex-wife Jean Muggli Source: Daily Mail
In August 2009, the news of Strahan and Nicolle Mitchell being engaged came to the surface, but the 5-year engagement ended in 2014, because of their busy schedules. But the model said she and her ex-fiancé will always be friends.
Whatever may be the past, Michael Strahan and Kayla Quick now seem to be happy with each other, and we hope this continues forever. We wish the couple all the luck for the future.
Want to wish the couple? Please, leave your comments below.
Quick facts about Michael Strahan:
Who is Michael Strahan currently dating?
Michael Strahan is currently dating Kayla Quick.
Who is Michael Strahan's ex-wife?
Michael Strahan was previously married to Jean Muggli.
Who is Michael Strahan's ex-fiance?
Nicolle Mitchell is Michael Strahan's ex-fiance.
How old is Michael Strahan?
Michael was born on November 21, 1971, and is currently 48 years old.
How much is Michael Strahan's net worth?
Michael Strahan's net worth in 2020 is $65 million.
How much does Michael earn in a year?
Michael earns a salary of $17 million per annum.
How tall is Michael Strahan?
Michael's height is 6 feet 5 inches.