If you are truly in love with someone, nothing can stop you from uniting no matter the differences. Today we have a similar story of a Hollywood's favorite couple: Michael Phelps and Nichole Johnson.
Michael Phelps is a competitive swimmer and one of the most decorated Olympian of all time with a total of 28 medals while Nichole Johnson is the Colorado-born beautiful model who appears on the cover of various renowned magazines.
The couple is together for over 10 years ( three years of temporary separation) and enjoying their marital relationship since 2016. Let's learn their love affair and married life in detail. Just stay with us.
Love Life of Michael And Nicole: Dating And Breakup
Let's start from the beginning. It was in 2007 ESPY Award when the eyes of 32-year-old celebrities Michael Phelps and Nicole Johnson met and after several meetings, they eventually fell in love.
Regarding their first meeting at ESPY Award, Michael Phelps opened up to Entertainment Tonight saying it totally made her wife tear up. He said;
Yeah it's, like, not only do I think about the first meeting, but it's also everything that we've been through. I was like, 'Oh thanks, babe. Like, I'm probably bright red and I kind of put my head down and then smile… I'm lucky, I know I am.
Then boyfriend and girlfriend: Michael Phelps and Nicole Johnson
Source: nydailynews
Michael further added;
But it's why I mean, like, you think 10 years ago, and stuff literally we've gone through publicly and privately, and, you know, we've been able to grow as a couple and I think that's the coolest thing.
In 2012, unfortunately, the couple split and later it came that it was just a temporary separation as they reunited three years after they broke up. In August 2016, in an interview with Cosmopolitan, the former Miss California candidly discussed their three years long separation.
It was definitely a complicated situation at the time and Nicole apparently resented Michael as she explained;
There definitely were times, and I think Michael would say the same thing, where I hated him.

'We were at odds at times. Even when I loathed him, there were still times when I was like, "God, I wish I was with him.
The amazing couple were finally back in 2015 and once again started enjoying a romantic love affair.
Engagement And Marriage of Michael & Nicole: Parents of A Son
As soon as they reunited, Michael proposed Nicole on 21 February 2015. Soon after their engagement, a news regarding the pregnancy of Nicole came over the internet.
Later on 5 May 2016, the couple welcomed a baby boy and they named their son Boomer Robert Phelps.Michael shared the birth of their son through an Instagram post, check it out.
Just after a couple of months of the birth of Boomer, the two love birds got married on 13 June 2013. The beautiful wedding ceremony was conducted in front of hundreds of guests including Michael's swimmer friends Allison Schmidt and Natalie Coughlin.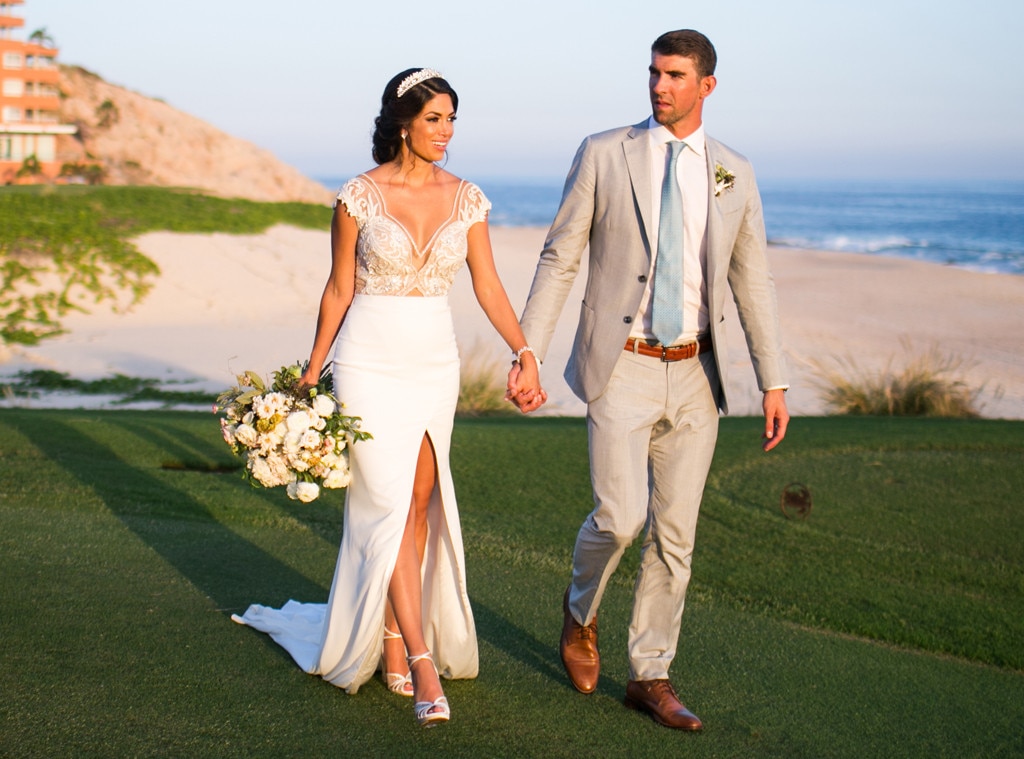 Happily married husband and wife: Michael Phelps and Nicole Johnson at their wedding ceremony
Source: eonline
Ever since the couple is living a blissful married life. We wish them all the very best and for their forever togetherness and we hope we will not hear any news of their divorce ever again.
For more updates, stay tuned with Frostsnow.