Meg Ryan
Margaret Mary Emily Anne Hyra, also known as Meg Ryan is an American Actress, Director and Producer. She was born on November 19, 1961 in Fairfield, Connecticut.
She is famous for her roles in movies like When Harry Met Sally, which earned her, her first Golden Globe nomination, French kiss, Sleepless in Seattle, You've Got Mail and many more. Meg Ryan established herself as one of the most successful actresses of the 1990's particularly in romantic comedy films.
Meg Ryan Marriage and Divorce with Dennis Quaid
On February 14, 1991 Ryan married actor Dennis Quaid. They met on the set of Innerspace and during the shooting for their second film together, D.O.A, they fell in love. They have a son together, Jack Quaid, who was born on April 24, 1992. Meg and her husband had good chemistry and looking at them nobody could imagine them splitting.
Their journey of 10 years together came to an end on July 16, 2001. There were rumors of Ryan cheating on Dennis with Russell Crowe which could be the reason behind the divorce.
Ryan's got a new man
Meg Ryan was seeing strolling around the Soho neighborhood of New York with a mystery man.
She hasn't been on the dating scene since breaking up with the singer John Mellencamp, after dating for three years. They broke up in 2014 and the main reason for their break up was reported to be distance. And since then Meg reportedly hasn't dated anyone.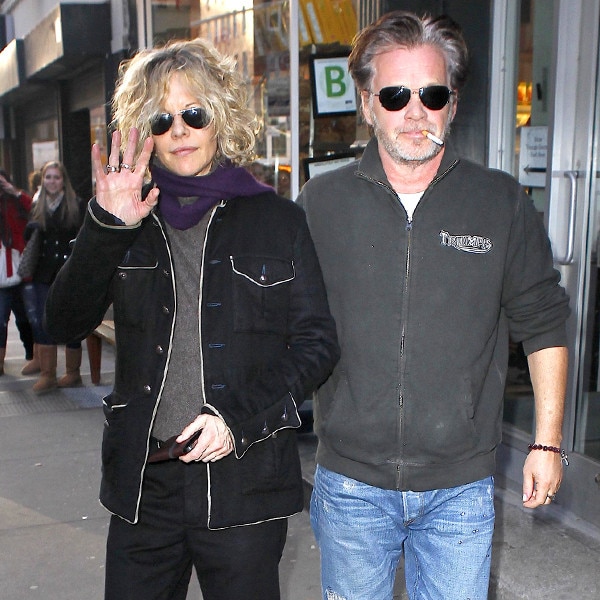 But it looks like she is back in the dating game looking for a new man. She was spotted looking totally relaxed with a mystery man. But there hasn't been any confirmation if that is her boyfriend. So the mystery of the man still remains.
Has she undergone Plastic Surgery?
Meg Ryan has been accused of going under plastic surgery when she was nearly unrecognizable to some at the Tony awards. On June 12 when she made an appearance on the tony awards and hit the stage to introduce the cast of "She loves me", the social media went crazy as they could not recognize her. It lead to her becoming a trending topic on Twitter and Facebook.
The criticism was made because of her swollen cheekbones and smile. A website even spoke with a surgeon to know if she has actually gone through any surgery, and he said that she may have done too much to her face, but the actress has denied going under the knife.
Also in recent appearance of her in the red carpet she looks natural and beautiful, so we do not think she has gone through any surgeries. Maybe she looks different because of her aging, but she is till beautiful as she was in the 90's.