Getting married is not as simple as it looks. In some cases, things don't work out for the married couple and the things become bigger and more serious with time. It becomes so serious that it creates a fight, break up and even a divorce.
Today we are going to talk about the similar personality Mary Lee Harvey who faced a big failure in marriage with husband Steve Harvey. The couple divorced in the year 2005. The article below deals with Mary Lee Harvey's married life with ex-husband and if she's dating any new boyfriends.
Let's learn deeply about her personal life. Just stay with us.
Troubled Married Life of Mary Lee Harvey With Husband Steve Harvey
Mary Lee Harvey was married to an American actor Steve Harvey. Besides being an actor, Steve is also a television personality and a stand-up comedian. Their wedding ceremony was held in 1996 in front of more than 200 guests including renowned Hollywood celebrities.
Former husband and wife Steve Harvey and Mary Lee Harvey
Source: nydailynews
Before getting married to Mary, Steve Harvey was married to his first wife Marcia Harvey. And after a couple of years of his divorce with Marcia, Steve tied the knot with Mary Lee Harvey. The couple first met in January 1989 while Steve was in Arlington, Texas for a comedy show.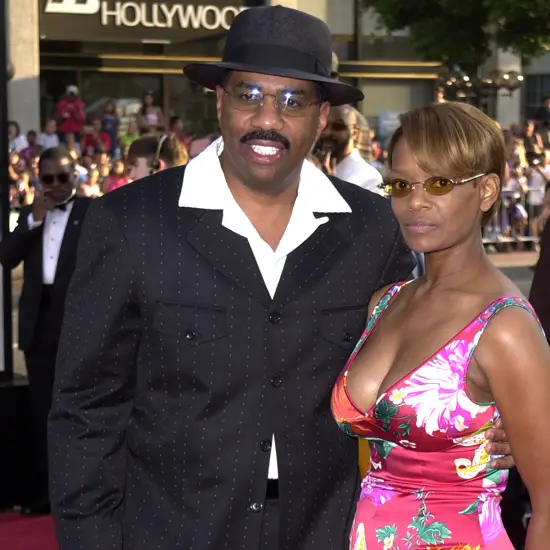 Steve Harvey with his second wife Mary Lee Harvey
Source: pinterest
They subsequently fell in love and after seven years of dating finally got married. Within a year of their marriage, Mary Lee Harvey and Steve was blessed with a son in 1997 and named him Wynton. Steve Harvey also has four children, including twin daughters, all from his first marriage.
Actor Steve Harvey with his children
Source: blackcelebritykids
Everything was going perfectly but later their marital relationship ended in a divorce. The divorce paper of this 17-year long relationship was finalized in 2005. Steve Harvey had to follow some legal process because of the contract in assets. Mary Lee Harvey was given three of his homes and $40000 per month until 2009.
Mary Lee Harvey with ex-husband Steve Harvey
Source: cdnize
The exact reason behind the breakdown of their marriage is not disclosed yet, however, Steve was reported to be in an extramarital relationship at that time, which ultimately became the reason behind their separation. After the divorce, the custody of Wynton was given to his father.
Mary Lee Harvey's new boyfriend?
Since their divorce, Mary Lee Harvey never got in any kind of relationship, neither she got married. One the other hand, Stever later got married to his third wife Marjorie Elaine Harvey in 2007, just after a couple of years of his divorce with Mary Lee Harvey.
Happily married husband and wife couple: Steve Harvey and Marjorie Bridges
Source: Heavy
We wish Mary Lee Harvey and her divorced husband Steve Harvey all the very best for their future and we hope she finds a perfect man soon. For more updates, stay connected with Frostsnow.