Rhonda Rousey is a renowned martial artist and a beautiful lady. The gorgeously beautiful lady is unbelievably vicious inside the Octagon. Even though she lives in the heart of many men, the talented beauty has her eyes on UFC fighter Travis Browne. The pair has been rumored to be dating for a long time.
Rousey and Browne spend a lot of time together. In 2016's summer the pair was spotted hanging out in Carlsbad, California. They looked like they were in a really great mood. Read the full story to know more about the pair. Let's begin.
Rhonda Rousey and boyfriend Travis Browne California getaway
Rousey and Browne chose California to spend their leisure time after his 2016 UFC defeat. He lost to Cain Velasquez at the UFC 200 that took place in Las Vegas. He was knocked out by Velasquez during the heavyweight fight's first round. The pair wore casual outfit, flip-flops and cool pair of sunglasses while they visited a department store in Cali.
Image: Rhonda Rousey with her boyfriend Travis Browne
Source: Daily mail
Rhonda Rousey fought with depression
Just like her partner, Rousey also lost to Holly Holm in November because of which she suffered depression. She talked about it on 'The Ellen DeGeneres Show' and revealed that she wanted to kill herself. She talked about how she felt worthless and useless. She held her tears when she explained her feeling.
Check out the video.
Rousey gave all the credits of her hope to her boyfriend Browne. She said that the thought of future with Browne gave her strength to carry on and keep going. She said:
'To be honest I looked up and I saw my man Travis was standing up there and I looked up at him and I was like, I need to have his babies. I need to stay alive,'
Travis Browne was married to Jenna Renee Webb
Browne began dating Rousey after ending his marriage with Jenna Renee Webb in 2016. He married Webb in January 2015. He was accused of physically abusing his wife due to which he even got removed from the UFC's International Fight.
Later on 28th August 2015, the investigating team didn't find enough evidence. The case was closed with "inconclusive evidence". His marriage fell apart short after that and his divorced was finalized on 21st February 2016.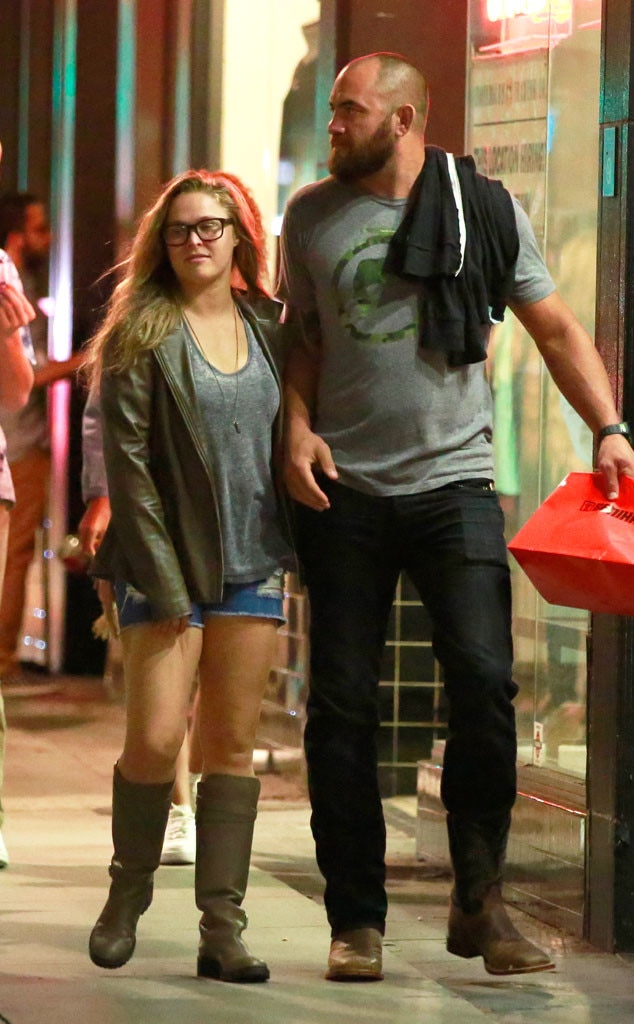 Image: Rhonda Rousey with her boyfriend Travis Browne
Source: E! online
At present, Rousey and Browne seem to be going great in their relationship. Even though the pair has not tied the knot yet, we believe that they will get married soon if their love life stays as great as it is now. We want to convey our best wishes to martial artist Rhonda Rousey and UFC fighter Travis Browne.