It often happens that the first marriage of a lot of couples fall apart and the reason can be probably marked as the couples immaturity and lack of knowledge about the relationship. But what if the marriage fails for second, third and even the fourth time. In this case, the immaturity of the couple cannot be blamed, there is something more to it, may be "bad luck!!".
Well, today we've brought to you a similar story of a legendary singer, Glen Cambell who went through four unsuccessful marriages before his death.
The versatile singer-songwriter, musician, television host, and actor, Glen Campbell died just yesterday on 8 August 2017 in Nashville, Tennessee, United States and the reason behind his death was reported to be Alzheimer's disease.
Glenn Cambell had four wives namely Diane Kirk, Billie Jean Nunley, Sarah Barg and Kimberly Woolen. But as our topic is in regards to the married life and relationship of Glen Campbell's third wife, Sarah Barg, we will discuss it in details and to some extent, we will talk about the rest three wives of Campbell.
So, without further delay, let's get started. Just stay with us.
Sarah Barg Previously Married To First Husband Mac Davis
As we mentioned earlier, late Glen Campbell was married for four times and Sarah Brag is Campbell's third wife. Prior to Campbell, Sarah was married to another singer-songwriter, Mac Davis and Davis was one of Campbell's closest friends.
Glen Campbell's thirds wife's first husband Mac Davis
Source: billboard
Davis and Sarah got married in 1971 and at the time Davis had just divorced Fan Cook with whom he was in a married relationship for 6 years from 1963 to 1968.
Unfortunately, the marital relationship of Sarah and Davis too didn't last for long and after five years of their marriage, they ended their relationship with a divorce. Mac Davis is currently married to Lise Kristen Gerard whom she married in 1982.
Sarah Barg Married Life And Divorce With Glen Campbell
As we mentioned earlier, Campbell and Davis were friends. Sarah and Campbell first met when Campbell went on a dinner with Mac and Sarah. They didn't start dating until she divorced Davis. Campbell found out about their separation from Davis while they were playing golf.
Former husband and wife: Glen Campbell and Sarah Barg
Source: pinterest
Once Campbell told PEOPLE;
I don't know what their problem was and don't want to know, but that marriage was over,
After Sarah's divorce with Davis, she tied the knot with Campbell in September 1976 when she was at her age of 24. They together had a child; a son named Dillon.
Divorced husband and wife: Glen Campbell and Sarah Barg
Source: gettyimages
Glen also told People that he was attracted to Sarah even before her divorce with Mac:
I can't be alone. We're going to get married as soon as all the papers are in.
But unfortunately, after four years of their wedding, they got divorced in 1980 without citing the reason behind their divorce.
Glen Campbell's Rest Three Wives
As mentioned earlier, Glen was married four times in her life. Apart from Sarah, he was married to three other wives. Let's learn about them.
Married Life With First Wife Diane Kirk
Campbell was first married to Diane Kirk. The couple got married in 1955 and at the time they got married, Campbell was 17 and Diane was 15. They together gave birth to their first child, a daughter named Debby.
Glen Campbell first wife Diane Kirk
Source: houstonmemorials
Unfortunately, they ended their relationship with a divorce in 1959. The couple also has a son Debbie Campbell who was born in the same year they separated.
Married Life With Second Wife Billie Jean Nunley
After the divorce with Diane, Campbell got married to a beautician from Carlsbad, New Mexico, Billie Jean Nunley. They got married in 1959 and they were married for 16 years before they divorced.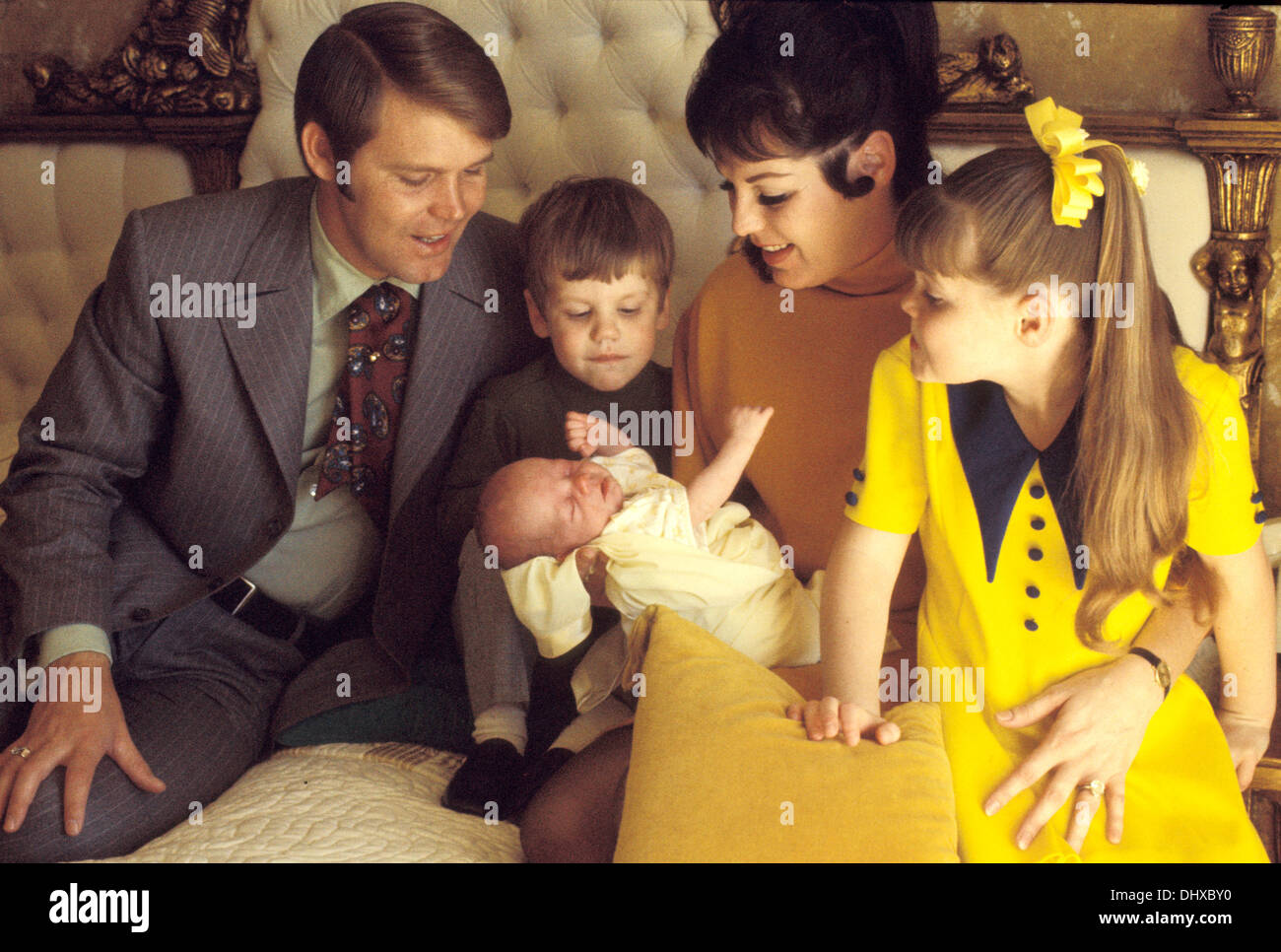 Former husband and wife: Glen Campbell and Billie Jean Nunley with their children
Source: alamy
The couple had three children, Kelli, Travis, and Kane, who were 14, 10, and 7 respectively at the time of their divorce.
Married Life With Fourth Wife Kimberly Woolen
In 1982, Campbell got married to his fourth wife, Kimberly Woolen. Campbell was 46 and Kim was 24 when they got married. The couple met on a blind date in 1981 when Kim was a Radio City Music Hall Rockette.
Former husband and wife: Kimberly Woolen
Source: Pnterest
They were living a happy married life along with their three children: Cal, Shannon, and Ashley but unfortunately, Campbell died on August 8.
Rest in peace Campbell!!
For more updates, stay connected Frostsnow.