With Freeze for your last name and TV meteorologist for you joke, the impending jokes are inevitable right? Well, WABC-TV weather reporter Amy Freeze certainly doesn't mind a joke or two about this merry coincidence. Actually, she doesn't mind having a good laugh about it herself.
Seems like she really does prefer cold weather, what an irony!
"There is just something about cold weather for me that is magical. I love it. How can I not with my last name?" Amy joked back in 2011.
And what's more, even her husband seems to share her witty personality. Amy has been married to husband chiropractor Dr. Gary Arbuckle for the past 22 years.
Her husband Gary finds it funny when people call up their house and ask for "Mr. Freeze" as if he were "the villain in Batman".
We can definitely see how this couple has been going strong for so many years.
Amy Freeze and her husband, Gary Arbuckle, at the Ridgeland Common Ice Rink with their four children, Kate, William, Tyler, and Jared.
Amy married Gary in 1994 while both were students at Brigham Young University. Apparently, she was a cheerleader and he was Cosmo the Cougar- the official mascot of the University's (BYU) athletic teams. What a couple! Looks like they were meant to be from the very start, doesn't it?
The happy couple has four children together. Yes, you read that correctly. This tantalizing beauty is the proud mother of four: Tyler (17), Jared (14), Kate (10), and William (7).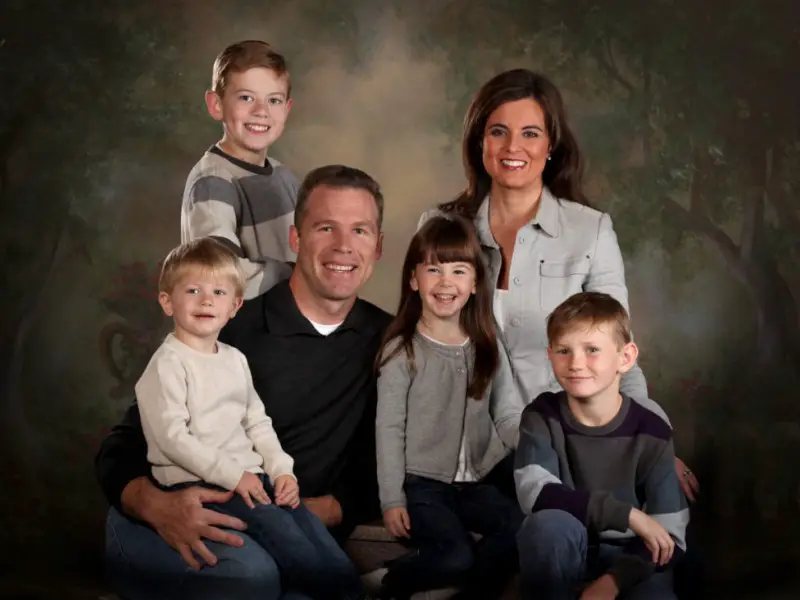 Gaining such fame from her reporting onscreen and raising four children is not a task for the weak-hearted and wobbly couples. Amy has admitted that without the support of her spouse, she couldn't have been standing where she is today. A lot of adjustments and compromising has resulted in them being able to juggle their responsibilities together.
"Balance is such a misguided concept," says this 42-year-old wife, mom, and reporter. "As parents, we will never be able to equally divide the pie. It's just not going to happen. If you keep a priority list intact and believe in what is the most important thing for you and your family on a day-to-day level, it will be easier to keep things running smoothly."
With no rumours of divorce whatsoever, this family is an inspiring lot. We can only hope an even better future for them and aspire to be like them in some way.