The lovely Hollywood couple Maksim Chmerkovskiy and Peta Murgatroyd are recently making headlines with the twist in their love life. The two professional dancing partners Maksim Chmerkovskiy and Peta Murgatroyd of the reality show The Dancing with the Stars has decided to walk side by side after living in a long term relationship and has teamed up in real life.
With a vow "never to let one alone till the death separates us," the couple has given a lovely beginning of their new life. This lovely couple dazzled the world with their dazzling marriage ceremony. Well, do you guys wish to know the beautiful chemistry of Maksim and Peta and their staggering marriage ceremony, be with us.
Newly Wed Couple Maksim Chmerkovskiy and Peta Murgatroyd
The love birds Maskim and Peta tied the knot on Saturday, July 8, at Oheka Castle in Long Island, New York, where one of the hit songs of Taylor Swift, "Blank Space" was filmed.

The newly wed-couple Maskim and Peta
Source: daily.co.uk
The couple got married two years after their engagement. Yes, you read it right, the couple was engaged on 5th of December, 2015 and were in a live-in relationship.
Like most of the couples in the world, this dancing pro stars chose the place that best befitted the marriage ceremong along with the emotions that will walk along them for the rest of the live. Murgatroyd chose Oheka Castle to be the best for the best day of his life;
Talking to PEOPLE Murgatroyd said:
Maks has loved this place for years and I took on the suggestion and I fell in love with it immediately.
Well, we ought to choose the place we love to take a vow on something that is a big desicion of life. And here the lovely bride was quite selective for the best moment of her life. Isn't it?
Murgatryod, 30, who wed Maksim, 37, in a big catle further added;
I had never thought of being married in a castle, but my jaw dropped when I first shaw it,
The marriage was dream come true for Makism who dreamed to wed his life partener in the Oheka Castle since 1994 when he moked to Brookyln as a teen and the bride was just like a princess in a big ivory wedding dresss.
Gorgeous bride Peta Murgatryod waking down the alise with her father
Source: Peoplecelebrity
The bride seemed selective with her dress to astonish the love of her life, she indeed knew how to rule the heart. And talking about her dress Murgatryod told PEOPLE;
I don't want a stark white dress, I just love the old-fashioned feel of the ivory. Especially against the castle, I didn't want stark white. I think it's more sleek, in a way.
Makism's brother and fellow DWTS pro-Val Chmerkovskiy served as "best man." Tony Dovolani, Rume Willis, Sharna Burgess were among the other DWTS wedding guest.
Earlier the big day on Friday, July 7, the couple and their guests celebrated with a splendid pre-wedding party.
Well, now the couple has tied the knot and are a happily married husband and wife. And the couple's love life must be so interesting. How did they meet? How did they fall in love? Was it easy to find love? Let's find out more about the couple's love life.
Maksim Chmerkovskiy and Peta Murgatroyd love life
Murgatroyd dated Chmerkovskiy back in 2012 but back then they were in an in-and-out relationship. Later on 2015, Chmerkovskiy confirmed that he and Murgatroyd were dating again.
During a performance of Sway: A Dance Trilogy in Miami, Florida, Chmerkovskiy proposed Peta on stage and there the couple chose one another as a perfect life partner for each other.
Also, check out the video when Chmerkovskiy proposed his love, Peta;
The lovely couple also has a son named Shai Aleksander born on January 4, 2017.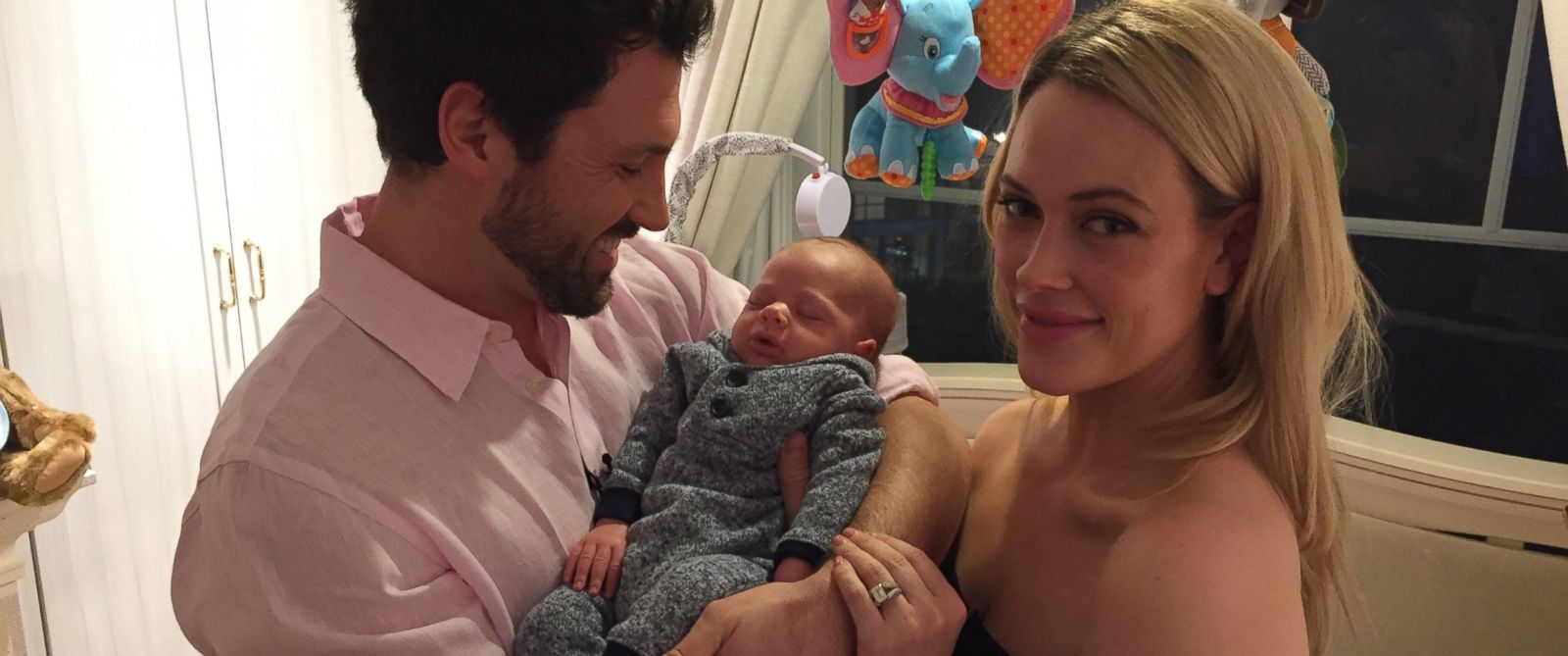 The newly wed-couple Murgatroyd and Chmerkovskiy with their first child Shai Aleksander
Source: ABC News
The couple first met each other in 2009 when they were cast in the Broadway production of Burn the Floor, but it wasn't love at first sight then for the couple because Murgatroyd tod PEOPLE in the current issue about meeting her fiance;
I thought he was arrogant.
In response to Murgatroyd's statement, Chmerkovskiy answered;
Okay, that's a defense mechanism. I think she was in love with me at first sight and justt doesn't want to admit it.
Just like a normal relationship, the dancing pro too took years for their relationship to grow into something beautiful. Even a plant takes years to grow, it was an emotion, fellings to bind a heart with another, it was obvious to take time. Later on 2009, Chmerkovskiy proposed Murgatroyd to be his life partner, which turned out a "Yes."
Murgatroyd admitted that;
I learned to like him because I found out he wasn't that arrogant. He was really generous to the entire cast, and our friendship grew and grew and there was always an attraction between us.
She further added;
I think it's awesome we have a massive history. It will make a great story to tell our kids one day.
Now this beautiful couple is wed and thay also have a baby, they are living the life we all desire. We wish to new wed-couple best of luck.
To know further more on this couple keep on visiting Frostsnow.