Margalit Ruth Gyllenhaal, known professionally as Maggie Gyllenhaal is an American actress born in NYC. She comes from a filmmaker background and was born to mother Naomi Achs and father Stephen Gyllenhaal on 16th November 1977. She portrayed the role of Rachel Dawes in The Dark Knight, a superhero movie with actors like Morgan Freeman and Heath Ledger.
The 40-year-old actress made her debut as an actress during her teenage years through 2001 film Donnie Darko. Moreover, she is best known for her work as Lee Holloway in the 2002 film Secretary. She has won numerous awards which includes a Boston Society of Film Critica Award. She has also been nominated for a Golden Globe Award.the role.
The actress is from a film-family, and she is undoubtedly one of the most hardworking and appreciated actresses in Hollywood. Continue reading to know more about the actress's relationships, marriage, and children.
Maggie Gyllenhaal married to husband Peter Sarsgaard
Maggie who has an estimated net worth of $15 million is currently married to Peter Sarsgaard. Her husband, Peter, is also an American actor. He is best known for his lead role in the movie The Center of the World.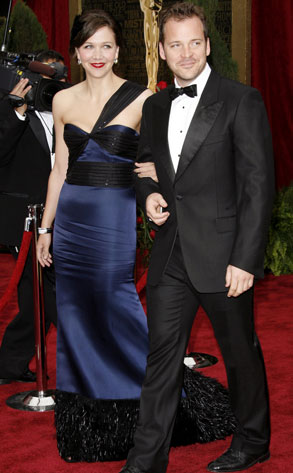 Maggie Gyllenhaal with husband Peter Sarsgaard
Source: E! Online
The couple started dating in June 2002. They met through Maggie's brother Jake Gyllenhaal, who is a very close friend of Peter. They dated for 3 years and got engaged in April 2006. They took their time and got to know each other well before jumping into decisions of getting married on 2nd May 2009.
Moreover, they also have 2 children. Their first child, Ramona was born on 3rd October 2006, and she is currently 11-years-old. Later on 19th April 2012, they gave birth to their second child, Gloria Ray, who is presently 5-years-old.
Maggie Gyllenhaal with husband Peter Sarsgaard
Source: Daily Mail
The couple has been married for the past 8 years and still are going strong and together. They are together for 15 years.
Maggie Gyllenhaal past relationships and affairs
There are no records of Maggie being romantically involved with a man other than her husband. It can be said that she is a one-man kind of woman.
Her husband Peter, on the other hand, has been in a lot of romantic relationships before Maggie. The actor dated American dancer Dita Von Teese, also known as Heather Renee Sweet, in 2000. Later in 2001, she had an encounter with Canadian model Shalom Harlow.
Nonetheless, we wish the duo and their family all the very best in their relationship. We wish their marriage lasts forever.