We have heard about celebs who at the very young age have created a huge buzz on the social sites more because of their love affairs and relationships. Well, today we are here with a young child actress who is just 14 but knows how to win hearts.
She is none other than, Madisyn Shipman and is best known for portraying the role of Kenzie Bell in the Nickelodeon sitcom Game Shakers. Madisyn who started dating her boyfriend Logan Patrick, an American actor in 2016 is reported to have found a new love interest.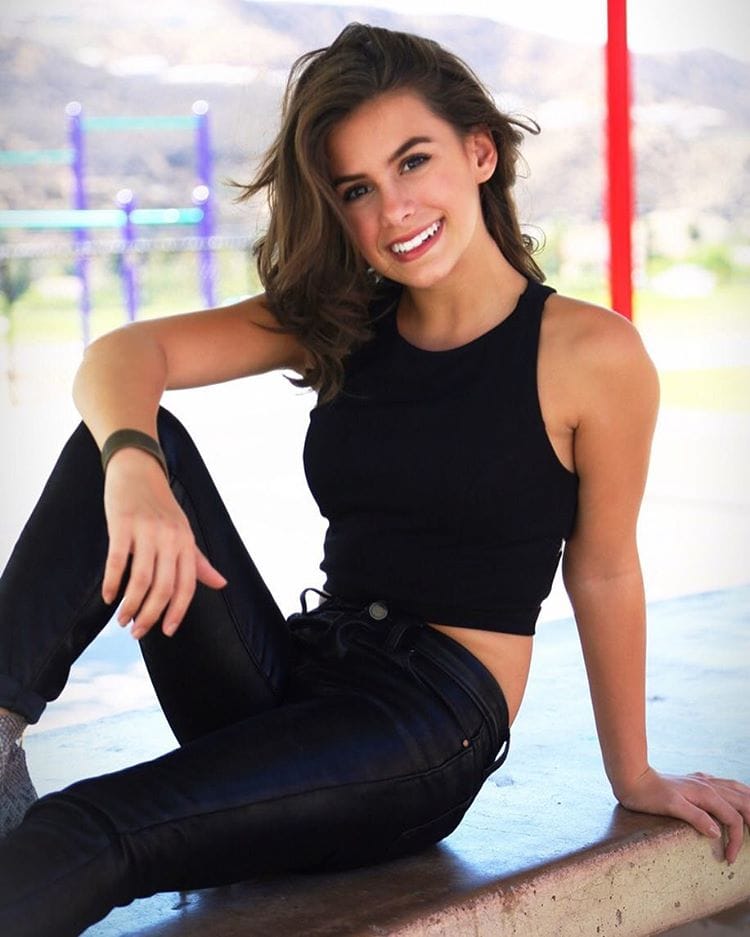 The Nickelodeon sitcom Game Shakers Madisyn Shipman
Source: Listal
Also Read: 14 Years Madisyn Shipman is Dating Logan Patrick, Know about her Affairs and Relationship.
So has she ended her relationship with Logan? Who's her new boyfriend? Find about the love life of Madisyn here in Frostsnow.
Madisyn Shipman And Logan Patrick No more Together? Who Is Her New Boyfriend?
Celebs being caught with their co-stars is not a new thing for us. And every time a celebrity shares pictures of themselves with somebody on their social profiles, it gives rise to certain assumptions and speculations.
Likewise, on March 18, Madisyn shared some pictures and a short video clip with an American national Joe, via her Instagram with the caption,
"@liljoe_flacko_ and I had such an amazing time last night!!! Joe, you are such an awesome guy, you are so fun and your smile was priceless last night Thank you to everyone that made this possible. You guys rock my socks [email protected] @levinechildrens @ryanfoundation" along with some emojis of love.
Well, the post created a huge buzz on the internet with may speculating the relationship between Madisyn and Logan to have ended. Further, many assumed Joe as her new boyfriend.
One of the fans, Josh Picker wrote,
Are they dating...
While another fan, Migos Marshall wrote,

is that your boyfriend
Though many of her fans wondered if they are girlfriend & boyfriend, Madisyn hasn't spoken about her relationship with Joe. Also, there is no sufficient evidence, that proves Logan and Madisyn separation.
Well, we cannot come up to a conclusion regarding their relationship until they open up on the matter. We hope Madisyn opens up about her relationship soon.
Madisyn Shipman And Logan Patrick Relationship
Madisyn started dating Patrick back in 2016. The Game Shakers star revealed her relationship with Patrick via her Instagram on 11 January 2016. They shared a picture of themselves on their Instagram with a lovely caption,
"Be crazy. Be stupid. Be silly. Be weird. Be whatever. Because life is too short to be anything but happy. #mcm #happytimes #nchasmyheart" along with an emoji of love.
Madisyn often shared pictures of themselves on her Instagram, but by the end of March 2016, Madisyn stopped sharing photos of Patrick.
It was on March 26 Madisyn shared the last picture of Patrick on her Instagram which also became one of the reasons people assumed the couple to have separated.
So, has Madisyn really stopped dating Patrick, or there's something else that the actress/dancer hasn't revealed to her fans.
Well, nothing can be said for sure until and unless the couple themselves opens up in public about the matter.
For updates, be in touch with Frostsnow.com